You might expect the Hyatt Andaz and Waldorf resorts on the South Maui coast to have a lot in common. But while the two resorts share a luxury setting and a focus on quality, there's much that sets them apart.
While the Andaz Maui focuses on simple elegance, Waldorf's Grand Wailea goes all out with crowd-pleasing appeal.
Compare the two resorts with this guide, to help you find the destination for you.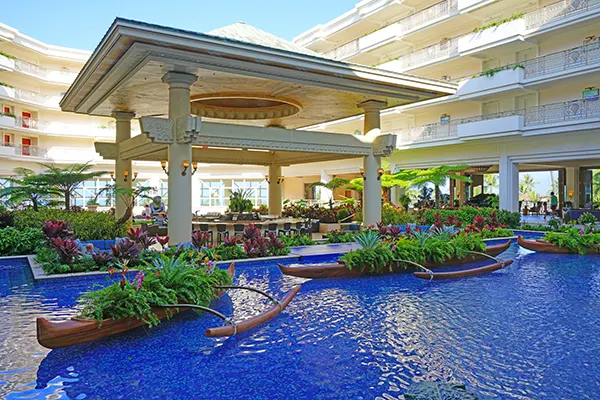 Where To Find The Andaz And Waldorf On Maui
Andaz Maui and Grand Wailea, a Waldorf Astoria Resort, are both located in Wailea. This is a resort town on South Maui, and home to some of the island's most popular hotels.
Andaz Maui is closer to the north of Wailea, and sits on Mokapu beach, This is a slightly quieter setting, with fewer nearby resorts.
The Grand Wailea isn't far down the road from Andaz Maui. Bordering Wailea Beach, the Waldorf Astoria resort has one of the prime positions on the South Maui coastline.
This is a resort that's right at the heart of the action.
Does Andaz Maui Or Waldorf Grand Wailea Have Better Rooms?
A room at Andaz Maui will situate you in a comfortable yet elegant space. The decoration is simple, using neutral tones to create a room that's brought to life by the natural light of Maui.
King rooms and double Queen rooms are both available, with views out to the Pacific (or back to the hotel, for less).
Luxury black stone bathrooms add a mature touch, while the private lanai provides a space to soak up the scenery.
The biggest downside to the Andaz Maui rooms is the size. At only 380 to 420 square feet, they're on the small side.
There are no issues with size at the Grand Wailea. Even a standard room is 640 square feet, making them good choices for families. Décor uses warm neutrals with occasional splashes of color to emphasize the setting.
Large, bright bathrooms make busy mornings slightly easier to cope up with, and the private lanai adds to the comfort level.
You're also in luck if you want a slightly larger place to call home on Maui. Both resorts have suites and villas on the property. In terms of variety, Grand Wailea wins out.
But that doesn't mean there aren't options at Andaz.
Which Has The Better Pool? Waldorf Or Andaz Maui?
The Grand Wailea is best known for having an exceptional pool, and this is a reputation that's well-earned. The Grand Wailea activity pool has five intertwining slides, a Tarzan pool, and six waterfalls.
It's also home to the world's only water elevator. Adults have a chance to relax at the adults-only Hibiscus pool when it all gets a bit too much, but keiki won't tire of the endless adventure in the main pool area.
The pool at Andaz Maui can't compare, and, honestly, it doesn't try to. Instead, this pool allows a simple and elegant tiered cascade system to speak for itself.
Kids might be less impressed by the lack of slides, but adults will appreciate a serene place to relax.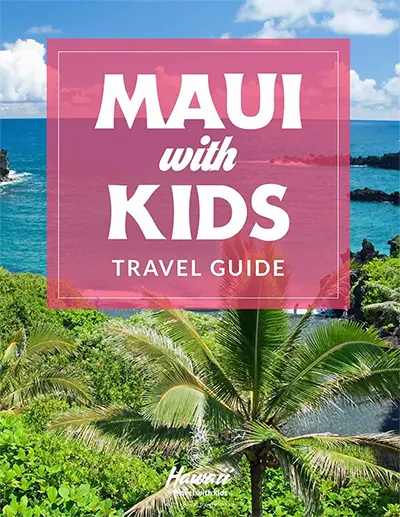 What's Dining Like At Andaz Or Waldorf Maui?
For those who want to try local delights, Ka'ana Kitchen at Andaz Maui and Humuhumunukunukuapua'a at Grand Wailea both focus on Hawaiian flavors.
Andaz Maui is also home to Morimoto Maui, a sushi and fresh seafood restaurant owned by famed Iron Chef alumni Chef Morimoto.
Lehua Lounge and Bumbye Beach Bar are also on-site, offering poolside menus with a difference.
Grand Wailea, on the other hand, has Bistro Molokini, a tropical themed dining experience with a menu inspired by classic American and Mediterranean flavors.
And for a true Hawaii experience, both resorts have an on-site luau. Andaz offers The Feast At Mokapu, combining traditional dances with a luxury menu. The Grand Wailea Luau is an immersive luau experience.
The good news is that no matter which resort you stay in, you're welcome to book a meal at the other.
(In a separate article we've highlight the best restaurants near Andaz Maui.)
Is There A Spa Or Fitness Suite?
Visitors to Maui are invited to book an appointment at the Andaz Awili Spa and Salon.
A personalized experience featuring customized apothecary treatments. The consultants draw from the island of Maui to build a tranquil treatment tailored to your stay.
Mohalu by Spa Grande is a personal escape at Grand Wailea Waldorf. The private treatments are designed to connect visitors to the mana of the island, with a focus on healing and wellbeing.
When the hydrotherapy pools are open, Mohalu by Spa Grande is one of the best spas on Maui. With the pools closed, the experience is lessened slightly.
For fitness lovers, both resorts have equipment on hand so you don't have to skip a workout. The Grand Wailea fitness suite features state-of-the-art equipment and personal fitness hubs.
Guests can also book various fitness classes. Andaz Maui fitness suite gives guests the options to book into a private or open class, but there's also Peloton equipment and other high-end gear to keep you occupied.
What's Better At Andaz Maui?
At times, the massive Grand Wailea can feel more than a little overwhelming. The resort is hugely popular with families, and at busy periods it really does feel busy.
Andaz Maui offers a relaxed resort for visitors hoping to find some serenity. Andaz Maui is often seen as a less family-friendly resort, and this can be to its benefit.
Adults dreaming of a chilled out getaway can appreciate the modern simplicity of the rooms, and the elegant design of the swimming pool.
What's Better At Waldorf Grand Wailea?
The Waldorf resort on Maui is welcoming to everyone who might want to book a stay.
Families will especially find themselves at home, thanks to larger standard rooms and that incredible pool.
Chilled Out Charm Or Family Friendly Fun?
In terms of location, there isn't much to choose between the Maui Andaz and Waldorf resorts. But how they use the location creates two very different hotels.
At Maui Andaz, sleek style appeals to adults looking for something laid-back. But the Grand Wailea brings family fun with excess space and excitement.
Other Places To Stay In Maui
We've written quite a bit about all of Maui's available lodging, and continue to do so, but we wanted to share a few more places to stay from our friends at Booking.com. 
A Resort Stay: The Four Seasons Resort in Wailea is the cream of the crop of resort stays, with restaurants, ocean views, an on-site spa, and the Shops at Wailea are just down the road. Couples particularly love The Four Seasons!
Bed and Breakfast: Sometimes, it's all in a name, and Adventure in Paradise is exactly what it sounds like, located in Haiku on Maui's north shore. Wake up to a 180 degree view of Haleakala summit every morning from your private patio.
Hotel: The highly rated Maui Sunset hotel combines laid-back atmosphere and the beach of Waipuilani Park. Also, it's only 1.7 miles from the Elleair Maui Gold Club!
Vacation Home: Find your home away from home at Puu Koa Palms, six minutes from Hookipa Beach, and near the Hana Highway. Also particularly great for couples!
Villas: If you're looking to vacation in style with your own villa try the Andaz Maui, which include all the expected amenities along with grills and plunge pools.