The highway system of Maui has made exploring the natural wonders and modern communities of the island easier for tourists. But while a car may be essential to reach some towns, many of us prefer to spend our vacations away from the wheel. 
In this guide, we'll cover whether you need a car to visit some of Maui's most popular destinations. Cars are useful, but you might be surprised to learn they aren't always needed.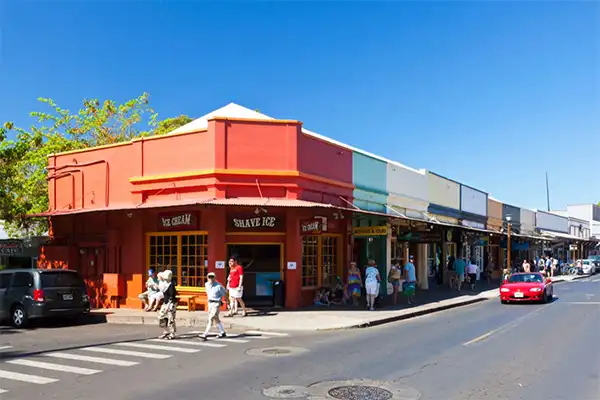 Do You Need A Car In Lahaina?
You don't need a car to explore Lahaina town itself, especially if you plan on walking iconic Front Street.
This historic town was once the capital of Maui, and Lahaina is still one of Maui's most popular tourist destinations, with approximately two million people visiting every year.
Most people choose to discover the town by foot! In fact, there's a popular Old Lahaina walking tour.
Visitors to Lahaina typically enjoy soaking up the history in between shopping for local souvenirs and enjoying the bars and restaurants and food trucks.
Walking allows you to explore the side streets and parks easily. To immerse yourself in Lahaina town, a car isn't necessary, and many choose a shuttle service for a day trip to Lahaina.
It's also a popular stop for cruise ship visitors, as the ships dock at sea and tender passengers to Lahaina harbor. 
Do You Need A Car In Ka'anapali?
You can enjoy Ka'anapali without a car, but a vehicle does help visitors to make the most of the area. Ka'anapali, on West Maui, is a resort area north of Lahaina Town.
Most visitors come to see Kaanapali beach, recognized as one of the best in America, or to check out the shops and restaurants and food trucks. 
It is possible to spend time in Ka'anapali without a car, particularly if you're making the most of the family resorts that the area is famous for.
Many of these resorts will also run a shuttle service for guests, transporting them to the best of West Maui.
So, it is possible to enjoy Ka'anapali and the surrounding area without a car, relying on taxis and shuttles for transport.
But if you really want to make the most of Ka'anapali, and the destinations of West Maui, a car is invaluable. 
Do You Need A Car In Kapalua?
Kapalua, on Maui's northwest coast, is best explored by both car and foot. The coastal walking trail of Kapalua encompasses exciting natural monuments, but when you're ready to see more, you will need a car.
Kapalua sits in the top corner of Maui, with the West Maui mountains stretching out behind, and resort towns running south down the coast.
It's best known for the beaches and natural wonders, and has a quieter appeal than nearby Ka'anapali, But this does mean that a visitor to Ka'anapali is tucked away.
Unless you're willing to spend a lot of money on taxis and shuttles, or you're happy to enjoy your vacation in peaceful Kapalua, a car is necessary. 
Do You Need A Car in Hana?
Yes, you do need a car for visiting Hana. Hana is at the center of East Maui, a stretch of coast that backs onto the peaks of Haleakala and the verdant land of the upcountry.
The only way to get to Hana is by car, and most people visit the town as a quick stop on the famous Road to Hana. 
Hana is isolated, with a small population, a few shops and places to eat, and a lot of incredible scenery.
Some choose to spend a few days in Hana, and soak up an authentically Maui experience. If you plan on doing this, you will need a car. 
However, others prefer to pass through on their way to the Seven Sacred Pools, and other beauty spots on the Hana Highway.
Again, you will need a vehicle, but guided tours are also available. And if you choose a guided tour, you won't have to deal with the sharp bends and difficult road of Hana yourself.
Do You Need A Car In Paia?
Visitors to Paia typically need a car, to make the most of the hidden spots of this charming town. On Maui's North Shore, Paia is a trendy destination that doesn't yet have the buzz of West or South Maui.
You can get around without a car, but you will need to rely on the bus or expensive taxis. With a car, Paia becomes a lot more accessible.
Paia itself isn't exactly isolated, but it is a distance away from the other major Maui areas. A trip from Paia to South or West Maui requires a car.
That said, some are happy to spend their entire Maui vacation in Paia since Paia is a good place to stay, especially those who are hoping to catch the waves. Paia is a popular destination for surfers, and many of them only want a ride to the beach. 
Do You Need A Car In Haiku?
Tucked along the Maui North Shore and heading towards the Upcountry, you need a car if you want to explore Haiku.
This is a town known for having a peaceful atmosphere, interesting places to eat, and a small community of artisans.
It's a car journey away from all the nearest resorts, including Paia. Haiku itself is small but scattered, and you will probably want a car so you can make the most of all the interesting destinations found in the town.
The roads at Haiku can suffer from potholes and bumps, so drive slowly if you visit. Drive slowly so you can take in the scenery, as Haiku is home to some lush greenery.
The Maui bus does run to Haiku, but be prepared for a long and slow journey, particularly if you're traveling from South Maui. 
Do You Need A Car In Maui?
A car is almost an essential on Maui, especially if you want to make the most of the natural interests of the island, plus the small communities that can be found all over.
However, more shuttle options and a thriving taxi service has made it easier than ever to navigate Maui without needing to rent your own vehicle.