Kaanapali Beach is known for its glistening white sands and crystal clear beaches, resort towns, high-end shopping avenues, and its mile-long beach.
Hyatt Regency is just one of seven resorts along Kaanapali Beach, and one of its most famous. Combining both Hawaiian traditions and modern day comfort, Hyatt Regency offers spectacular amenities and oceanfront views.
But high luxury comes with a high price. In this article, we're answering the question, is the Hyatt Regency in Maui worth it?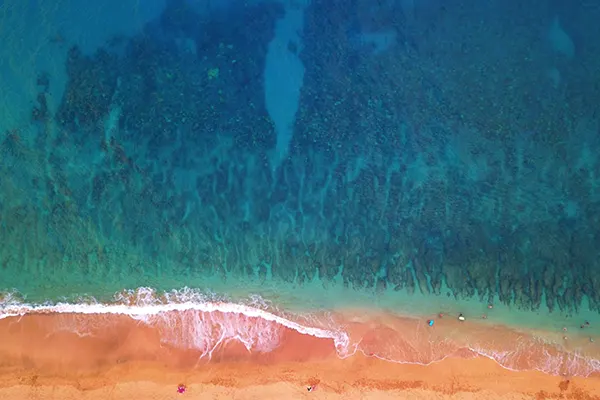 What is Hyatt Regency Known for?
Hyatt Regency Hotels and Resorts is known for offering extensive services including collaborative workspaces, recreational spots, event destinations, culinary experiences, and unmatched hospitality.
Hyatt Regency operates hotels and resorts across the world.
Headquartered in Chicago, the company has developed a reputation for luxury hospitality and, particularly, for catering to business travelers.
Hyatt Regency in Maui extends that reputation to Kaanapali Beach. But don't expect to be surrounded by people in business attire conducting meetings. Hyatt in Maui caters to all types of travelers, from families to couples to businesses, and has earned a reputation for its spectacular views of the Pacific, its amenities, multiple pools, swans, restaurants, and hospitality.
It's the perfect place to stay if you plan to spend your vacation in Maui with your toes dipped in the sand.
Is Hyatt Regency Expensive?
Compared to the other Hyatt brands, Hyatt Regency Maui is a luxury brand for business and leisure travelers. Serving its customers in 200+ cities, Hyatt Regency has a higher cost to maintain its grandiosity.
Since Hyatt Regency is a luxury brand the resort in Maui commands luxury prices.
A room with two queen beds and a partial view of the ocean starts at $903 a night—for a trip in March. Keep in mind that March is one of Maui's more popular months so prices tend to be higher.
If you want to upgrade your stay to a king bed with an oceanfront view and Club Access you're looking at $1,143 a night. A weeklong trip easily approaches $10,000, and at two weeks you're getting closer to a down payment on a small home.
And if you're feeling stately, suits start at about $2000 a night.
As we said, Hyatt prides itself on providing a luxury experience. If you want to be pampered on your Maui vacation you have to pay the price.
How Big is the Hyatt Regency Maui?
Hyatt Regency Maui is located in Kaanapali, occupying an area of 40 acres.
The hotel and resorts can accommodate more than 900 individuals at one time with 806 guest rooms and 31 suites.
As far as the rooms themselves, a room with 2 queen beds is 451 square feet. If you need more space to stretch out, then I'm sorry but you are out of luck.
All rooms at the Hyatt, whether they include a queen bed or a king, are 451 square feet. Though the space should be plenty for most travelers. After all, you're in Hawaii, what are you doing spending time in your room?
But if you really need more space then you can book a spacious suite, which includes a master king bedroom, a living room, bar, dining area, and extra half-bath. That's a lot of space.
Does Hyatt Maui Have Beach Access?
Hyatt Regency's location gives you an excess to the spectacular Kaanapali beach. The sandy beach is perfect for sunbathing and gives you many activities including swimming, sunbathing, scuba diving, beach golf, snorkeling, and sightseeing at Whalers Village.
Hyatt Regency is just a short walk away from Kaanapali Beach. The resort itself even offers complimentary towels so you don't have to worry about bringing your own to relax on the sand.
Kaanapali is quite a long beach, about a mile long, running past seven resorts, so there's plenty of space to spread out.
Keep in mind that all beaches in Maui are open to the public, but that also means that public parking can be quite bad. Luckily, if you're staying at the Hyatt you never have to worry about finding a spot for your car.
If you walk far enough north you'll find Black Rock, home to Maui's cliff diving ceremony, and a world-class spot for snorkeling. Though it gets quite crowded in the area as a result. Keep your eyes peeled and you may even spot a sea turtle!
Or, if you want a break from the surf and sand you can find shops and restaurants, including Whaler's Village, along the shoreline. And there is a long concrete path connecting drinks and food. You could spend your entire Maui vacation right here along Kaanapali beach.
Which is the Most Luxurious Brand of Hyatt Hotels?
The most luxurious brand of the Hyatt Hotels is Park Hyatt, known for providing a refined vacationing and residential experience in cultural destinations.
There are only 43 Park Hyatt Hotels around the globe, mostly situated in Asia.
This chain provides classic yet exclusive amenities
Is the Hyatt Regency the Most Luxurious Chain in Maui?
No. Park Hyatt, the most luxurious chain of the Hyatt brands, is not located in Maui.
However, if you're looking for the closest experience, if you yearn to spend a highly personalized vacation, and if you look forward to indulging in the finest cuisines and exceptional residential experience, Hyatt Regency Maui is your best bet.
Is the Hyatt Resort in Maui Nice?
The Hyatt Regency holds the AAA 4-Diamond award for its facilities, environment, and hospitality.
But let's not rely just on organizational awards. On Google the Hyatt Regency has 3,561 reviews (as of this writing), averaging out to 4.5 stars, with many of those praising this, "Excellent resort with great offerings, friendly staff, and amazing views."
Tripadvisor is no different.
The only part about Hyatt in Maui that's not so nice, is, of course, the price. Then again, most things on Maui are expensive. Such is the island life.
Is Hyatt Regency Part of Marriott?
No. Hyatt Hotels Corporation and Marriott International are two separate and competing hotel chains.
Marriott International was founded by J. Willard Marriott and Alice Marriott, and is based in Bethesda, Maryland. Whereas, Hyatt Hotels Corporations is owned by The Pritzker family under Global Hyatt, and is based in Chicago
Global Hyatt It maintains and licenses the administration of around 210 hotels and resorts around the world, with a total of more than 90,000 rooms in 43 countries.
Is Hyatt Part of Hilton?
Hyatt Hotels Corporation is a different hotel chain than Hilton Hotels.
The brands under Hyatt include Park Hyatt, Hyatt Regency, and Grand Hyatt whereas the brands under Hilton include Conrad, Hampton Inn, and LXR.
Similarly, the loyalty program of Hyatt Hotels includes World of Hyatt and that of Hilton is Hilton Honors.
What is Unique About Hyatt Regency In Maui?
Above, we discussed Kaanapali beach, the luxury setting of the Hyatt Regency resort, but here when we talk about what makes Hyatt unique we have to talk birds. Yes, Hyatt Regency is home to an open-air atrium with over 50 birds, across 21 species, and a number of plants.
There are even black-footed penguins, which, being from South Africa, are warm-climate penguins There are also swans and ducks and flamingos.
Guests can embark on the one hour wildlife tour with a naturalist on Tuesdays, Thursdays, or Saturdays at 10am, and is especially great for families.
Other Places To Stay In Maui
We've written quite a bit about all of Maui's available lodging, and continue to do so, but we wanted to share a few more places to stay from our friends at Booking.com. 
A Resort Stay: The Four Seasons Resort in Wailea is the cream of the crop of resort stays, with restaurants, ocean views, an on-site spa, and the Shops at Wailea are just down the road. Couples particularly love The Four Seasons!
Bed and Breakfast: Sometimes, it's all in a name, and Adventure in Paradise is exactly what it sounds like, located in Haiku on Maui's north shore. Wake up to a 180 degree view of Haleakala summit every morning from your private patio.
Hotel: The highly rated Maui Sunset hotel combines laid-back atmosphere and the beach of Waipuilani Park. Also, it's only 1.7 miles from the Elleair Maui Gold Club!
Vacation Home: Find your home away from home at Puu Koa Palms, six minutes from Hookipa Beach, and near the Hana Highway. Also particularly great for couples!
Villas: If you're looking to vacation in style with your own villa try the Andaz Maui, which include all the expected amenities along with grills and plunge pools.