Kamaole Beach Park is the most popular beach in Kihei. Or, technically, the three most popular beaches in Kihei.
Kamaole I, also known as Kam I, is the biggest of the three, with calm waters for swimmers and soft sands for sunbathers. 
Plan your visit to Kam I with this guide.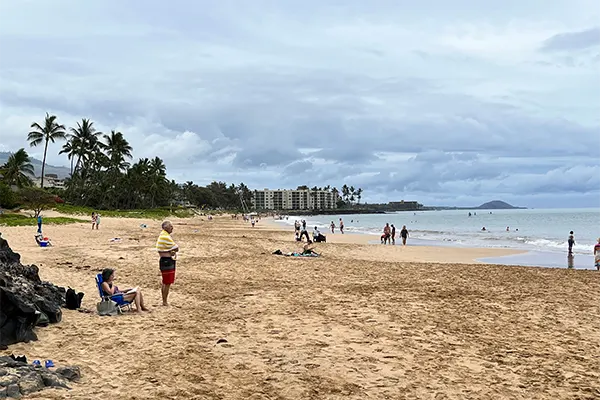 What Is Kamaole Beach Park I?
Much of the South Maui coastline gives way to sandy beaches and clear seas, and along the edges of Kihei there are plenty of public access parks.
Kamaole Beach Park just skirts the far end of Kihei, as the coarser north Kihei sands give way to soft Wailea comfort.
Also known by the affectionate nickname of Kam I, Kamaole Beach Park I is the northernmost of the Kam Beaches.
It's known for good snorkeling and having plenty of room for lounging about. (If you plan to snorkel, check out where to rent snorkel gear.)
At roughly one third of a mile long, Kam I is the largest of the three beaches, with a slight crescent shape lending an attractive curve to the fine sand.
Getting To Kam I
Kamaole I is found on South Kihei Road. There is ample public parking, although on busy days it can still be difficult to find a space.
The main public lot is found by the turning from South Kihei Road to Alanui Ke'ali'i, and there's an overflow lot near ABC Store.
There's also street parking, if both lots are full. Kam I is well signposted whether you're heading north from Wailea, or south from West Maui.
You can also access Kam I via the other Kamaole Beach Parks, although there is a slight scramble over the rocks that border Kam I and Kam II.
A quicker way to go is to cut across the lawn at the Royal Mauian, which is technically public access (although we'd advise against trampling all over the manicured grass).
Walking the three beaches is a nice way to stretch the legs, and you can see some subtle changes to the coast as you make the trip.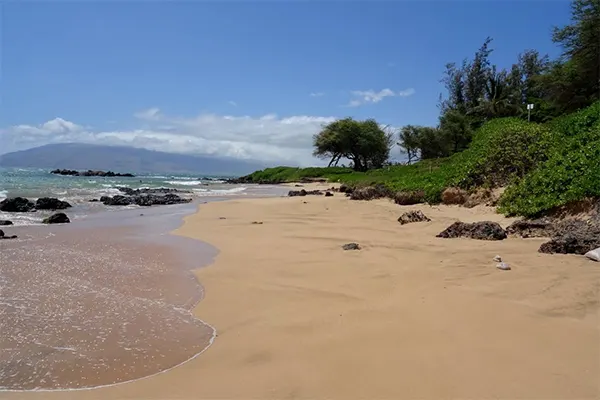 What To Do At Kamaole Beach Park I
As the largest of the Kamaole Beaches, Kam I is often popular with those looking for a place to soak up the sun.
The beach is made of fine white sand, with fewer rocks than Kam II or III.
There's a small grass area for picnics and relaxation, but better park facilities can be found at Kam III.
Thanks to the large, sweeping shoreline and wide sands, Kam I has a laid-back vibe that can draw a crowd.
Kam I is well known for snorkeling, with the rocky outcrops that mark the beach borders offering the best sites. Most snorkeling happens at the south end, under the watchful eye of the lifeguards.
Wildlife isn't hugely abundant, but you can typically spot something worth seeing, especially as the water clarity is better than average.
Including sea turtles, which are often in the area. Swimming is also good at Kam I, with gentle rolling waves for both strong swimmers and those with less experience. 
Unusually for a snorkeling beach, Kam I also has some waves for boogie boarders.
The swells aren't the thrills that you might find on the North Shore, but they're still a fun time.
The waves don't break consistently, but when they're around, it's worth grabbing a bodyboard.
You're likely to spot groups playing volleyball on any trip to Kam I, as there's a net set up at the back of the beach.
Bring a ball of your own, or see if you can join in with another game. If you don't fancy playing, stretch out your legs by taking a stroll along Kam I.
At the north end you'll find Charley Young Beach Park, which is popular with the locals.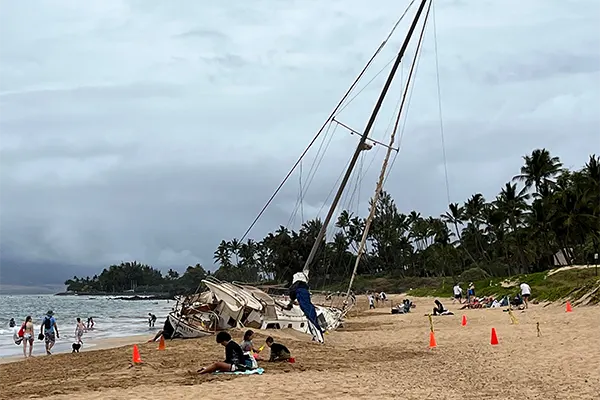 Kamaole Beach Park I Facilities
One of the reasons Kamaole Beach Park can draw a crowd is thanks to the number of facilities.
Of course, it's also an attractive beach with plenty to keep you occupied.
But there are quite a few beaches like that on Maui, and sometimes it's nice to have easy access to toilets and restaurants.
There are toilets and outdoor showers on Kamaole I, as well as an on-duty lifeguard.
With Kam II and Kam III in walking distance, you can also access picnic benches and barbecue pits.
Kamaole Beach Park is past the main Kihei shopping centers, but there are still restaurants and convenience stores just a walk away.
If you get hungry or fancy a break from the sun, you won't find yourself lacking options.
Anything Else To Know?
The calm waters of Kam I have made it one of the Kihei's most popular family beaches, and the top choice for swimmers visiting the Kamaole Beach Park.
The lifeguard on duty is found at the south end of the beach park, so enjoy the water here for the safest swimming. 
If you aren't such a fan of the water, Kam I is also an excellent spot for lounging. The sand is cushion soft, and the extra room gives you space to stretch out.
When you want to move your legs, Kam I is good for an afternoon stroll, or you can pop along to the adjacent beach parks.
The beaches of Kamaole are marked by rocky outcrops. To the south of Kam I is Kam II, and you can climb the rocks to get from one beach to the other.
It is a bit of a scramble, particularly for the less-than-sure-footed. To the north of Kam I is Charley Young Beach.
Tucked away at the end, and away from the lifeguards, Charley Young Beach attracts the locals, but tourists are welcome.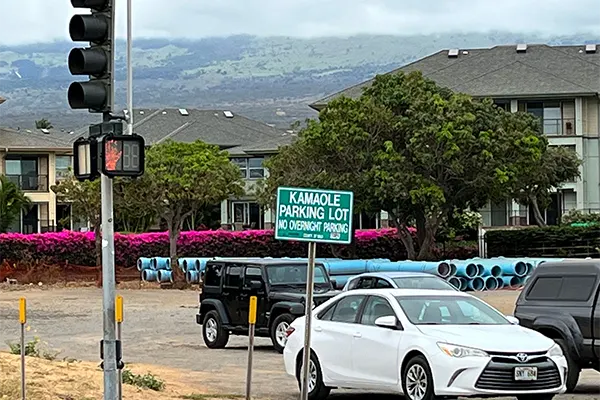 Swimming, Sunbathing, And Easy-Access Facilities
Kam I isn't the island's most impressive beach, but it is a place for good swimming and sunbathing with easy access to nearby facilities.
At Kam I, the rougher sands of Kihei start to transform into the soft beaches of Wailea. And with clear seas and consistent waves, there's plenty to do at Kamaole I.