On South Maui, there are beaches for everyone. Whether you want surfing thrills, or the discovery of snorkeling. For families needing a picnic spot, to couples who desire seclusion, it can all be found in Kihei. 
Finding the best beach for you in Kihei is about exploration, but it helps to know where to look.
We've compiled a list of the best South Maui beaches, from the tip of North Kihei down to Wailea, so you can discover your favorite part of paradise.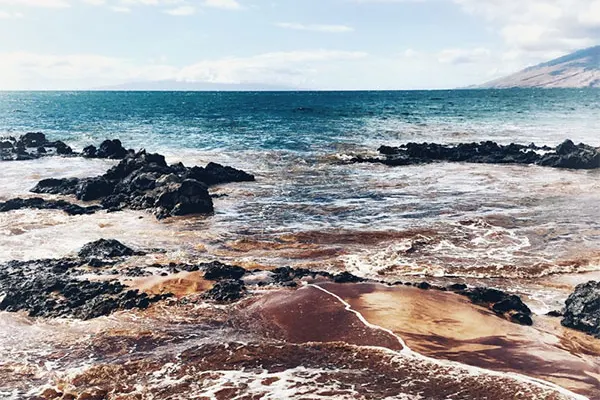 Kama'ole Beach (aka Kam I, Kam II, and Kam III)
No trip to Kihei would be complete without a trip—or two, or three—to Kama'ole beach. Kama'ole is the catch-all term for three beaches, affectionately known amongst the locals as Kam I, Kam II, and Kam III.
Each separate beach has a totally different personality, so the best way to experience Kama'ole is to spend time at all three.
The beaches are right in the middle of Kihei, and are super easy to find. Not only are there plenty of sign posts, but large crowds will often show you where to go. 
It is possible to walk all the way from Kam I to Kam III, although at times you may have to negotiate some rocks. Other than that, it's a pleasant way to pass a lazy day, and an opportunity to discover the unique features of each area.
Kam I
Kam I is the biggest of the three beaches, and the beach that attracts the most crowds. As soon as your toes touch the soft sands, you'll understand why.
The golden crescent beach unfurls over a long length, with a white sand center indicating the best place to swim.
Head to the rocks for snorkeling, where the clear waters reveal turtles. With lifeguards, ample parking, and plenty of amenities, families can feel comfortable relaxing on Kam I.
Charley Young Beach
Right at the top end of Kam I is Charley Young Beach.
Named after the man who once owned the land, Charley Young Beach tends to be popular with the locals. Parking is limited, and the amenities are at the other end of Kam I. That means on a good day, you can get a gorgeous stretch of beach with a smaller crowd. 
Kam II
The little sibling of Kam I, Kam II has many of the same features as Kam I on a smaller scale. Snorkeling is good at the rockier ends of the beach, and you can swim most of the way along.
The facilities are slightly more limited, but it's a nice place for a stroll. 
Kam III
Kam III is the rebel of the family, a small beach that manages to attract an incredible crowd. Expect to see plenty of locals making the most of the grassy area.
The actual beach is fairly short, but swells make the sea good for bodyboarders.
The real attraction is the large grass park, which is a popular hang out spot. Facilities are ample, so it's a good place for picnics and people watching.
Mai Poina 'Oe Ia'u Beach Park
Mai Poina 'Oe Ia'u is something of a hidden gem, found at the heart of North Kihei. The long and sandy beach tends to be relatively quiet, despite its obvious beauty. If you stumble across it, it's easy to wonder why the crowds aren't descending here the way they do on Kam I.
When the wind picks up, you'll probably understand a little better, but don't let that put you off. Swimming isn't allowed, but windsurfers have made this place home.
Honeymooners should enjoy strolling hand in hand, as the wind dances gently. Keep a close eye on the sea for the opportunity to spot a whale breaching the water.
As a quieter beach, facilities aren't fantastic, and there isn't much food around. Pack yourself a picnic and head over for a mid-morning brunch. 
Ma'alaea Beach
Anyone who values solitude and nature will enjoy spending time at Ma'alaea Beach. Come early to watch the sunrise as it spills amber light over a serene slice of paradise.
Bring your sense of adventure and spend the morning exploring the tide pools, or watch the glittering seas for a chance to see dolphins playing among the waves.
A gentle breeze has created some areas that are good for surfing, but the best way to enjoy Ma'alaea is with your toes planted in the sand. 
If you're hoping to find some serenity, then a quiet moment at Ma'alaea can do a world of good. Away from the crowds of the developed beaches, there's an opportunity to enjoy Maui differently. Come in the early afternoon, and watch as the light changes along the sand.
Kalepolepo
Kalepolepo isn't quite a local secret, but its quiet sands are popular among those looking to escape the crowds. It lacks some of the sand and sea quality of the more popular beaches, but the peace and calm found in Kalepolepo makes up for any shortcomings.
It's also one of the best places to spot humpback whales as they pass through, so nature lovers should swing by. 
Despite being relatively small, Kalepolepo has a rich history. Once home to a thriving Hawaiian village, it's now a site of historical importance. Look for the fishpond, which has been in use for centuries.
It's one of the most accessible historical sites to visit on Maui, and a great opportunity to learn about this fascinating island. 
Cove Park
A go-to surfing beach, Cove Park is located just south of the center of Kihei. The little beach is considered to be an amazing place to learn how to surf, which is what it's used for most. Slightly further down is another cove, where the swimming is better. 
If you're interested in getting to grips with a surfboard, Cove Park is fantastic. There are plenty of instructors around ready to get you on a longboard, and not many non-surfers hanging about to watch.
At Cove Park, you start to see how the water changes quality at Kihei. North of here, water tends to be murkier, and not ideal for snorkeling most days. South of Cove Park, the seas become much clearer.
Keawakapu
Tucked away at the end of South Kihei, Keawakapu is a delight. Cushion soft sand greets your feet every step along the stretched coastline, with few rocks disturbing a gentle stroll. Shallow waters are great for children, but there are places for snorkeling to be found at the southern end. 
Photography fans have to make a stop at Keawakapu. The dramatic rocks and white sands are wonderful backdrops for family photos.
If you haven't taken that perfect holiday snap just yet, Keawakapu at sunset should have you sorted. Stick around into the evening if there's a bright moon, and explore the tide pools as they come alive.
There are facilities at Keawakapu, but not a lifeguard. Enjoy a picnic, or simply soak up the sun. Developments nearby don't intrude on the beach, which feels wonderfully isolated. Keawakapu means "forbidden harbor", but there's really no reason to stay away from this lovely spot.
Big Beach (Makena or Oneloa Beach)
Visitors to Kihei should take the trip down to Big Beach. This beach is so gorgeous it's often used when advertising Maui, because it really is one of the most stunning beaches the island has to offer. 
Big Beach, as you'd expect, is a big beach. Stretching a mile long and 100 feet wide, silky soft sand tumbles down towards emerald water. Lava formations shelter the beach, and snorkelers and swimmers will find much to keep them busy.
Big Beach isn't just the best beach near Kihei, it's one of the best beaches on Maui. With golden sands and water tinged green and blue, Big Beach is ideal for those looking to experience something distinctly Maui.