When you think of pizza, your mind probably doesn't automatically go to Maui. Unless you're the world's biggest Hawaiian pizza fan, we tend to associate the doughy treat with Italy, or at least continental USA.
But Maui is a place that's full of different cultures, and pizza is really starting to take off.
Talented chefs are making the most of the incredible ingredients the island has to offer, meaning Maui pizza is no longer the second choice.
Great pizza joints are starting to pop up all over Kihei, and, yes, you can get more than just a Hawaiian pizza.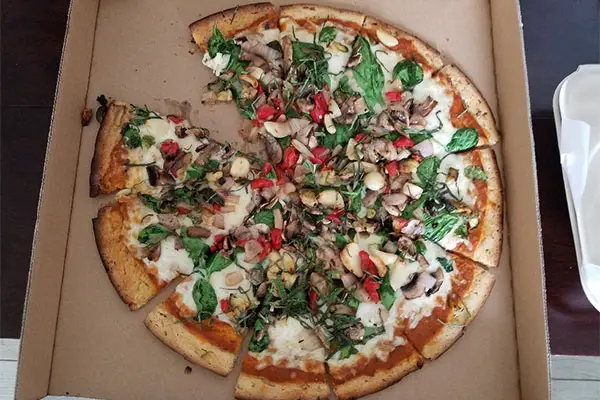 The Outrigger Pizza Company
The Outrigger Pizza Company doesn't initially look like much but you should not let appearances deceive you. The small yellow stand is a food truck located in a parking lot, and your first reaction may be just to walk on by.
But then the smell hits you: homemade dough, rich sauces, and that instantly recognizable tang of a wood fired oven.
You won't be able to resist heading over.
There's real aloha to be found at the Outrigger, which has a definite surfer-dude feel and a laid back approach. But they know what they're doing, and everyone works the brick oven like an expert. The base is crisp, puffed up on the edges with lots of color.
If you're a person who believes pineapple doesn't belong on pizza, then try the lilikoi pork. The salty pork and sweet tang of lilikoi may convince you that fruit is a valid pizza topping.
Open Monday – Saturday, 11am to 8.30pm.
Fabiani's Bakery and Pizzeria
Fabiani's does authentic Italian pizza, with a thick and chewy dough laden with toppings. The restaurant is perfect for families, with a bambino menu for any keiki in your party.
There's a real home-cooked feeling to Fabiani's Bakery and Pizzeria, and you'll feel like you're in Aunty's kitchen as you wait for your pizza.
The pizza themselves are fresh and tasty, with a few unusual selections alongside the classics. You can even build your own, great for any fussy eaters.
All the pizzas can be made gluten-free, and with vegan cheese (for an extra cost).
There's no classic Hawaiian, but there is the playful Mauian. This pizza uses Kalua pork alongside pineapple and BBQ sauce, and it is delicious.
Make sure you leave room for dessert because the bakery at Fabiani's is hard to resist.
Open Thursday – Tuesday, 2pm to 8pm. Closed Wednesday.
Pizza Madness Maui
Pizza Madness doesn't do the Hawaiian—which is either madness or brilliance, depending on your point of view. However, you can build your own, and pineapple and ham are both options. Or you can go truly mad, and try a bit of everything. 
Pizza Madness is real old school pizza, where the toppings are kept simple, so you can build what you like. The atmosphere has a bar-style buzz, thanks to the low lights and casual vibe.
Pizza is delivered quickly, and comes with a thick crust and piping hot cheese. Order a side of garlic bread and mozzarella sticks, and go away completely satisfied.
With local beer on tap and a bustling indoor seating area, Pizza Madness feels like a place to meet friends. Just be careful when choosing your toppings, as prices quickly add up.
Open daily 11am to 8.30pm.
Shaka Sandwich and Pizza Inc.
Stop at the Shaka Sandwich and Pizza Inc. if you want to grab a slice of authentic New York-style pizza. The sauce is the star, made fresh every day using local ingredients.
A thin and crispy base is piled with this tangy sauce, and then loaded with a topping of your choice. 
Shaka's has been a business for over 25 years, and has gathered a crowd of loyal followers. You won't feel quite like you're in New York, but the hustle and bustle is reminiscent of city life. 
The prices are very reasonable, making for a happy meal. The menu might be simple, but it's good, hearty food, that's just what's needed after a long Kihei day. 
Open daily, 10.30am to 9pm.
Maui Brewing Company
Although not technically a pizza place, the food, beer, and atmosphere of Maui Brewing Company makes it too good to be left off the list.
This big open space blends the rustic and the industrial, creating a restaurant with a distinct modern feel. The large outdoor seating area offers some amazing views, and the family-friendly atmosphere is bursting with aloha.
Food comes quickly even when it's busy, but you'll want to spend some time exploring the range of brews available. Try a hard seltzer, for something a bit different.
The stripped back menu is brief, but everything is perfectly designed to match good beer and chill evenings. The pizza crusts are crafted by hand with real skill.
Open daily 11.30am to 10pm.
And if you're looking for pizza outside of Maui check out Six Places To Eat Delicious Pizza On Maui.