When you think of bars in Maui, you probably picture yourself sinking your toes into the sand while sipping on a fruity cocktail. Honestly, that's pretty hard to beat, and Lahaina has some fantastic options if this is what you're after.
But if you want something a little more elegant, or a lot more party, West Maui has that to offer as well.
Drinking in paradise is one of the selling points of a trip to Lahaina, and there's something to suit every taste.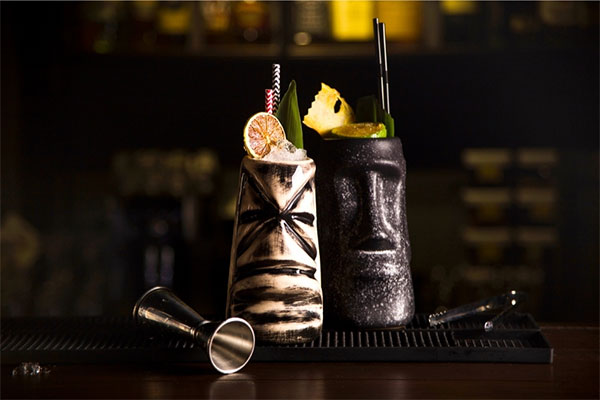 What Is The Nightlife Like In Lahaina?
Maui loves a party, but it isn't really known for its nightlife. Bars foster more of a laid back welcome than a rowdy club vibe.
This means bars tend to be filled with personality, and often give you a chance to savor the fantastic drinks. From locally brewed beers to cocktails mixed with fresh fruit, the real joy of Maui bars is the unique atmosphere they create.
That said, Lahaina is a thriving tourist destination and a busy town. It's definitely possible to find things to do after dark, and bar hopping is a common pastime for tourists and locals.
Live music is also popular, with local musicians playing as the sunsets.
What About Happy Hour?
Always keep an eye out for happy hour in Lahaina.
Many bars and restaurants offer an extended happy hour, when you can enjoy drinks and food at a lower cost.
Bars can be expensive, so happy hour is often the best time to try something new.
For an Extensive Drinks Menu
The Dirty Monkey
There are three reasons for a trip to the Dirty Monkey: the cocktails, the local beers, and the whiskeys.
And while we don't necessarily suggest you try them all in one go, The Dirty Monkey is certainly worth more than one visit.
Beer on tap comes from the local Maui brewing company, and the golden ales are the perfect accompaniment to a fabulous Maui sunset. Come along for happy hour, and pair a sweet cocktail with the famous Monkey Pub Chips.
Open daily, 12pm to 12am. Open daily for happy hour 3pm to 6pm.
For Mai Tais and Views
Pau Huaka'i Tiki Bar
If you close your eyes and picture yourself on Maui, there's a good chance the image that comes to mind is a Mai Tai by the beach.
The Pau Huaka'i Tiki Bar can provide just that. Pau Huaka'i means "the end of the journey," and this Tiki bar is exactly where you want to find yourself for a Maui evening.
Open daily for dining, happy hours between 11am and 12pm, and 5pm and 6pm.
For A Long Happy Hour
Down The Hatch
Down the Hatch boasts the longest happy hour in Lahaina town, which is perfect for fans of this bar's vibrant atmosphere. A wonderful and friendly place, with frequent live music and specialty cocktails.
Down the Hatch may not have the most extensive menu, but the craft cocktails are full of personality, flavor, and booze. If you head along for happy hour, you may find yourself there all night.
Open Monday – Thursday, 7.30am to 10.30pm. Friday – Sunday, 7.30am to 11.30pm. Happy hour daily from 2pm to 5pm.
For A Rock And Roll Atmosphere
Fleetwood's On Front Street
You'll have to book if you want the opportunity to experience Fleetwood's On Front Street, but it's definitely worth the effort.
Owned by rock legend and Maui transplant Mick Fleetwood—yes, from Fleetwood Mac—it has a completely unique vibe. The views are fantastic, the music is thumping, and the drinks are incredible. 
Open daily for dinner from 5pm to 9pm. Happy hour daily from 3pm to 5pm.
For A Casual Atmosphere
Lahaina Sports Bar
Lahaina Sports Bar is the sort of place you can accidentally find yourself losing a day at. With chilled beer and a cold AC, the atmosphere is so laid back you'll quickly find yourself getting comfortable.
Good food can see you through a long happy hour, and as the night goes on the bar adapts to the low lights and loud music of a club.
Open Monday – Saturday, 10am to 12am. Open Sunday 7am to 12am. Happy hour daily from 3pm to 6pm.
For Drinks In The Sand
Hula Grill Ka'anapali
The barefoot bar at the Hula Grill offers you a real chance to enjoy a classic Maui experience.
Get yourself one of the bar's signature cocktails, and sink your toes into warm golden sands. Absolute bliss.
The Lilikoi Mojito is particularly good to sip on as the sun goes down, combining the classic drink with a popular local fruit. The barefoot bar also has an impressive wine list and some locally brewed beers.
Open daily from 11am to 9pm. Dinner from 4:30pm to 9pm.
Drinks With A View
Kimo's Maui
Kimo's Maui is a West Maui staple, and a popular choice of bar for visitors to Lahaina. The signature cocktails pair perfectly with the ocean views (and a slice of their famous hula pie).
The atmosphere in Kimo's is unbeatable, bursting with the aloha spirit.
It's a great place for a celebration, and the large wine list complements the fresh and local food.
Open daily from 11am to 9pm. Dinner from 4pm to 9pm.
Frida's Beach House
Frida's Beach House is a Mexican restaurant that has the best range of tequilas to be found in Lahaina, and possibly on all of Maui. Enjoy sipping on them straight, or upgrade to a margarita for not much extra.
The family run restaurant is bursting with personality, and the attractive décor and brilliant views make Frida's Beach House a wonderful experience. 
Open Monday – Saturday, 11am to 9pm. Closed Sunday.
For A Midday Treat
Papa'aina At The Pioneer Inn
Located in the gorgeous Pioneer Inn, Papa'aina serves fresh food alongside some of the best drinks in Lahaina.
Keep an eye on the special's menu, which often features some funky cocktails made with a Hawaiian twist.
We recommend the Papa Mai Tai, but the Coco-Chai Cooler is just right on a tropical day.
Open daily 8am to 2pm.