The North Shore of Paia, Maui is lined with tropical rainforests and beautiful beaches, and is the gateway to the Road to Hana. 
If you're visiting Maui, the North Shore is a place you don't want to miss. 
In this article we're taking a look at what the North Shore of Paia is known for and what you can expect when you visit.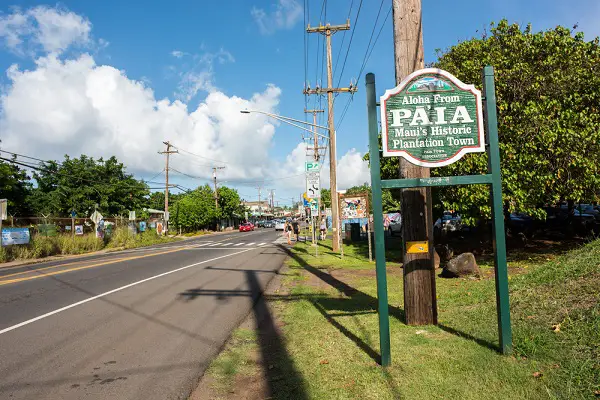 The Town of Paia 
Paia is one of "America's Best Small Towns," according to Fodor's, and they aren't wrong. Not only is Paia a great place to visit, but many visitors drive past Paia the first time they visit as they miss it altogether! 
Rather than being known for its snorkeling scene like many other towns in Maui, Paia is known for its eclectic and friendly residents. Paia is a great place to stay. 
Tourists can relax in the excellent restaurants, bars, and cafes, or take a stroll through the art galleries and small independent shops. Just know that parking in Paia can be a bit of a challenge. 
The shops
Pop into each one of Paia's independent shops to check out keepsakes, such as tie-dye shirts and shell necklaces. Find one which fits your style best, as they all offer slightly different vibes.
Most of the items are handmade, and therefore one of a kind. 
There is also the Paia Farmers Market to pick up some locally sourced produce as well as smoothies, juices, and vegetarian cuisine. 
The restaurants
There are plenty of places to get food from in Paia. Mama's Fish House  is widely considered one of the best restaurants in all of Maui. 
Other restaurants include Flatbread Company, Thai Spice, Mana Foods, Charley's, and the already mentioned Paia Fish Market.
Charley's is a popular spot for famous surfers, musicians, and celebrities to hang out, so you might see some familiar faces.
Beaches Near Paia
Along the North Shore, there are plenty of beaches to visit, such as Baldwin Beach and Ho'okipa Beach. 
Baldwin Beach
Moving along the North Shore you'll see that Baldwin Beach is the largest beach near Paia.
There is a pavilion for parties and events, and plenty of lifeguards if you want to take a dip.
The sun sets behind the West Maui Mountains, which can be seen from Baldwin beach and are extremely romantic. 
Hookipa Beach
Hookipa Beach is considered the windsurfing capital of the world and is a must-see attraction for anyone who enjoys watersports.
The beach includes a clifftop seating area and food cart. 
Best of all? On Hookipa Beach visitors can almost always see turtles sunning themselves on the sands. 
Jaws
Jaws is up the road from Paia and has been dubbed one of the most intimidating surf spots in the world.
Trust us, this isn't for the faint of heart! If you're worried about getting in the water, you can simply sit along the shorefront and watch the professionals instead.
Professional surfers reside here during the colder months, such as December, as the waves can reach heights of over 60 feet. Even if you don't visit in the winter, the waves during the summer are ferocious and a sight to behold. 
Road to Hana
The Road to Hana is one of the most popular attractions in Maui, so if you're coming to the area you should definitely consider making the trip along the Hana Highway.
There are plenty of sights to see along the highway, so preparation is key to ensure that you don't miss anything. 
When visiting the Road to Hana, you'll pass directly through Paia, and many visitors stop off in Paia to get breakfast at Charley's. 
Twin Falls
Located about 20 minutes past Paia, Twin Falls features a number of hikes between 1.5 and 2 miles long. Twin Falls is one of the most heavily trafficked places around Paia so be prepared for large crowds and lots of hikers. 
The hikes offer many waterfalls and other beautiful sights. Some people even take bathing suits and swim in the pools underneath the waterfalls. 
Paia is known for its independent shops, excellent eateries, and interesting locals. And Paia connects visitors to amazing beaches, beautiful hiking trails, and crystal clear waterfalls. 
If you're visiting the North Shore it's well worth taking the time to visit Paia, one of the best small towns in America.