After Maui's devastating wildfire many would-be travel goers are wondering when they can safely return to the island.
So, for now, we'll be brief and answer the question, when can you travel to Maui?
(Know that the following dates are not set in stone, so consider the below an estimate that's subject to change.)
August – No
September – Probably okay for all parts of the island except for West Maui. Pay attention to what authorities are saying regarding the West side.
October and on – the island will suffer economically without tourism so don't cancel.
Keep in mind, West Maui travel may not be possible for the rest of 2023. It's far too early to tell. The scope of the devastation is still being unraveled: the wildfire is already the deadliest in modern U.S. history.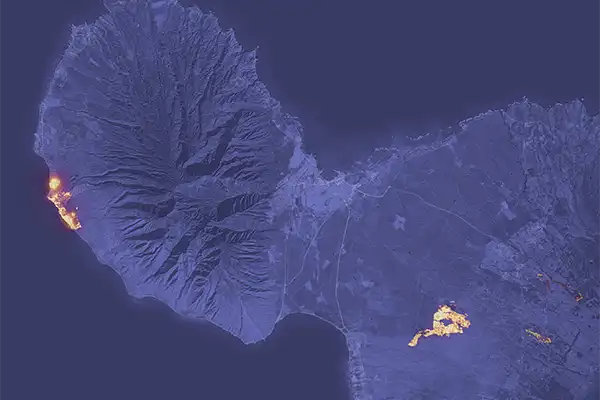 Image taken by NASA's Earth Observatory at 10:25 p.m. local time on August 8, 2023. 
How Can I Help?
For anyone who can,the Maui Strong Fund is accepting donations to help those affected by the wildfire.
"The Maui Strong Fund is providing financial resources that can be deployed quickly, with a focus on rapid response and recovery for the devastating wildfires on Maui."
The Maui Strong Fund is operated by the Hawaii Community Foundation and is supported by the Hawaii Governor's Office.
Other ways to help:
So… Maui Is Not Closed
No, Maui as a whole is not closed. But in the short term we want to stress respect for locals, and a consideration of the island's resources (the water supply in Lahaina and Upper Kula may have been contaminated).
Don't burden an already strained situation.
As far as August is concerned, Governor Green has stressed that all non-essential travel to West Maui is discouraged, that includes Lāhainā, Nāpili, Kāʻanapali, and Kapalua. Hotels in West Maui have stopped accepting bookings, in order to accommodate evacuees and disaster workers.
Besides West Maui, other parts of the island are open. But if you do have plans to visit other parts of the island, reach out to your hotel or vacation rental prior to travel to make sure they can accommodate you.
Overall, Maui needs tourism to survive—eventually. So visit restaurants and shops and stores when it's OK to travel.
Of course, some areas will be completely off limits for the foreseeable future. Lahaina Town should be left alone by tourists in the coming months. Do not be disrespectful and take selfies amid the devastation.
What About Other Parts of Maui?
West Maui was not the only area affected by wildfires, though it is the area most severely affected.
As of August 15th, 2023, the fire update from Maui County is as follows:
Upcountry/Kula fire (initially reported 8/8): Now 75% contained. Estimated 678 acres. Hot spots in gulches, forests and other hard to reach places, along with land divisions and fences, make establishment of complete control lines difficult. During daylight hours, Monday, 8/14, air support was deployed to hit hot spots inside the perimeter.
Lahaina fire (initially reported 8/8): 85% contained. Estimated 2,170 acres. Multiple fire crews are assigned to monitor and address any flareups. There are no active threats at this time.
Pulehu/Kihei fire (initially reported 8/8): Remains 100% contained. The Pulehu/Kīhei fire was declared 100 percent contained Saturday. Fire personnel are staying vigilant for flare-ups. There are no active threats at this time.
Puʻukoliʻi / Kaʻanapali fire (initially reported 8/11): One acre. Extinguished 8/12. Remains extinguished.
What If I Purchased A Flight To Maui?
Delta Airlines
Passengers who purchased tickets to Maui on or before August 10 can reschedule their flights, subject to specific guidelines. They can change their bookings without any additional fees if they choose new flights that depart on or before August 18.
However, if they decide to rebook after this date, they will be required to cover the fare difference.
For travelers who prefer to cancel their plans altogether, Delta is offering flight credit that can be used for a future flight—good for one year.
Hawaiian Airlines
Hawaiian Airlines is offering a waiver that allows passengers to reschedule their flights at no extra charge. Passengers can also change their destination if they wish—to certain parts of Hawaii. .
Passengers must rebook by August 23 and travel by September 1. Hawaiian Airlines is also allowing travelers to cancel their flights, for a flight credit or a refund.
United Airlines
United Airlines passengers who made their bookings on or before August 8 can rebook or cancel their ticket. If passengers rebook, they can do so without any additional fees, provided the new flight falls between August 8 and 16 and involves the same departure and arrival cities.
American Airlines
American Airlines is eliminating change fees and offering full refunds for passengers. Those impacted by the wildfire can adjust their travel plans without fees. Passengers have the choice to rebook, cancel, or receive a refund.
These changes can be made through the airline's website.
Southwest
Southwest Airlines customers with flights for Maui can adjust their plans from August 9 to September 4. Passengers can book alternative flights within 14 days of their original travel date.
Traveling to Maui
As far as travel to Maui, all we can say for now is be patient, offer assistance if you can, and don't rush to cancel your trip if it's later in the year.
For now, we have to wait and see—and pray.
Maui stil no ka oi.