Looking for an extended Maui vacation that you can enjoy on your own time? Then you may be interested in Maui monthly house rentals, or Maui condo rentals.
There are plenty available across the island, with options for nearly all budgets and needs.
To find the right condo rental for you, read on to learn all about monthly rentals in Maui.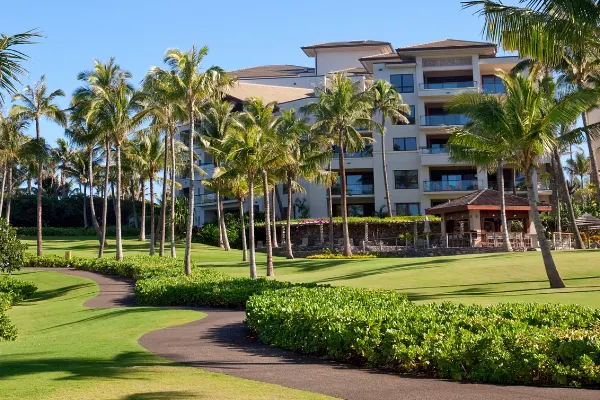 Can You Rent A Condo On Maui?
Yes, condos and monthly rentals are common on Maui, and often offer a well-priced alternative to hotels and resorts. Monthly rentals typically come equipped with kitchens and dining areas, allowing guests to enjoy a longer stay. 
Condo complexes can be found in all the biggest tourist resorts, and taking advantage of the space in less crowded vacation areas.
If you're looking for a house rental, these are popular choices across Maui. For a bargain, try a property away from the beach. But if it's ease you're after, many areas have monthly house rentals in prime locations. 
Best Maui Condo and Monthly Rentals
Kahana Sunset
Kahana is a quiet coastal area on the road from Ka'anapali to Kapalua. Kahana Sunset condos are a beachfront property with a relaxed family feel, and a chance to get away from it all.
Visitors will enjoy walking around the grounds, and taking a dip in the heated pool. The well-priced condos are suitable for all sorts of vacationers.
Kapalua Villas by Outrigger
The spacious Kapalua Villas by Outrigger stretch across the scenery at Kapalua, a beach town at the northern end of West Maui.
Condos range from small one bedroom units to impressive three-beds, and there are plenty of amenities to keep visitors happy.
Condos are found in three different resort properties, from an oceanfront property to a golf villa, allowing guests to really personalize their stay.
Napili Shores Maui by Outrigger
Another Outrigger property, Napili Shores Maui by Outrigger grants guests close access to the delightful Napili Bay beach.
The newly renovated properties are among the best on Napili, and guests can enjoy walking the tranquil grounds.
And it's right by the famous Gazebo restaurant, so you can be first in line for their mac nut pancakes!
Napili Sunset Beachfront Resort
Napili may not be the most famous of the Maui towns, but it does attract plenty of repeat visitors. Partly because of the charm, and partly because of the wonderful beach.
Condos at Napili Sunset have prime beachfront locations, and long stays can come with a decent discount. Should you get tired of the beach, the Napili Sunset heated pool is waiting for you.
Westin Ka'anapali Ocean Resort Villas
Ka'anapali Ocean Resort Villas combine condo privacy with resort amenities, making it a popular choice for families. The 26-acre location stretches along Ka'anapali North Beach, giving you ample room to relax and explore.
Events and amenities give this condo complex a distinctly hotel-style atmosphere, while retaining the benefits of a condo stay.
Honokeana Cove
If you're really looking to get away from it all, Honokeana Cove Resort offers condos in a private cove. This resort has a real sense of "Old Hawaii" to it, with a gated property that ensures privacy for all its guests.
Alongside comfortably equipped condos, the cove itself is the home of corals and sea turtles, for spectacular snorkeling.
Ma'alaea Surf Resort
Located on Sugar Beach, the longest beach on Maui, Ma'alaea Surf Resort rents beachfront condos in the north of Kihei. Tucked out of the way, Ma'alaea Surf Resort is ideal for those who like to explore in the day, and kick back in the evenings.
From the location, visitors have easy access to West and South Maui, as well as the North Shore. Away from resort town locations, these condos are peaceful and serene.
Mana Kai Maui
Mana Kai Maui offers you condos just outside Keawakapu beach, one of Maui's top beach destinations.
Between residential Kihei and resort town Wailea, Mana Kai Maui is perfect for families looking for a combination of peaceful stays and easy conveniences. 
Offering a range of one or two-bedroom condos, Mana Kai Maui is perfect for families and couples.
Wailea Grand Champions Villas
A condo in Wailea is never going to be cheap, but the Wailea Grand Champions Villas are surprisingly affordable. The reason for this is they aren't a beachfront property. Instead, the villas are set in land, between the golf course and the tennis club.
The location is still impressive, and the villas are high quality, but it is a 20-minute walk to the beach. Still, in return you get privacy and a luxury villa with a slight discount.
Wailea Beach Villas Resort
Immerse yourself in luxury at the Wailea Beach Villas Resort. These villas are definitely NOT for the renter on a strict budget.
But for those who enjoy the finer things in life, and can afford the price, Wailea Beach Villas Resort is incredible. The villas combine spacious living with hotel-style amenities, and a view over Wailea beach.
Choosing A Maui Monthly Rental
Finding the perfect monthly rental on Maui tends to be a case of too much choice, rather than not enough. Rental homes outside resort complexes can be found across the island, and range from the bare necessities to total luxury. 
For the best bargains around, Kihei is the place to look. Condos and rentals set away from the beach can be wonderfully priced, especially as they're operated outside resorts. 
Check out some units in less tourist based areas as well. These will often be spacious and well priced, even if they aren't so close to the beach.
Take a look at Vrbo.com, or airbnb.com to see some of the best Maui monthly rentals.
Why Choose A Maui Monthly Rental?
There's plenty to keep you occupied on Maui, but one of the greatest Hawaiian past times is relaxing. A monthly rental allows you to truly settle into your holiday, and soak up that aloha lifestyle.
With a monthly rental, you can really make yourself at home. The included kitchens make eating cheaper, and you can dictate your own schedule. If you like making your vacation your own, a Maui monthly rental might be the perfect choice.
Other Places To Stay In Maui
We've written quite a bit about all of Maui's available lodging, and continue to do so, but we wanted to share a few more places to stay from our friends at Booking.com. 
A Resort Stay: The Four Seasons Resort in Wailea is the cream of the crop of resort stays, with restaurants, ocean views, an on-site spa, and the Shops at Wailea are just down the road. Couples particularly love The Four Seasons!
Bed and Breakfast: Sometimes, it's all in a name, and Adventure in Paradise is exactly what it sounds like, located in Haiku on Maui's north shore. Wake up to a 180 degree view of Haleakala summit every morning from your private patio.
Hotel: The highly rated Maui Sunset hotel combines laid-back atmosphere and the beach of Waipuilani Park. Also, it's only 1.7 miles from the Elleair Maui Gold Club!
Vacation Home: Find your home away from home at Puu Koa Palms, six minutes from Hookipa Beach, and near the Hana Highway. Also particularly great for couples!
Villas: If you're looking to vacation in style with your own villa try the Andaz Maui, which include all the expected amenities along with grills and plunge pools.