To the South of Maui, no more than about 35 minutes from Kahului Airport, there is a city called Wailea, surrounded by 1500 acres of beaches, attractions, and multiple different resorts.
All of these resorts are known for their sense of privacy and freedom, as well as for the serene environment that allows one to soak up the beauty of the area. But with so many luxurious and inviting resorts and hotels, you might be wondering which one to choose.
In particular, many people find themselves debating whether they should go to the Andaz Maui, or to the Grand Wailea, both in the same area and both highly reputable.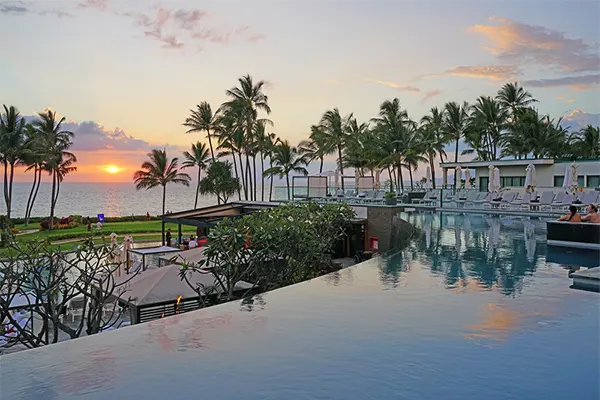 Key Information About the Andaz Maui
The Andaz Maui is a resort located in Wailea, Maui. It is a luxury hotel that is set on fifteen acres of beautiful beachfront. With plenty of rooms, suites, and even a few villas, it has been carefully designed to offer you luxury and comfort, while you are able to unwind and make the most of your trip.
It is also known for offering the full experience of Polynesian culture and history of Maui, with its many facilities and its dining options, including the famous Ohana-style meal and cocktails. 
The check-in, at Andaz Maui, is from 4:00 pm, and the check-out is no later than 11:00 am. 
Along with the many facilities the resort offers, Andaz Maui is also available for hosting special events and big important days, such as weddings and the like. Plus, Andaz Maui also has a few offers, including special prices for those that are members. 
Key Information About the Grand Wailea
The Grand Wailea is another luxury resort located in Wailea, Maui.
At the moment, the resort is undergoing a revitalization which is set to turn into a more modern and updated interpretation of the Hawaiian experience, and the final product is scheduled to be finalized in 2022. Nevertheless, the Grand Wailea will preserve its unique character and heritage, and will instead aim to become an even better icon for luxurious hospitality and comfort.
It is known for its rooms, suites, and villas, with the smallest starting at 6640 square feet. All of them have beautiful ocean views and private lanais and are well equipped with all of the necessary amenities. 
The check-in, at Grand Wailea, is from 4:00 pm, and the check-out should be no later than 12:00 pm. 
The Grand Wailea also has a membership, with special offers and prices, along with the ability to host special events and occasions upon request.
It has plenty of dining options, multiple events, and activities to fill your time with the rich culture and entertainment of the island, and offers many different services to suit all sorts of preferences and needs. 
Sleeping Options: Andaz Maui Vs Grand Wailea
If you are interested in staying at the Andaz Maui, or at the Grand Wailea, you might want to compare the different sleeping options that they both have to offer. 
Andaz Maui rooms
Normal rooms
The amenities for normal rooms in the Andaz Maui include a complimentary minibar (packed with local snacks and non-alcoholic beverages), a private lanai with beautiful views, and a 24-hour market. 
Suites
The amenities for the suites in the Andaz Maui include a complimentary minibar (packed with local snacks and non-alcoholic beverages), a private lanai with beautiful views, and a 24-hour market. 
Villas
There are 11 villas, all of them beautiful in their own way. 
Each villa comes with a unique set of amenities.
For example, the Three Bedroom Ocean Front Villa includes…
a $150 daily credit to spend in the resort,
a daily breakfast experience for up to two registered guests in the Ka'ana Kitchen,
a complimentary valet parking for one (or a one-time round-trip airport transfer),
a private one hour and a half stand-up board lesson for up to eight registered guests,
a personal VIP concierge service,
a complimentary minibar (packed with local snacks and non-alcoholic beverages),
and a private lanai with beautiful views. 
Grand Wailea rooms
Normal rooms
There are many rooms in the Grand Wailea, of different sizes and designs. Amenities include a mini-refrigerator, Wifi, a Keurig coffee maker, a 55-inch HD TV, and a walk-in shower and tub. 
Suites
The suites at the Grand Wailea are known for being spacious, with separate bedrooms and living areas, as well as a private lanai with beautiful views. 
Villas
There are three luxury villas in the Grand Wailea, all of them with separate living areas, multiple bathrooms,  a garage, a luxury kitchen with all of the basic appliances, a private lanai with a grill, and the most excellent of views. 
Pros and Cons of Andaz Maui
Pros
Fewer children and "families"
Free self-service laundry
Lots of extras included in the resort fee (such as equipment rental for activities around the island)
Transportation available throughout Wailea
Early arrival and late departure lounge 
Cons
Not all ocean view rooms have a view of the ocean
Mandatory valet, which is charged 
Some bedrooms and bathrooms are considered to be small 
Pros and Cons of Grand Wailea
Pros
Use of the Kona Lanai hard trail mountain bikes
Use of beach umbrellas
Daily scuba clinics and yoga classes
Tropical flower lei greeting upon arrival 
Cons
A lot more children
Very touristy (usually full)
No laundry facilities
Which is better: Andaz Maui or Grand Wailea?
So, which resort should you go for? The Andaz Maui, or the Grand Wailea? 
As you can see, there are pros and cons to each resort, and at the end of the day, it depends on what your specific needs and preferences are.
The Andaz Maui is often regarded as a classier option, with a bigger sense of tranquility and privacy, while the Grand Wailea is more touristy and family-friendly. 
Other Places To Stay In Maui
We've written quite a bit about all of Maui's available lodging, and continue to do so, but we wanted to share a few more places to stay from our friends at Booking.com. 
A Resort Stay: The Four Seasons Resort in Wailea is the cream of the crop of resort stays, with restaurants, ocean views, an on-site spa, and the Shops at Wailea are just down the road. Couples particularly love The Four Seasons!
Bed and Breakfast: Sometimes, it's all in a name, and Adventure in Paradise is exactly what it sounds like, located in Haiku on Maui's north shore. Wake up to a 180 degree view of Haleakala summit every morning from your private patio.
Hotel: The highly rated Maui Sunset hotel combines laid-back atmosphere and the beach of Waipuilani Park. Also, it's only 1.7 miles from the Elleair Maui Gold Club!
Vacation Home: Find your home away from home at Puu Koa Palms, six minutes from Hookipa Beach, and near the Hana Highway. Also particularly great for couples!
Villas: If you're looking to vacation in style with your own villa try the Andaz Maui, which include all the expected amenities along with grills and plunge pools.