The island of Maui has 3 separate airports, all of which suit different experiences depending on where you are staying on the island and what you plan to do.
Most of the flights on Maui come from the Daniel K.Inouye International Airport (HNL) in Honolulu on Oahu, which is the biggest airport in the state of Hawaii.
Many overseas flights will stop on Oahu first before connecting with an inter-island flight to Kahului Airport, which is the only airport on Maui that lands flights from mainland Hawaii.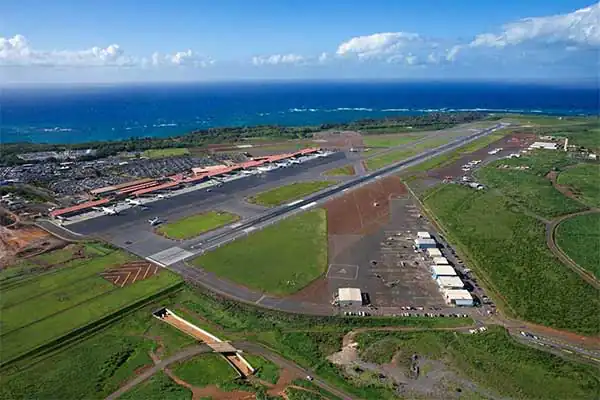 How Many Airports Are There In Maui? 
There are three main airports on Maui: Kahului (OGG) which is the main airport, and Kapalua (JHM) and Hana (HNM) which are two smaller commuter airports on the island. But which one is the best?
In general, Kahului Airport (OGG) is the most popular airport on Maui as it accommodates flights from the mainland.
Let's look at which airport would be best for your travel plans, and also what amenities each airport offers. 
Kahului Airport (OGG) – Maui's Planned International Airport
Kahului is Maui's main airport and is the only one that can accommodate flights from the mainland. It's also the only airport on Maui that had plans to accepts international flights. Despite not accepting international flights, yet, it's best suited for visitors who are traveling from overseas, too. International travelers will need to get a connecting flight from the mainland, or some airlines offer direct flights from other U.S. cities directly into Kahului Airport. 
If you're staying in Kahului or Kihei, then OGG will be the closest airport and will take you less than 20 minutes to get to your destination.
If you're staying in Lahaina, then you can fly into Kahului and then grab either a taxi, a shuttle, Uber, or take the Maui Bus to the center of Lahaina in under 1 hour. A taxi will set you back around $90, a shuttle about $30, and the Maui Bus $4. 
Airlines That Fly Into Kahului
The following airlines have flights that fly into and out of Kahului Airport: Air Canada, Alaska Airlines, American Airlines, Delta, Hawaiin Airlines, Japan Airlines, Mokulele Airlines, Southwest Airlines,  United Airlines, US Airways, Virgin America, and WestJet. 
Amenities At Kahului Airport
If you're flying to or from OGG, you'll get to enjoy both dining and shopping experiences in the terminals with coffee shops, restaurants, bars, and shops where you can buy souvenirs or even just a good book to pass the time.
Services
Kahului Airport has internet and computer access available in numerous locations throughout the terminals, which are especially handy for international tourists who cannot use their mobile phone data while vacationing. Although, there is free Wi-Fi that you can connect to directly from your mobile phone, or you can purchase faster connection online. 
There are several companies that offer lei greeting services which passengers will need to organize in advance. This is where someone will greet you at the airport, present you with a fresh lei, and also provide you with transport to your destination. 
The airport has elevators and escalators that provide access to the second level of the terminal, as well as wheelchair services available upon request (prior arrangement is recommended). 
There are plenty of restrooms available, all of which have wide room stalls and grab bars for travelers with impaired mobility.  
Airlines are able to support travelers with disabilities through their porter services, which can help support passengers at check-in, baggage claim and also boarding and disembarking the flight. This service is available upon request from the airline. 
Transportation
Kahului has several car rental companies on-site and also airport taxis available from the baggage claim area. Various shuttle companies also provide transportation to several popular destinations on Maui. These services are available in the baggage claim area with no reservations needed.
Visitors also have the option to travel via the public Maui Bus which is available outside the terminal at marked locations. The Maui Bus Routes are easy to navigate. It will take longer but if you're patient, you can save a lot of money.
Kapalua (JHM) – West Maui
Kapalua is the second largest airport on Maui and is a place where lots of tourists decide to stay, as there are plenty of lodging options and it is home to Maui's most famous golf resort. If you're staying anywhere on the West Side of Maui (Lahaina or Kaanapali) then you can get a connecting flight from the mainland into Kapalua and then get a shuttle or taxi to your destination. 
Kapalua is a relatively new yet small airport that has only 1 runway and only 300 commuters passing through the airport every day, most of whom fly with the only passenger serviced airline, Mokulele Airlines.
The airport services commuter planes meaning you'll most likely have to get a flight from Honolulu first before commuting to Kapalua, which will extend your traveling time. 
Kapalua (JHM) is often praised for their relaxed yet professional service and many travelers commend that it is West Maui's best-kept secret due to the ocean views, friendly staff, and efficient service. 
If you're not a fan of flying on small passenger planes, then the flight to Kapalua may turn you off and you may be better off commuting to your destination in West Maui via taxi, shuttle, bus, or rental car from Kahului Airport. 
Airlines That Fly Into Kapalua
Mokulele Airlines is currently the only airline that offers flights into and out of Kapalua
Amenities at Kapalua Airport
One thing to highlight about flights arriving at Kapalua airport is that the planes arrive on the tarmac and passengers will disembark via the stairs, so those with impaired mobility may struggle more. Kapalua states their airport is wheelchair accessible, but prior planning directly with the airline is advised to make sure of a stress-free and safe trip. 
As Kapalua is such a small airport, they currently do not have any shops or dining facilities available in the terminal, but they do have vending machines available for snacks, drinks, and newspapers.
There are public restrooms available as well as ATMs and parking. Although there is no car rental company at the airport, there are facilities nearby where you can rent a car. They may offer a service where they collect you from the airport or you will have to get a taxi or a shuttle to the rental facility. 
Travelers should have pre-arranged ground transportation for when they fly into Kapalua to get to their resort or call a taxi when you land at the terminal. Taxis aren't allowed to wait for potential customers outside the airport, but you may be lucky enough to find one that's dropping off departures.
If not, there are payphones in the airport that you can use to ring local transportation companies.
Hana (HNM) – East Maui
Located three miles west of Hana town is the tiny airport of Hana that only has limited flights from airlines Mokulele Airlines and Pacific Wings. Hana Airport only receives and departs flights from and to Kahului (OGG) or Hilo (ITO). 
If you don't intend to stay in Hana town or the surrounding areas, or if you don't plan on renting a car, then flying into Hana Airport is not recommended as the area is somewhat isolated and you may find it difficult to explore the island from Hana. 
Hana is popular amongst tourists who want to do their own road trips on the highly recommended Road to Hana trip, where you visit beautiful locations like Twin Falls and the abundance of beautiful beaches. 
If you plan on staying in Hana for your whole trip, then it's recommended to fly into the Hana Airport to save time instead of flying into OGG and then enduring a 2-hour drive to Hana. 
Airlines That Fly Into Hana
Hana Airport currently operates flights with Mokulele Airlines and Pacific Wings. 
Amenities at Hana Airport
There are no services, shops, or dining available at Hana Airport. There are only vending machines for snacks and drinks. Their airport does have restrooms available for passengers to use. 
There are also available parking spaces at Hana Airport, however, there are currently no car rental companies available at Hana Airport. There are car rental companies nearby. Some hotels in Hana offer a pickup service from the airport if you arrange it in advance. 
As there are no car rental companies directly at the airport, many tourists choose to fly into OGG, pick up a rental car from the airport and then drive to Hana themselves for the day. 
There are tour companies that offer bus and helicopter rides of the Road to Hana Adventure Tour, but most of them depart from Kahului. 
There is no public transportation or taxi service available at Hana Airport, so prearranged ground transportation is essential to get you to your destination.
Aircraft boarding and disembarking are from and to ground level via portable steps, so people with impaired mobility may have more difficulty. Hana Airport states they are wheelchair accessible, however, passengers will need to pre-arrange help with the airline or the airport before the trip. 
What About Airport Beach?
Airport Beach is not to be mistaken as an additional airport. There used to be an airport there called Kaanapali Airport, but it shut down in 1986 and now resorts are in its place. So please don't get confused as there is no airport or nearby airport at this Airport Beach or what is also known as Kahekili Beach. 
If you want to be as close as possible to Airport Beach (Kahekili Beach), then you'll need to fly into Kapalua in West Maui and then get a shuttle or a taxi to your lodging location.
Deciding which Maui airport to fly into depends on where you're staying and what your plans are. Be sure to review the amenities, travel times, etc. to choose the right airport for you. 
Check out this video from YouTube to see what Kahului Airport on Maui looks like: