Hawaii has been a desired destination of travelers for ages, boasting perfect panoramas and picturesque landscapes. One of the most popular hotspots is Kahekili Beach, otherwise known as Airport Beach. Although you can no longer fly into this location, as the airport is inactive, it's still a worthwhile spot to visit.
Kahekili Beach is known for crystal clear blue waters, perfect amenities for beach grill-and-chill days, and plenty of access to marine life. The area is home to countless aquatic species, making it a popular hotspot for snorkeling, scuba diving, and swimming.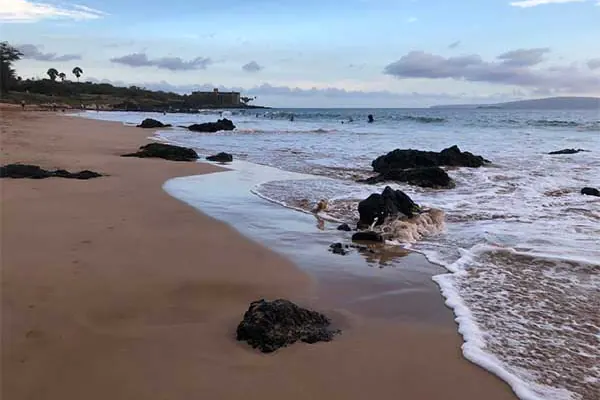 The History of Kahekili Beach (Airport Beach)
Kahekili Beach might be well-known by locals and experienced visitors, but it has generally flown under the radar of global fame. But popularity is steadily growing.
While Kahekili Beach has been well-known for its serene surroundings and breathtakingly blue waters in recent times, it also has a rich history.
How did Kahekili Beach get its name?
Kahekili Beach was named after King Kehekili Nui' Ahumanu, one of Hawaii's historic leaders and King of the Maui Empire.
The God of thunder, Kane-Hekili, inspired the King's name, and King Kehekili Nui' Ahumanu even had half of his body tattooed to match the description.
By the end of his reign, all inhabited islands of Hawaii were part of his Maui Empire—except the Big Island.
How did Kahekili Beach get its nickname (Airport Beach)?
Kahekili Beach was previously home to Maui's west airport, and the locals gave the beach the nickname of 'Airport Beach' or 'Old Airport Beach' for this reason. Although the airport is no longer there, the beach kept the nickname.
What To Do At Kahekili Beach?
Situated near Ka'anapali Beach and Black Rock, Kahekili Beach is one of Maui's largest stretches of sandy beaches.
The aesthetic of Kahekili Beach is breathtaking and has even become a popular destination for those seeking stunning coastal drone footage.
With easy access and visitor-friendly settings, Kahekili Beach is the perfect destination for all-around Maui fun and adventure. Plenty of people flock to the area to partake in various activities and spend the day basking in serene sunlight amidst tranquil sandbanks and sparkling breakwaters.
Swimming
Although the area is not the best for gentle wading opportunities, visitors can swim in these crystal blue waters.
However, the water does break at the shoreline, and the dense reefs can make it tricky to traverse the waters at times, depending on where you enter.
It's best to swim during the morning and when winds are gentle since the waters are typically calmer during these hours.
Scuba Diving
The area near the shoreline is relatively shallow, and it's a favorite location for beginner scuba divers. The entire Ka'anapali area is home to a wide range of fish and is frequently visited by green turtles.
When scuba diving at Kahekili Beach, viewing these marine species up and close in their natural habitat is more than likely. Occasionally, moray eels can be seen as well.
Snorkeling and Reef Exploration
At Kahekili Beach, the reef extends right up to the shoreline, making it exceptionally quick and straightforward to explore. Those wishing to snorkel and explore the reef, view fish and aquatic wildlife, and venture amongst various marine habitations will not have to traverse deep waters to do so.
Snorkeling is only a dive away from the sandbanks and opens a fantastical world surrounded by coral varieties. The best time to snorkel at Kahekili Beach is during the mornings, since winds usually pick up in the afternoons, making the waters more challenging to traverse smoothly.
What facilities are available at Kahekili Beach?
Visitors can find plenty of amenities to use throughout their day for even further activities and engagement. Available facilities include a pavilion, picnic tables, restrooms, showers, and barbeques for perfect beach grill and chill sessions.
Plenty of comfortable lounging areas are available for sunbathing, including shady spots and lush green grass.
Wildlife from the Coastline
A common favorite at Kahekili Beach is that those visiting the area don't have to plunge into waters to get a glimpse of the creatures roaming the area. Green turtles are the most popular attraction for visitors, and they can frequently be seen from the shores.
Whales can also be observed from the Kahekili Beach Park, and even if you aren't able to spot the whales, you may hear their cries.
Various Aquatic Species
Those exploring the waters and marine habitats at Kahekili Beach have plenty to look forward to. The area is home to countless fish and a wide range of aquatic species to observe, which navigate the coral for feeding times.
So far, the following fish species have been spotted in Kahekili Beach's waters:
Blenny, Scarface
Boxfish, Spotted
Butterflyfish: Forceps, Four spot, Milletseed, Multiband, Ornate, Raccoon, Teardrop, Threadfin
Chromis, Blackfin
Cornetfish
Damselfish, Blue-Eye
Eel, Whitemouth Moray
Emperor, Bigeye
Filefish: Barred, Fantail, Squaretail
Goatfish: Double bar, Many bar
Gregory, Hawaiian
Grouper, Peacock
Hawkfish: Arc-Eye, Freckled
Moorish Idol
Needlefish, Crocodile
Parrotfish: Bullethead, Palenose, Star eye
Sergeant, Indo-Pacific
Surgeonfish: Goldring, Orangeband, Whitebar
Tang: Convict, Lavender, Yellow
Toby, Hawaiian Whitespotted
Trevally, Bluefin
Triggerfish: Black, Humuhumunukunukuapua'a, Lei, Pinktail
Trumpetfish
Unicornfish: Bluespine, Orangespine, Paletail
Wrasse: Belted, Bird, Ringtail, Saddle
The reef is diverse in variety and visual appeal, with some areas housing  dead coral and others boasting coral species in vivid health such as:
Antler
Blue Rice
Branching Rice
Cauliflower
Finger
Lobe
Mound
Rice
Sandpaper Rice
Thick Finger
In addition, there are plenty of other marine species to observe as well, some of which are trickier to spot than others, including:
Sea Star, Spotted Linckia
Urchin: Banded, Blue-Black, Collector, Pale Rock-Boring, Red Slate Pencil
With so much diversity in marine life, Kahekili Beach flaunts a rich and abundant aquatic ecosystem.
How to get to Kahekili Beach
Previously, travel to Kahekili Beach was incredibly straightforward for tourists. But how exactly would one get there without an airport nearby?
Kahekili Beach can technically be accessed straight from Kahului Airport after a 28.9 mile trip via Hwy 30 S, spanning across the coast. There are some accommodation spots near Black Rock, only a short distance from Kahekili Beach.
Many visitors appreciate a well-centered accommodation spot to stop by from the airport and freshen up before heading off. Thankfully, Kahekili Beach can be reached easily from Kihei (which can be accessed by flights to Kahului Airport).
From Kihei, travelers should follow Piilani Hwy or S. Kihei Rd. heading north until they reach the Hwy 311 and Hwy 310 intersection. From there, Hwy 310, otherwise known as N. Kihei Rd., should be taken and followed until the next intersection.
Take a left at Hwy 30, passing Lahaina and Ka'anapali. Take another left at Kai Ala Dr. using Puukolii as a landmark on the right. There is a large parking lot at Kahekili Beach which should be quite easy to spot from the road. The parking lot is rarely full, and parking is free.
Where Should You Enter the Waters at Kahekili Beach?
If you're planning to snorkel or scuba dive, the best place to enter the water would be from the front of the pavilion. Although the beach is sandy and gentle on bare feet, it's not as easy to traverse through the waters.
About 300 feet from the shoreline, the reef turns to sandbanks, gradually deepening as you venture further out. Most of the reef near the shore is dead but is still fascinating to observe, since plenty of fish feed on the algae surrounding these formations.
Anyone snorkeling will need to watch out for shifts in currents, especially after midday.
Be sure to check out the water conditions before planning your trip.