When you visit Maui, much like the rest of Hawaii, your attention will be drawn to the clear blue waters of the Pacific and you may be tempted to immediately go for a swim, but don't be fooled by appearances. 
There are plenty of paradisiac islands around the world known for having extremely dangerous shores, and the ocean is full of sharks or other dangers that make swimming a bad idea overall.
What about Maui? Is it safe to swim in the ocean? Or should you stay on the beach and admire the waves from afar?
The answer is, it depends. At some beaches it's perfectly safe to wade out into the waters, while other beaches should be enjoyed with your eyes only.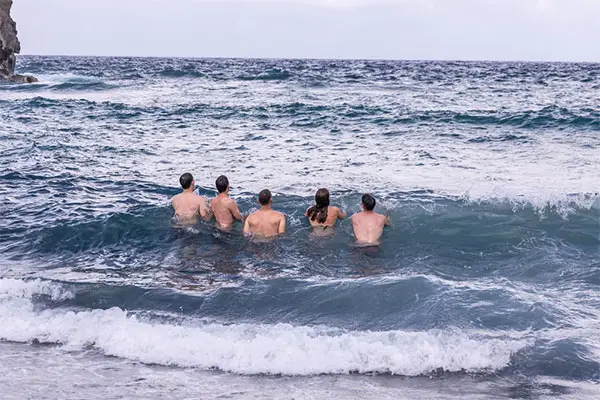 Places Where You Can Swim in the Ocean on Maui:
Maui is full of beautiful beaches and crystal clear waters, so one of the top activities advertised to tourists on the island is going swimming and snorkeling, so that you can discover all the wonders beneath the waves.
Most beaches on Maui are safe for swimming and snorkeling, as long as you follow all of the safety tips posted, and follow common sense.
But if you want to feel even safer, then we recommend you swim in places that have the following:
Places with guided snorkeling and swimming activities.
Beaches with a lifeguard.
Hot-spot tourist beaches that are known for being full of people.
Truth is, Maui has more miles of beaches suitable for swimming than any other island in Hawaii. There is plenty to choose from.
But to give you some options here are the best beaches for swimming:
Mokulei'a Bay Beach:
This beach is great for swimming, snorkeling, and body surfing.
The safest season for this is summer, and the ocean is calmer during the morning.
Honokahua Bay Beach
Honokahua Bay Beach  is incredibly popular with tourists, perfect for swimming, snorkeling, body surfing, surfing, and even hiking. Surfing here is better during the winter, but for swimming it's best to stick to the summer season.
Kapalua Bay Beach
Kapalua Bay is ideal for snorkeling, swimming, scuba diving, and boogie boarding. This beach is sheltered from the wind, so it's pretty calm all year round. But for swimming, the best time is morning during the summer season. 
Napili Bay Beach:
Napili Bay Beach is perfect for swimming and snorkeling, as long as you go during the summer when it is calm and safe. During the winter Napili gets a little too rough for comfort.
Places Where You Should Not Swim in the Ocean in Maui:
Now, let's take a look at whether there are any beaches you should avoid, or any particular dangers to look out for.
Most beaches are fine for swimming, but there are 3 beaches (one in particular), that tourists should avoid as they are pretty dangerous:
Makena Big Beach:
This beach is nicknamed the Breakneck Beach, and for good reason. Makena Big Beach sees more spinal cord injuries than any other beach in Hawaii, making it one of the deadliest.
This is because it has a particularly dangerous shore break, and tourists that venture into the waters for a swim are very likely to be slammed down on the shore incredibly hard, often requiring a visit to the hospital.
It's best to completely avoid Makena Big Beach, unless you know what you are doing.
Kauai's Lumahai'i Beach:
Kauai's Lumahai'i Beach is nicknamed as the Luma-die, and that pretty much says it all. It's another dangerous beach that can put your life in danger, so tourists should avoid it at all costs.
In fact, there's an ambulance parked right outside this beach at all times, which is a pretty big indicator of the number of injuries that take place at Lumahai'i.
Big Island's Hapuna Beach State Park:
Big Island's Hapuna Beach is another dangerous beach that should be avoided by tourists. Don't be fooled by the natives that go there, as they have been swimming in these ocean waters since birth and know every inch of them, so they know where to tread.
The main danger is lethal shore breaks that are sure to cause significant injuries to swimmers.
Apart from shore breaks,  you should look out for is any warning signs or flags on the beach, especially any to do with sharks. 
You can still go swimming in Maui, and it would be a shame not to, as many of the island's beaches are beautiful, and the water is spectacular.
Just make sure to always be careful. Never go swimming alone, and choose beaches with a lifeguard on duty. Pay attention to any news or weather reports, and always check for warning signs in the area where you are going swimming.
Oh, and don't venture into an area just because you see people there. They could be Mauri natives, and they know the place a lot better and therefore have less of a risk of getting injured in the ocean!