It's easy to see why Kapalua Bay Beach has been voted America's Best Beach more than once. It's made the lists of Conde Nast Traveler, the Travel Channel, and Dr. Beach.
Beautiful white sand covers its crescent shape, and its turquoise waters are full of sea life. Look up aerial photographs of Kapalua Bay and its beauty will immediately strike you.
In Hawaiian, Kapalua means "two borders". It's been given this name because it's bordered on each side by reefs created from ancient lava flows. These give the beach a more private, sheltered feel than larger beaches.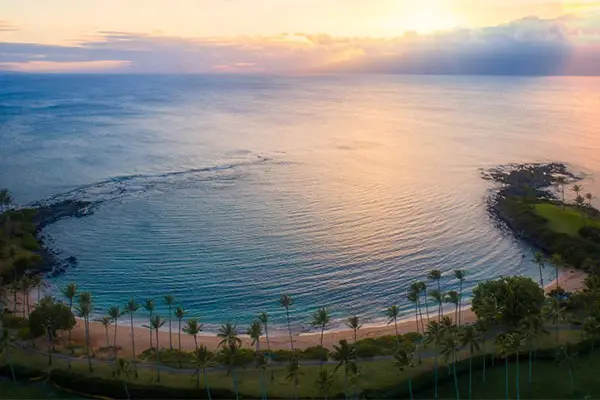 Is It Easy to Get to Kapalua Bay?
Kapalua Bay is located on the northwest tip of Maui's west side. You can reach it from either the north or the south via HI-30.
The nearest towns to the beach are Lahaina and Kaanapali. Kapalua Bay is about nine miles north of Lahaina. So you can expect to drive twenty minutes by car on Honoapiilani Highway (HI-30). It's only about six miles north of Kaanapali, so if you're driving from here it'll be less than twenty minutes.
If you're already in Kapalua, the beach is about one mile from Kapalua Village Center. Depending on how much gear you're carrying, this may or may not be an easy walk for you.
Where to Park At Kapalua Bay?
There is a small parking lot at Kapalua Bay Beach with nice restrooms and showers so you can rinse off after a day spent in the sand. You'll have a very short walk from the lot to the beach.
Try to arrive early in the day for your best chance of finding a place to park and a spot on the sand. It is a popular spot, and the small lot means that it can be hard to access later in the day.
Again, if you arrive early, you'll have a better chance to claim a shady spot under the trees, too. Just keep in mind that the shade will move with the sun. The mornings are also less windy than later in the day.
As with any popular location, use your street smarts to avoid car break-ins or other petty theft. This means not leaving valuables in the car and being sure to lock up and have the key somewhere safe.
What is There to Do at Kapalua Bay?
Family-Friendly Relaxation
Kapalua Bay is known as a very family-friendly beach. It's not as large as other beaches, for one thing. This beach is also a perfect place to relax, sunbathe, and play in the sand. Bring snacks and drinks with you for the greatest convenience.
Activities
Visitors love this beach for its excellent snorkeling, swimming, and scuba diving. There's a small equipment rental stand at the beach where you can rent gear, including stand-up paddle boards.
You'll also have easy access to other beaches and attractions nearby. The Kapalua Bay Trail runs along the back of the beach and continues beyond, giving you great views of the ocean and mountains if you decide to take a walk on it. Dragon's Teeth trailhead is also nearby if you like more of a challenging hike.
The beach itself is near the Ritz Resort and world-famous golf courses, if you're into that. You'll also have easy access to Napili Bay and Namalu Bay, Fleming Beach (more for surfers and body boarders), and the Napili Bay trail. You could easily make it a day of beach exploration!
For dining, Merriman's Restaurant is well-reviewed and located at the south end of the beach
Wildlife
The two natural reefs that encircle the beach provide excellent habitat for tropical fish and sea turtles. If you can swim a bit further out along the reefs, you'll have better visibility of the stunning wildlife. Closer to shore, the sand is more likely to be stirred up by swimmers, so you won't get a good view.
The surf is typically calm, although always keep safety in mind and conditions for currents. Likewise, remember that reefs can have very sharp edges on them.
Some visitors also find it easiest to enter the water on the southern end of the beach, where it's more sandy and less rocky.
Also remember that for the health of the reef and your own safety, don't touch or climb on them. It's also important to keep an eye out for creatures like sea urchins. Consider wearing water shoes to protect your feet. If you don't have any, you can easily find them at a convenience store.
Of course, whether Kapalua Bay Beach is America's best may depend on what you're looking for in a beach. You won't find surfing, fishing, or boat tours leaving from here. But you will find immense beauty, clean waters, fluffy sand, and a relaxing time!