Anyone who travels via plane knows what TSA is. Most people have become accustomed enough to know that you often need to budget extra time just to get through TSA before arriving at your terminal.
However, TSA offers a PreCheck service at many airports, including Maui's Kahului Airport.
Essentially, this means you get a fast pass to go through airport security since you'll be pre-screened.
(Note: All COVID safety measures are in place and required to follow)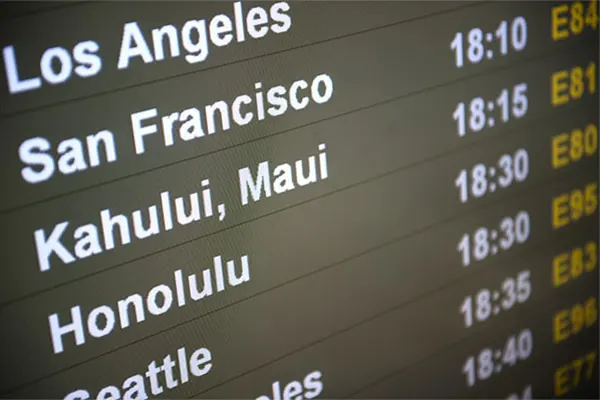 What is TSA PreCheck?
Recognizing the need for a quicker and smoother screening process, TSA implemented TSA PreCheck, enabling low-risk passengers to move quickly through checkpoint screening.
This means travelers no longer have to remove shoes, belts, 3-1-1 liquids, food, or light jackets, which is a time saver especially for family and business travelers.
How to Apply for a TSA PreCheck 
For those who hate waiting, and maybe want to sleep in on those early flight mornings, you can apply to be a TSA PreCheck member online. The application should only take you about five minutes to complete.
It's important to note that this comes with a cost. The TSA PreCheck membership (if approved) costs $85.
However, it's good for five years. For frequent fliers this might be a good investment.
Again, as a TSA PreCheck member, you won't need to remove shoes, laptops, liquids, belts, and light jackets when you go through airport security. This'll come in handy when those lines are extra long.
You can also apply in-person. The process takes about 10 minutes and involves fingerprinting for a background check.
How Early Should I Arrive if I Have TSA PreCheck Approval?
If you have TSA PreCheck approval, you may not need to arrive at the airport as early.
The lines to go through airport security with TSA PreCheck are often significantly shorter than the standard security line, so not only will you wait less, but your security check through will be much faster since you won't need to take things out of your bags.
Of course, there are other things to consider as far as when you should arrive at the airport, even if you have TSA PreCheck. This includes:
Location, time of day, and typical traffic levels.
How long it will take to get an Uber or cab to the airport, including time spent waiting on the cab to arrive and waiting in the cab line to be dropped off.
How long it will take to get to the airport via public transportation.
The season (holidays will probably be much busier).
The weather.
What if I Don't Have a TSA PreCheck Membership?
As you can imagine or probably already know, if you don't have TSA PreCheck, this adds to the time you spend going through airport security. As such, you may need to arrive earlier if you'll be going through the full TSA check, as the lines can get long and somewhat hectic with everyone trying to keep track of their belongings.
However, sometimes airlines randomly assign a ticket as a TSA PreCheck.
If you're a frequent flier with an airline, you may be more likely to win the draw. In this case, you don't need to pay extra or do anything special. This is the airlines' way of giving passengers a "free trial" hoping to entice them to become PreCheck members.
If you're randomly chosen, note that you won't get any sort of email notification. Your boarding pass will simply display a "TSA PRECHK" or "TSA Pre ✓".
Even if you get a free TSA PreCheck approval at random, you still be pulled aside for a more rigorous search, regardless of if you have to take your shoes off or not.
So if you're wanting to make the most of your Maui trip down to the second (e.g. staying at the beach as late as possible) and know you'll be short on time getting to Kahului Airport, it might be a good idea to invest in a TSA PreCheck membership.
Maui Airport TSA Restrictions
Even though Kahului Airport has a TSA PreCheck option, there are still some airport restrictions to keep in mind whether or not you have PreCheck access. Mostly, these restrictions surround animals, including service dogs.
Frequent travelers to Maui may want to invest in the benefits of TSA PreCheck. This is good news for busy people who want to get on with their business or vacation to this beautiful island paradise.