Paia is a laid back, artistic community on Maui's North Shore. It's more than a pastel bohemian pit stop on your way to Hana. Paia is a unique town with much to offer.
Full of retro charm and quaint shops, Paia is small, but worth checking out.
Before you make the trip, here are some important things to consider.
What's different about Paia from the more popular resort areas?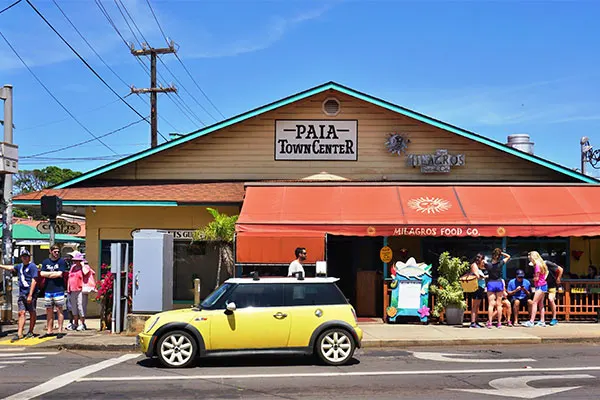 Paia has maintained a quirky charm not seen in touristy or gentrified areas. The main strip of Paia is known for its colorful exteriors populated by professional surfers, hippies, new-age folk, and musicians.
It's even a favorite spot for celebrities like Willie Nelson.
You'll also notice an abundance of local shops and restaurants.
Are there enough things to do in Paia without getting bored?
Paia has plenty to do. There are great restaurants, fun shops, and great beach spots nearby.
Since it's on Maui's North Shore, you'll be in close proximity to a range of beaches including:
Paia Bay
Paia Secret Beach for nudists (if you're into that)
Baldwin Cove (this one vanishes with the season due to tides)
Baldwin Beach Park
Baby Beach (family friendly)
Tavares Beach
Ku'au Cove
Ho'okipa Beach Park (the windsurfing capital of the world)
You can even take hikes to some local waterfalls!
You may be wondering if there are any luaus in Paia Town. Unfortunately, there aren't any.
But, since Paia has deep roots in Maui's agricultural history, it's considered one of the better food hotspots on the island.
Will it be convenient to drive from Paia to see other things on the island?
So many things to do, so little time! It's common for visitors to make Paia one stop in a day of exploring.
But what about if you're already staying in Paia? Is it convenient to drive from Paia to other areas of the island?
Here are some rough estimates on how long it would take you to drive to these popular areas:
46 minutes to Lahaina
52 minutes to Kaanapali
33 minutes to Wailea
26 minutes to Kihei
1 hour, 51 minutes to Hana
11 minutes to Makawao
Although Hana is a popular destination, there are still great places to visit that are even closer.
Makawao is Maui's Hawaiian cowboy town and a renowned art locale, and Kihei is a sandy beach location that used to be a hotspot for Hawaiian royals.
Should you stay in Paia for one night before going to your main lodging if you have an after-dark arrival?
If you're flying into Kahului Airport, it might be worth staying a night in Paia. Since this is the main airport, there's a good chance this is where you'll land.
Paia is just a short 16 minute drive from Kahului Airport, so you wouldn't have to worry about adding a long drive to your night after an already long plane ride. There are some great local B&B-type places to stay in Paia that will add to the charm of the experience.
Does Paia have good lodging options?
As mentioned above, there are great places to stay in Paia. Since the town is small and unique, the lodging tends to follow the same route, with Inns and B&Bs to choose from. Many recommend staying at Mama's Fish House if you can.
You can also check out the local motels, like Maui Seaside, which many say aren't really that different from motels anywhere else in the States.
Or you can see what's available on Airbnb, which gives you the opportunity to have a unique experience in Paia and maybe even grab some local guidance from your host.
Is there decent grocery shopping in Paia or should we stock up in Kahului?
We mentioned that Paia has a connection to Maui's agricultural history. As such, Paia is home to Mana Foods. This market is both a social hub and natural food store.
Don't let the term "natural food store" deter you. Mana Foods is pretty affordable, with bills costing less than they would at big grocery chains. At Mana Foods, you can grab some groceries and even some prepared foods if you're hungry in-the-now.
Something to note about Mana Foods is that it's a smaller store, so it doesn't have the expansive aisle space you might be used to in a Safeway, or other chain. Additionally, parking at Mana Foods can get packed, so keep that in mind if you're planning to stop by.
(Parking in Paia can be tough, overall.)
How are the restaurants?
Good restaurants are one thing Paia doesn't lack. Of course, you can expect fresh seafood, but there are also options for grabbing breakfast, gelato, barbeque, and more. Here are some restaurants and shops to consider:
Mama's Fish House ($$)
Ululani's Hawaiian Shave Ice ($)
Paia Fish Market ($)
nyloS ($$)
Vana Paia ($)
Island Fresh Cafe ($)
Surfclub Tacos ($)
If you're wanting a fancy dinner night out, Mama's Fish House or nyloS will work. Otherwise, you can pick up more affordable tasty treats and meals at one of the many just-as-tasty locations in Paia.
Is it safe in Paia?
Generally speaking, Paia is a pretty safe area. Although there is crime, the rate is much lower than the nation as a whole. So for the most part, you don't have to worry.
That's not to say you shouldn't practice common sense, though. As you would anywhere else, don't leave valuables in the car, lock your vehicle, etc.
Paia is small and often overlooked when planning a trip to Maui. However, despite its size and unassuming nature, it's a town rich in eclectic appeal, great food, unique shops, and beach activity. P
Paia is definitely worth staying in or visiting during your trip to Maui.