There are countless reasons to visit Hawaii, and all of its islands, but one of the most popular reasons is to soak up the culture. Native Hawaiian people and Polynesian people are known for their unique traditions and one of the best known traditions is the luau. 
Now, may have heard of the luau through popular culture, such as in movies, but you may not understand what the luau entails and what it means. So, what exactly is a luau, and should you go to a luau on Maui?
This guide will answer just that.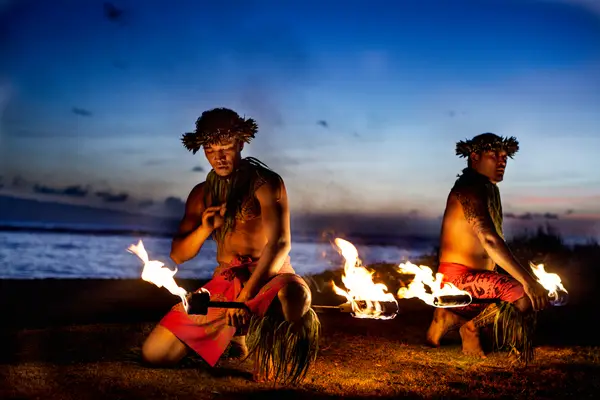 What is a Luau?
A luau is a traditional Hawaiian banquet, accompanied by entertainment such as hula dancing, traditional music, and sometimes fire eating.
It's an ancient ritual, a social gathering intended to unite people in celebration. Luaus are typically large and lavish events with great feasts, activities, and traditional dancers.
It is called a luau after one of the most popular dishes served at the celebration: chicken and taro leaves baked in coconut milk.
Luaus have been happening for centuries, with Native Hawaiians wearing leis (flower garlands) to signify their ranks and to honor each other at the event.
Should I go to a luau in Maui?
If you are traveling to Maui, then there are probably a lot of things on your itinerary. From hiking the Iao Needle, shopping in Lahaina, to snorkeling with turtles, there is much to do on Maui. However, participating in a Luau should be on that list too.
Going to a traditional luau is an unforgettable experience, and will give you a taste of Hawaiian tradition, custom, heritage, cuisine, and folklore. 
You can expect fire dancers, hakas, parties, live music, fresh food, and even a roasted pig to feast upon.
Best Places for Luaus in Maui
If you want to visit an authentic luau while on Maui, then there are a range of choices, but we have handpicked some of the best here:
Old Lahaina Luau
Old Lahaina Luau is one of the most popular luaus on the island. As its namesake suggests, it is one of the oldest luaus on Maui.
Located at the oceanfront of Lahaina, the Old Lahaina Luau has tiki torches, an entertainment stage, and coconut trees in abundance.
Visitors can expect authentic Hawaiian cuisine as the founders of the luau also own the top eateries in Maui: the Aloha Mixed Plate, Leoda's Kitchen, and Star Noodle.
Feast at Lele
If you're on a honeymoon and it's a night out for two then head to Feast at Lele.
You can expect a five course gourmet dinner—rather than buffets at other luaus—and performances a-plenty.
Each dish represents a different Polynesian island, so you can literally taste the culture at the Feast at Lele luau.
Legends of Ka'anapali Luau at Ka'anapali Beach Hotel
The Ka'anapali Beach Hotel offers one of the best luau shows on the island, featuring storytelling of how the Tahiti people migrated to Maui, and all about the rich history of the island.
The food is also a spectacle, made by award winning chefs born and raised on the island, serving up iconic roasted pig and homemade poi.
To top it all off, the Legends of Ka'anapali Luau at Ka'anapali Beach Hotel is one of the cheapest luaus on the island.
Te Au Moana Luau
Te Au Moana Luau is found at the Wailea Beach Resort at the Marriott in Maui, and is perfect if you want a more family friendly and interactive luau.
You can participate in coconut husking and lei making, along with other Hawaiian traditions and rituals.
The food is spectacular, and you will have to try the pork lau lau, the pipi ko'ala—which is similar to grilled beef—and the rice dishes. There is a bar there too if you love cocktails and cheery bartenders. What's even better is that fire dancers end the night.