A luau (technically spelled lū'au) is a traditional Hawaiian party, accompanied by a feast and entertainment, and have been used to celebrate everything from weddings to graduation ceremonies.
Maui is home to an abundance of exciting luaus that everyone—locals and tourists alike—is invited to. It's not a vacation to Hawaii if you don't attend at least one luau!
Here are the top 10 most authentic luaus in Maui.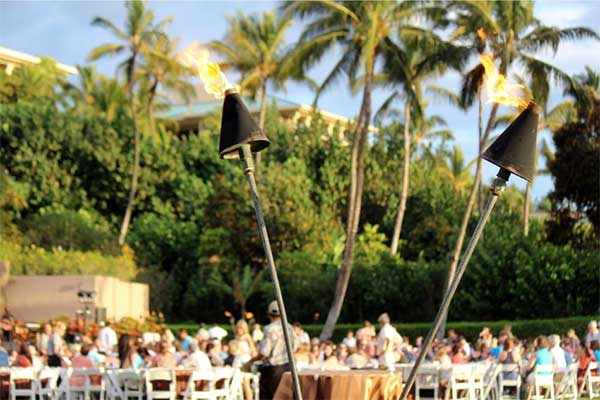 1. Old Lahaina Luau
One of the most popular luaus in Maui is the Old Lahaina Luau, operating since 1996.
Strictly outdoors on the beachfront, the Old Lahaina Luau is an evening of storytelling, traditional dances, and feasting on local foods. Each guest is welcomed with an orchid lei and shown to a table or traditional Polynesian mat on the floor. 
The Old Lahaina Luau blends ancient and modern Polynesian culture, and even features hula dancing to drums and ukuleles. 
2. Drums of the Pacific Luau
As the name suggests, the Drums of the Pacific Luau is all about soulful drums, chants, songs, and spectacular fire dances. 
The Drums of the Pacific Luau is known for its blend of Polynesian cultures, featuring music and dances from Hawaii, New Zealand, Tonga, Rarotonga, Tahiti, and the Tuamotus.
3. Legends of Kaanapali Luau
If you're staying at Kaanapali Beach Resort in western Maui, you have to check out the Legends of Kaanapali Luau.
This is an interactive luau that is ideal for families with children. It includes pre-show entertainment, such as draft vendors and Hawaiian games, before guests invited to the feast and the real show begins. 
Legends of Kaanapali features stories about the Tahitian and Polynesian voyagers that ventured to Hawaii, as well as tales of magic and the Hawaiian gods. 
4. Tu Au Moana Luau
Translating to "the ocean tide" in ancient Hawaiian, Tu Au Moana Luau pays homage to Polynesian cultures across all of Oceania. It's located at the Wailea Beach Resort in South Maui, featuring a oceanfront performance as the sun sets. 
Tu Au Moana Luau features tales of Polynesian cultures and folklore through dances, songs, and an Imu ceremony prior to the feast.
Each story is different, exploring the tales of the elements, gathering, fishing, and voyaging.
There are also interactive stations including coconut husking (collecting and making coconut milk), crafts, hula dancing, and more. 
5. Migrations Luau
Where most Maui luaus can accommodate over 500 people a night, Migrations Luau is far more exclusive, catering to only 50 guests.
Located at the Sugar Beach Resort in Kihei, this luau isn't a theatrical performance. Instead of performing on a stage, performers mingle with guests, offering an intimate and unique luau experience. 
The food is the standout feature: chef-made and locally sourced, each dish represents different cultures across the Pacific. 
6. Maui Nui Luau
Located directly on the famous Kaanapali beach is the exciting Maui Nui Luau.
The luau  begins with a cliff dive off the famous Black Rock, and then the festivities: an all-you-can-eat buffet, Hawaiian games, a flower lei greeting, island crafts, dances, and music. Guests enjoy cuisine made by native Hawaiians with traditional cooking methods.
If you're on a budget, or if you have made dinner reservations, there is the option to skip the buffet.
7. Wailele Polynesian Luau
At the Westin Maui Resort and Spa is the Wailele Polynesian Luau, which is probably the best luau for kids and those with disabilities.
The luau is equipped with newly renovated ramps for wheelchairs and strollers. Plus there is a kids menu (for the fussy eaters) that includes pizza, hot dogs, ice cream, and more. 
This luau features dances from all Polynesian cultures, including a skilled troupe of fire knife dancers.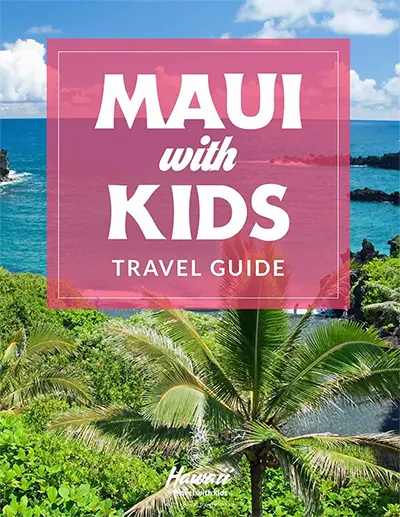 8. The Feast at Mokapu
If you're on your honeymoon and looking for a luxury luau experience, make sure to check out The Feast at Mokapu.
The Feast at Mokapu certainly isn't cheap, but the price is worth the expertly-cooked cuisine, interactive storytelling, cocktails, and more.
This luau is all about educating the guests about Hawaiian life and values. 
9. Huaka'i Luau
Every Wednesday at the Kaanapali Beach Club is the spectacular Huaka'i: Journey Through Polynesia show that lasts around 3 hours (one of the shortest luaus on Maui).
This luau is ideal for kids, not just for the length of the show, but because of the kids buffet.
It is also equipped with ramps for wheelchair and stroller access.
10. Aha'aina Wailea, A Grand Wailea Luau
The Aha'aina Wailea luau stands out for its exceptional service, making every guest feel like a VIP.
Fitted with the South Maui sunsets and an extraordinary feast, this luau is as beautiful as it is informative, with an emphasis on telling stories about Hawaiian ancestors through music and dance.
While the prices are fairly high, the money is certainly worth it.