Maui is not particularly known for having the best pizza in the world, not even the best Hawaiian pizza, which believe it or not, did not even originate from the Aloha State, but from a restaurant in Ontario, Canada back in 1962. That explains a lot…
Over the years the pizza scene on Maui has greatly improved and no matter what your favorite style is—thick or thin crust, meat lover's or vegetarian (or Hawaiian, I'm not judging…)—there is a pie for everyone.
From Upcountry to Kihei, the West Side to the North Shore, these six eateries have what it takes to satisfy your pizza cravings.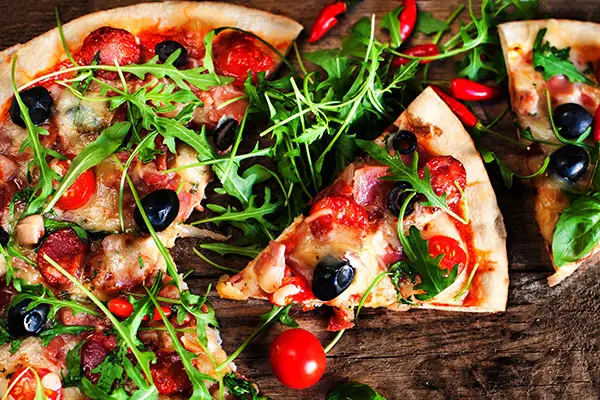 Flatbread Company (Paia)
When on the North shore, it's hard to resist going to Flatbread Company. And judging by the line out the door on most evenings, I'm not the only one who feels that way.
Each of their flatbreads is hand-prepared with natural, organic, free-range ingredients, and wood-fired for an incredible tasting pizza. The open kitchen restaurant has a warm atmosphere (and sometimes that means the temperature too), and is a great place to share a meal with friends or family.
Flatbread offers two special pizzas each week, one carne and one veggie, and vegan and gluten free options are also available.
Can't decide on one flavor for the table? No worries. Flatbread is happy to prepare pizzas half and half! Also, don't miss out on the organic house salad with fresh local goat cheese and Maui pineapple vinaigrette. Yum!
Flatbread also has a full bar serving local brews and delectable cocktails (and GMO-free sodas for the keikis). The staff is out-of-this-world friendly, even when the place is packed. That says it all.
Cost: Between $15 and $25 depending on the pizza's size.
Kula Lodge Restaurant and Garden Terrace (Kula)
Perched high on the slopes of Haleakala, Kula Lodge Restaurant has amazing food and breathtaking views of the ocean and the gardens surrounding the restaurant.
Although not really the star of the menu, Kula Lodge's pizzas, cooked in their outdoor kiawe wood-fired brick oven, are fantastic. The menu doesn't offer specialty pizzas so you get to create your own and pick from their list of local ingredients.
The rest of the menu offers lovely options: from refreshing salads, simple sandwiches and burgers, to delectable seafood entrees and ribs. The Lodge is also the only restaurant with a full service bar in Kula so you can enjoy a glass of Maui wine or a handcrafted cocktail with your meal.
So go ahead and treat yourself with friends on your way back or to the Haleakala Summit or after visiting the Lavender Farm. For a special outdoor dining experience, ask for a gazebo table in their outdoor area, the Garden Terrace.
Kula Lodge and Garden Terrace is currently open for breakfast and lunch only.
Cost: $19 for a basic Margherita pizza and $3 for each extra topping.
Outrigger Pizza (Kihei)
Located in the Kukui Mall on South Kihei Road, this small yellow pizza truck is the first (and only) of its kind on Maui. Featured on the Food Network's Diners, Drive-Ins and Dives, this casual roadside stand serves above-average pizzas out of a mobile wood-burning pizza oven.
Since it is a food truck, Outrigger offers non-alcoholic beverages. And, because it sits in a parking lot, you won't spend a lot of time there, but it's a great stop after the beach if you don't feel like cooking at home.
If you're a fan of Hawaiian pizza (actually, even if you're not), try the Lilikoi Pork , a delicious balance of sweet and salty flavors.
Outrigger Pizza also caters private events and parties for anywhere between 30 to 100 guests: with options for a kids birthday party, a small corporate event or a laid-back wedding reception.
Cost: $9- $15. $2 off pizzas on Fridays between 2pm and 4pm.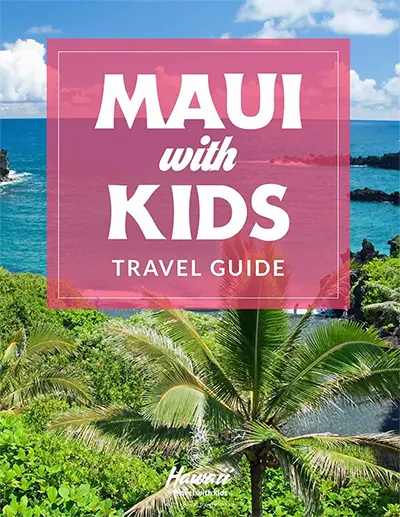 Dollie's Pub and Cafe (Kahana)
Self-proclaimed best pizza on the island, Dollie's has been a local staple on Maui since 1983.
Although it is a sports bar, Dollie's welcomes customers of all ages, and attracts both locals and visitors with their individually hand-pressed pizzas cooked in stone ovens.
With over 15 different pies on their menu, Dollie's specialty pizzas are original, but if that's not your jam, you can always create your own starting with your choice of crust: Dollie's original or whole wheat crust (thick crust), thin crust, or calzone.
Beyond pizza, Dollie's offers an extensive pub-style menu with salads, sandwiches, and soups, and even a keiki menu for the little ones.
The lively sports bar is also the place to be if you're looking to watch sports, with 15 satellite TVs ready to play your favorite team: football, soccer, hockey, baseball, they have it all.
If you're on a tight budget, visit Dollie's during happy hour from 3 to 6pm as well as 9pm until close everyday.
Dollie's recently opened a second location in Paia on the North Shore with the same menu and sports bar atmosphere.
Cost: about $20 for a medium pizza and $25 for a large.
Maui Brewing Company (Kihei)
There are many reasons to visit the brewery in Kihei, and pizza is one of them.
Located up the hill on Pi'ikea Street, Maui Brewing Company is one of the most spacious restaurants on the island. The indoor/outdoor atmosphere is always welcoming and family friendly, especially around sunset, when shades of pink and purple sky illuminate the beer garden, and local bands play island style live music (daily from 6:30pm until 8:30pm).
Maui Brewing Company also has a full bar as well as every possible beer and seltzer made in the brewery, right behind the restaurant. You can also shop for some Maui Brewing Company merchandise on your way out or if you're waiting for a table.
The menu is simple but every item is made just right, including the pizzas.
Cost: $16- $20. All pizzas are only $10 during happy hour (3:30-5:30pm daily).
Marlow (Pukalani)
If you've already tried all the places above or are in dire need of a new place to eat upcountry, I have good news because… There's a new kid in town!
Marlow is what happens when a talented chef and his wife get stuck at home for months during a pandemic and not only utilize their backyard pizza oven, but perfect the craft of pizza making.
The brand new restaurant specializes in sourdough pizza, made from scratch, with locally sourced ingredients from nearby farms, served in a modern yet rustic space.
The menu offers both white and red based pies, along with some appetizers that'll make you lick your chops. The entire menu is definitely inspired by traditional Italian cuisine.
Marlow is only open for dinner, for now, but plans to extend its hours after Mahalo Aleworks (which they will be collaborating with) opens for business in the unit next door, in Kulamalu Plaza.
Cost: $15- $25.