What's on your Maui bucket list? Maybe it's having the perfect tan, surfing everyday, or hiking Haleakala.
Or maybe it's finding the most amazing pineapple in the world!
Once you have a taste, you'll want to devour the entire thing.
What are white pineapples and where can you get them on Maui?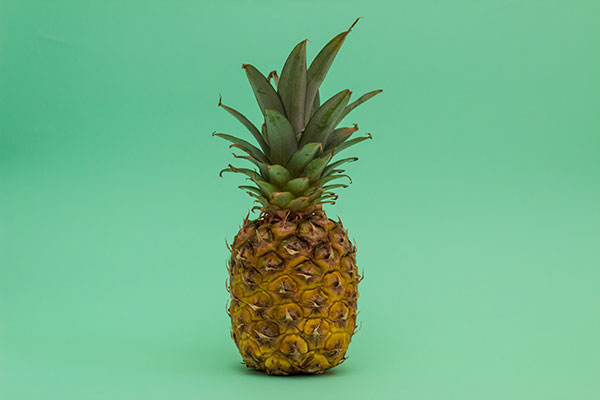 What is white pineapple?
While gold pineapples are well known and widely available everywhere in the world, the white variety of the tropical fruit is an only-in-Hawaii treat. It grows in the Aloha State thanks to the warm Hawaiian sun and its rich volcanic soil.
Also known in Hawaii as Sugarloaf pineapple, Kauai White, or Big Island White, white pineapple is referred to as the love child of a strawberry and a pineapple because of its sweet and aromatic taste.
The juicy fruit weighs around six pounds and takes approximately 18 months to grow. Once ripe, farmers have a 2 to 3 day window to harvest the fruit before it becomes overripe.
How is it different from gold pineapple?
While we all know pineapple as a yellow and somewhat fibrous fleshy fruit, the white pineapple has a white creamy looking flesh and tastes sweeter than its gold variety.
Unlike gold pineapples that have a hard, stringy, inedible core, the white variety is fully edible, including its core.
White pineapple is very low in acid and has no sour taste at all, which also makes it easy on your stomach and mouth.
Is it hard to find white pineapples? Do they cost more?
Salivating yet?
The bad news is that white pineapples are rare, even in Hawaii. The fruit is grown by a small number of farms in the state, and you won't find them at local grocery stores.
Because of their scarcity, they are also very expensive. At $30 a piece, you won't want to share your white pineapple with anyone else!
Can you find white pineapples on Maui?
Maui is known for producing the ever popular Maui Gold pineapple, but white pineapples are mostly grown on Kauai and the Big Island. Luckily, one farm on Maui grows them as well.
Kupu Hou Organic Farm specializes in Maui Mokka coffee (a delicious chocolaty coffee variety) yet also sells fresh organic produce, including—you guessed it—white pineapple! The farm also grows other exotic fruits like Cuban red and apple bananas, lilikoi (passionfruit), kaffir lime, and strawberry papaya, so you won't be disappointed if you pay them a visit. The farm is located in Kula, on the slopes of Haleakala (1651 Naalae Road, Kula HI).
You can also try your luck at the Upcountry Farmers Market, which takes place every Saturday from 7 am until 11am and is located in the Kula Malu Town Center on Highway 37.
Otherwise, producers on Kauai and the Big Island offer shipping to neighboring islands and the mainland for a $30 fee.
If you happen to be visiting the Big Island in July and want to learn more about this incredible fruit, check out Hala Kea, Sage Farms' Annual White Pineapple Festival on their farm in Hawi.
The festival boasts music, entertainment, farm tour, best pineapple recipe, and pineapple themed food and drinks.
Out of luck finding white pineapple? Enjoy a tour or shopping at these places instead:
Maui Pineapple Tour: spend a day upcountry and experience a delicious tour of the plantation. You'll learn about the growing cycle and cultivation techniques, and you get to take a pineapple home with you.
The Pineapple Store in Lahaina: set up a pineapple shipment or shop their many products including jams and jellies, apparel, jewelry and pineapple themed home decor.
Pineapple trivia
Pineapples grow on a spiky bush that grows up to 3 feet tall.
It takes 18 months for the first pineapple to grow. The same plant will produce two more pineapples after that before it dies.
Pineapples have huge health benefits due to their wealth of nutrients, vitamins, and minerals.
Pineapple season begins around mid-June, peaks in mid-July and tapers off in September.
Until recently, Hawaii was the dominant producer of pineapples but has now been joined by Brazil, Costa Rica, and the Philippines.
Bonus: How to know if a pineapple is ripe
Picking a ripe pineapple at a fruit stand or at the grocery store can be a bit of a challenge.
Contrary to popular belief, pulling a leaf off the crown is not an indication of ripeness. Also, although the color and flavor of the pineapple might change after harvest, keep in mind that pineapples do not ripen any more after they are harvested, so they can be enjoyed right away.
To make sure you pick the right one every time, check on the following:
Color: make sure the fruit is more yellow than green.
Texture : give the pineapple a squeeze. Although the shell is generally firm, it should be a bit softer when you gently squeeze it. If it's rock hard when you touch it, the pineapple is unlikely to be ripe.
Smell: ripe pineapples should have a sweet smell to them at the bottom, near the base of the fruit.
Weight: a heavier pineapple is a sign of juiciness (since sugar weighs more than water) and therefore ripeness.
The rules are a bit different for white pineapples, but you won't likely pick them yourself.
Let the experts do it for you!