Characterized by over three miles of beautiful white sands and crystal clear waters, Kaanapali is a popular destination for travelers from around the world.
Kaanapali is known for its inviting and laid back atmosphere which is why it was once known as "America's Best Beach."
Let's take a look at what Kaanapali is known for and what it has to offer.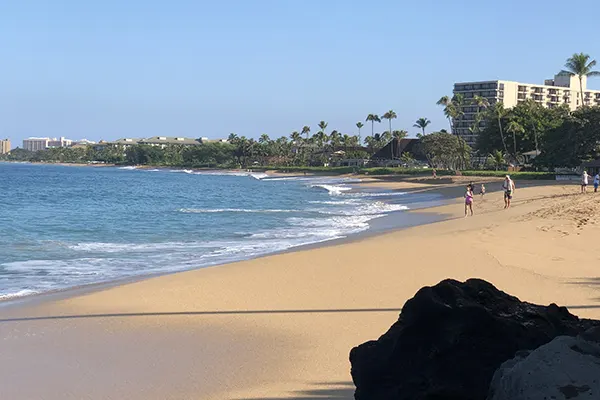 1. Villas for Families
Kaanapali is known for its many hotels, as well as its timeshare villas, featuring rooms for visitors to enjoy their vacation a more of a family friendly environment.
Resort hotels include…
Hyatt Regency Maui
Maui Marriott
Westin Maui Resort & Spa
Kaanapali Beach Hotel
Sheraton Maui Resort & Spa
Royal Lahaina
Kaanapali Villas
Whereas condominium complexes include…
The Alii
The Whaler
The Westin Kaanapali Ocean Resort Villas
The Honua Kai condominium complex
And with all that lodging there are plenty of bars and restaurants to meet the needs of Kaanapali's guests.
2. A variety of bars and restaurants
As a resort town, Kaanapali offers a variety of different restaurants and bars to choose from, and you'll find a great selection of spots that are suitable for the whole family to enjoy, regardless of age.
3. A shopping mall
Located in the heart of Kaanapali, Whaler's Village is an oceanfront shopping complex filled with a variety of boutique and designer stores that beg to be explored.
Alongside the stores, you'll also find a variety of restaurants and coffee shops that will keep you feeling refreshed after a long day spent shopping.
4. Blackrock
Both locals and tourists can partake in the thrill of cliff diving on the northernmost cliffs of Black Rock (which goes by the name of "Puu Kekaa" in Hawaiian).
Every evening at sunset a ceremony takes place which recounts the story of Maui's very own King Kahekili: one cliff diver heads up the Black Rock cliffs and lights torches along the path, before then jumping off the cliffs as soon as sunset hits.
It's a wonderful way to experience the culture of Hawaii and learn a little bit more about Hawaiian history for yourself.
4. Sunset cruises
Kaanapali beach also offers a regular sunset cruise.
During the cruise, not only will you watch a beautiful sunset, but you will also enjoy clear views of both West Maui and the nearby islands of Lanai and Molokai.
What's more, while onboard, you'll enjoy an alcoholic beverage or two while relaxing across a spacious catamaran, perfect for a romantic evening or memorable family experience.
5. Scuba Diving and Snorkeling
Surrounded by the crystal clear waters of the Pacific Ocean, Kaanapali is the perfect place to try out snorkeling, where you will see tropical fish and even turtles swimming close to the shore.
You could also opt to go on a snorkeling guided tour, where you catch a boat ride from one of Kaanapali's beaches and head out to deeper waters to experience unparalleled views of Hawaii's underwater world.
For more experienced swimmers there is also the option of going scuba-diving thanks to the variety tours available to book.
Keep in mind, though, that scuba diving in Maui isn't for the weak, as you might spot a shark or two!
Is Kaanapali Beach swimmable?
Whether you're an experienced surfer in search of some of the best surfing spots in the world, or you're planning a family vacation and want to visit a beach that has appropriate swimming conditions for all the family, you'll be making a good choice to visit Kaanapali beach.
Kaanapali Beach is known for its great swimming conditions, thanks to its gentle currents and gradual slopes that gently drop off into deeper waters.
Of course, there is a chance that you could come across some aquatic wildlife if you decide to take a dip in the water at Kaanapali Beach. Maui is surrounded by the Pacific Ocean, which means that Kaanapali beach is home to a wide variety of aquatic sea creatures, including tropical fish, jellyfish, turtles, stingrays, and even sharks (although sightings of sharks are quite rare).
It's always to exercise caution while swimming in Kaanapali Beach—or anywhere for that matter—but it is generally considered to be very safe and suitable for all the family.