No trip to Hawaii is complete unless you make the journey from the second island, Maui, to the sixth, Lanai.
If peace, tranquility, and the need to be surrounded by beauty far from the madding crowd are all on your Hawaiian checklist then a one or two-day expedition to Lanai should be right at the top of your list of things to do during your trip to Maui.
Below, I'll show you how easy it is to take a trip from Maui to Lanai.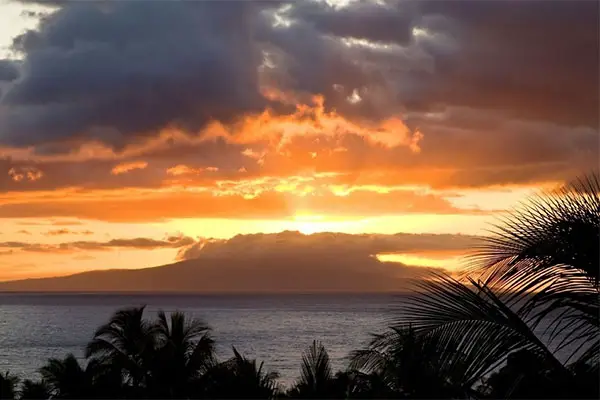 Lanai, The Pineapple Island
Lanai is one of Oahu's best-kept secrets. Known as the Pineapple island by locals, due to its history as a pineapple plantation, Lanai is the smallest, habitable island to visit in the Hawaiian archipelago.
This eighteen-mile wide island has a population of 3,000 people, most of whom live in its only town, Lanai City.
While the use of the word "city" might be overstating, given its small size, you will find everything that you need to successfully explore this hidden Hawaiian gem on the island's only metropolitan area. 
The easiest way to get to Pineapple Island is by taking the ferry from Maui to Lanai City.
Can You Swim From Maui to Lanai? 
Technically you could swim the 37 miles between Maui and Lanai if you were training for an ironman competition or one of the world's hardest triathlons, but we wouldn't recommend that you try doing it.  
The sea can be rough. The currents are a nightmare and you might bump into one of the ocean's great white residents who would invite you to a very personal dinner.
Besides, you would miss the chance to hang out in Lanaina, Maui and enjoy the beautiful views and the local loco moco that should fill you up and prepare you for a day of adventure in Lanai.
From Lanaina To Lanai 
The best way to get to Lanai from Maui is on the ferry that sails from the small town of Lanaina, on the west side of the island. 
You can book a ticket in advance but there really isn't any need to. Same day tickets are perfectly acceptable.   
A one-way ticket to Lanai is around $30.00, and the journey takes about an hour and a half.
During the trip you'll be too busy gazing into the crystal clear ocean and watching  dolphins, who love to race the ferry across the waves.
When You Get To Lanai City 
Lanai City isn't a sprawling urban center. There are no malls, strip malls, or outlets designed to part the unwary tourist from their hard-earned dollars.
Public transport is a rarity and if you want to venture out past the city limits, you'll have to rent a jeep, motorcycle, or bicycle.
If you do you can take a trip out to Shipwreck Beach or play golf on one of the two exclusive courses on the island, 
Of course, you don't have to get on your bike and ride. You could opt to sit back and enjoy an afternoon filled with cocktails in the comfort of the Four Seasons Lanai, which is located less than a stone's throw away from the dock that you'll sail into on the ferry. 
Heading Back To Maui
Whether you've chosen to spend your time on Lanai enjoying a cocktail, playing a round of golf, or swimming in the warm, welcoming waters off Shipwreck Beach, at some point, you'll want to get back on the ferry to Maui. 
Getting from Lanai to Lanaina, Maui is just as easy as it was to get there in the first place.
Book a place on the ferry, pay $30.00 for the ticket and enjoy the 90 boat ride that'll take you from Pineapple Island back to Maui.