Oprah Winfrey is often referred to as the "Queen of Maui," which is a suitable title given that she is the island's largest landowner.
It's not hard to see why she chose Maui of all the Hawaiian islands. It's incredibly picturesque no matter where you go.
So, where on Maui is Oprah's house? And what does it look like inside? Let's take a look!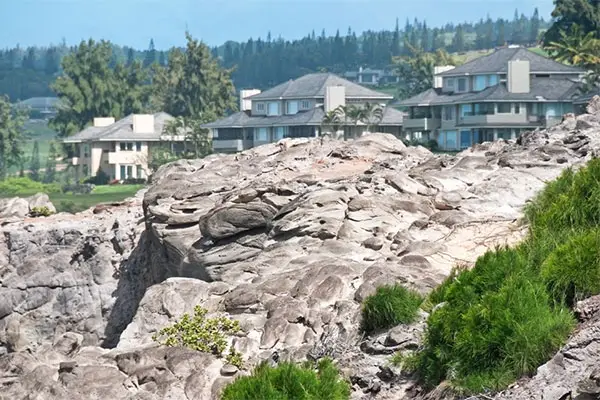 Where is Oprah's House on Maui?
Oprah's Maui residence is a popular spot for tourists to see where the superstar spends some of her time. Whether you've rented a vehicle and plan to check it out alone, or you decide to take a Tourist Bus, it's easiest to start from the airport.
Here's how to find it:
If you've just landed on Maui and are currently driving away from the airport, you'll need to head toward Haleakala. Follow Highway 37 all the way out towards Ulupalakua.
As you join this highway, take a look to your right and you should see the West Maui Mountain Range, and on your left you should be able to see Mount Haleakala. This means you're heading the right way.
You'll eventually reach an intersection in Kahului. You'll know it's the right one if you're straddling Dairy Road and Hana Highway

. This intersection is located just past the large K-Mart in Kahului.

At this intersection, take a left onto Hana Highway. Stay on this road for around 1 mile, and then you should see a large green sign on your right that states "Haleakala Crater. Kula. Pukalani. Take this right.
Now you're on Highway 37. You'll need to stay on this road up until you turn off to get to Oprah's house. While cruising Highway 37, you'll pass a turn off for Makawao. You'll also see lots of signs for the "Crater," keep driving and don't be tempted to turn-off. You've nearly reached Oprah's place!
Keep driving until you see mile marker 16.5, you'll know you're in the right place when you see Keokea park to your left. When you see it, begin to slow down. Keep an eye out for a sign that reads "Thompson Ranch Road," take the left onto this road. You'll notice that it immediately veers off to the right. Be sure not to miss this turning otherwise you'll end up at Kula Hospital.
Be sure to drive carefully and slowly while you head down Thompson Ranch Road, as it's a winding road which is often packed with crowds of tourists trying to get a glimpse of the property. Keep an eye on the hillside to your left, as about a quarter of a mile down, you should see a huge glistening white building perched on top of a hill.
You've made it to Oprah's house!
What is Oprah's Maui home like?
Oprah paid $5.3 million buying two plots of land, totaling 23.7 acres of Maui in 2003, as well as a humble grey farmhouse, which she has now turned into a vacation home.
The TV personality has amassed acres of land and at least a dozen structures in Maui, spending a total of $60 million in the process, and expanding the estate to 163 acres. .
The Maui County Council granted her permission to open a bed & breakfast on the property in 2010. Oprah has taken advantage of the fertile soil and ideal temperature to grow fruit, vegetables, and flowers on the property grounds.
Who built Oprah's house? 
Jeff Wooley, an architect, worked with T.M.C. General Contracting Inc. and artisans to restore the ranch house to its original state. The construction was rebuilt from the ground up, with a large veranda and many French doors.
The master bedroom received a makeover, and Winfrey's construction crew added a wraparound porch to the exterior. The inside was completely remodeled . Winfrey's classic motif came together with the addition of 18th and 19th century antiques to the residence.
Oprah has direct access to the patio from her bedroom. The high ceiling makes the room feel open and airy, and a floral motif was painted between the beams. 
Things that have been in Oprah's life for a long time have been repurposed in the interior design of her Maui home, resulting in a collage of her life. A 10-year-old Shaker chest now sits in the front hall, and a table from a former pool house fits perfectly in the new dining room.
A reproduction tea canister was also turned into a lamp and placed on a side table beside one of the sofas, which were covered in Boussac chenille. The drapes, which were hand-embroidered in India, were also custom-made for the space.
Oprah's House, a part of Maui's Community
After Maui was engulfed in a wildfire in 2020, Oprah's Maui property came in handy for the locals. Winfrey granted citizens access to the private road after a Twitter follower requested access.
For people who were affected by the disaster, the path functioned as an escape route.
Hawaii's governor, David Ige, took to Twitter to express his gratitude to Winfrey for opening up the private road on her property.