Baldwin Beach, Maui is a long and wide sandy beach on the North Shore, right outside of Paia. Baldwin Beach Park is named after Harry Alexander Baldwin (1871-1946), who was a sugarcane plantation manager and politician.
H.A. Baldwin was born and died just a stone's throw away from the beach park, which was named after him the year following his death. You'll notice the name Baldwin a lot around the island as H.A. was also the grandson of Dwight Baldwin, an early missionary and medical doctor on Maui.
Expect the surf to be high and the wind to be blowing generously at Baldwin Beach all year round. The beach has two coves protected by offshore reefs on each end: Baby Beach in the East and Baldwin Cove in the West, where swimming is less treacherous.
There's also many ironwood trees along the dunes which make it easy to find a shady area if you're trying to stay out of the sun.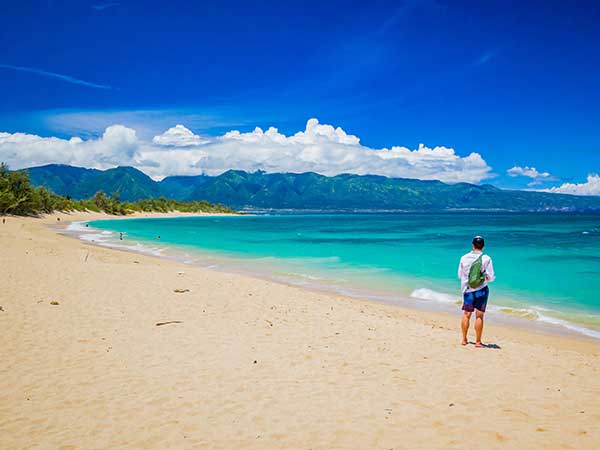 What is Baldwin Beach good for?
Approximately ¾ of a mile long, Baldwin Beach is the longest beach on the North Shore and is a favorite of nearby residents for walks, runs, and bodysurfing. It's also a stunning beach for a relaxing day of shell hunting, reading, or sunbathing while enjoying the beautiful view.
Because the area gets more rain than Kihei or Lahaina, you are likely to see lots of rainbows at Baldwin Beach, which make it for great photo ops, especially with the West Maui Mountains and Iao Valley in the background.
Is Baldwin Beach dangerous?
Baldwin is known to have powerful shorebreaks and strong rip currents. So, it is not good for snorkeling and other common water activities.
You can swim at Baldwin Beach but watch out for the surf, especially in the winter months, as the North Shore becomes home to very big waves. Use caution and look out for posted warning signs by the lifeguards, or ask them directly if and where it is safe to swim. Lifeguards are on duty everyday from 8am until 4:45pm.
To avoid the high surf and strong trade winds visit Baldwin Beach in the morning, as the wind picks up around noon almost everyday. The wind also tends to die down a bit before sunset.
What's different about Baldwin Beach, Maui?
There are no hotels or homes along Baldwin Beach, a rare occurrence on Maui (besides Big Beach in Makena on the South side of the island). The beach is bordered with ironwood trees, palm trees and dunes.
Another thing that is different here is that you can watch the airplanes take off — one after another — from Kahului airport. They aren't that far away from the the beach, but since the surf is so strong and loud, it drowns out the sound.
The beach changes with the seasons. If you have visited Baldwin Beach Park before it might look completely different the second time around (or the time after that) due to the dramatic sand tides. When the sand tide is out you'll notice giant tree trunks and boulders sticking out of the sand, and the waves crashing on the beach form an impressive sandwall. When the sand is up it covers them all, with just a branch peeping out of the sand, which forms an even slope down to the water's edge, giving the beach a totally different look.
Friday evening drum circle at Baldwin Cove: A non-official event, but a must if you're in the area on a Friday night. At least a dozen drummers gather in the late afternoon (an hour or two before sunset) and offer beachgoers free entertainment. Expect to see a few couples doing aerial yoga, as well as fire dancers after the sun sets. Basically, it's great for people watching. Take out your best outfit and show off your dance skills if you dare. If you do decide to stay past sunset, remember that the beach parking lot closes at 7pm, so make sure your vehicle is parked outside of the gates or move it before it's too late.
There is a trail behind the beach that connects Baldwin Beach to Secret Beach and Paia Bay. You can access the trail to the east of the beach parking lot, next to the restrooms. Along the trail, you'll encounter an ancient hawaiian burial ground, between Baldwin Cove and Secret Beach.
How do you get to Baldwin Beach, Maui?
Baldwin Beach is about a 30 minute drive from Kihei and 45 minutes from Lahaina, and is easily accessible from Hana Highway, and is recognizable from the road by a row of tall palm trees along the beach behind a large field.
The Baldwin Beach Park offers a large dirt lot, a smaller paved lot, and parking along the small road leading up to the beach. Local families like to gather at Baldwin Beach for various celebrations so the lots tend to be packed on the weekends and holidays. Even if the lot seems full, there is still plenty of room on the beach for everyone to spread out and have privacy.
Parking hours are 7am until 7pm.
Amenities
The beach park has many useful amenities: lifeguard towers, restrooms, showers, water fountains, and a covered pavilion with picnic tables.
A third of the 80 year-old pavilion was removed in 2020 due to erosion damage, which is causing the building to collapse. The county's Department of Parks and Recreation is currently working on a "Baldwin Beach Park Masterplan," which includes two new pavilions.
You won't find any beach equipment rental there as it is not a good beach for water sports.
Within Walking distance:
The beach park is just a 15 minute walk to Paia Town (or even quicker if you use the beach trail) with lots of shops and dining options available, including Flatbread for pizza, the famous Charley's (a favorite of Willie Nelson) and Hawaiian shaved ice.