Pipiwai trail is a moderate, 4 mile (roundtrip), hike located in Kipahulu, that starts at the 'O'heo Gulch and ends at the awe inspiring Waimoku Falls.
Pipiwai means "sprinkling water" in hawaiian, and right away you'll understand where the trail gets its name as you walk along the stream past the "Seven Sacred Pools." Part of Haleakala National Park, and by far the best hike in East Maui.
The trail offers incredible rainforest scenery with jaw-dropping waterfalls, a lush bamboo forest, and a giant banyan tree along the way.
Although Pipiwai trail is not particularly difficult, there are some things to know before adventuring along its path.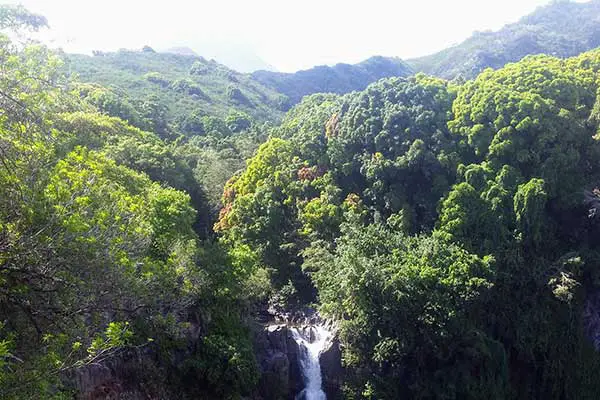 How difficult is Pipiwai trail?
If you're an avid hiker then Pipiwai trail shouldn't be too difficult but expect a bit of a workout.
The trail can be a bit challenging due to its length, and at times muddy and uneven terrain, but the hike is manageable for people of all ages, including kids, who will be in awe at the wonders the trail offers.
The beginning of the hike is the hardest, as the first half mile is a little steep, but once you've reached Makahiku Falls you're in for a treat. If you already feel satisfied with the views or you think you don't have the fitness level to continue, then Makahiku Falls is a good place to turn around. But be aware of what you're missing out on.
Next, you'll come across the massive banyan tree with its multiple aerial roots begging to be climbed. Feel free to do so, but at your own risk.
Another half mile away, you'll venture into the deep bamboo forest which leads to the final prize of the hike, Waimoku Falls, standing at 400 feet tall. Use your better judgement if you're thinking of walking past the posted warning signs. They are there for a reason.
The trail is well maintained and easy to follow thanks to the boardwalk, stone paths, and bridges that have been placed by the National Park Service in recent years.
How long does it take to hike Pipiwai trail?
The hike itself takes approximately 2.5 hours to complete, but can take an hour more depending on your pace and how often you stop to take pictures or to rest.
To be able to take in the extraordinary scenery make sure to allow ample time to fully enjoy the hike, and avoid squeezing it into a packed day. Also take into consideration the drive back to civilization unless you are spending the night in the area.
For ideal conditions, and more privacy, start the trek early in the morning.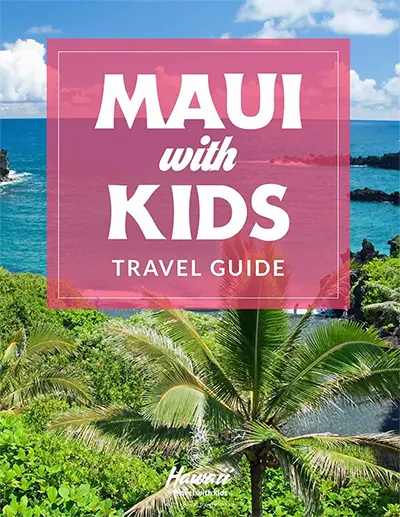 What to bring and wear for Pipiwai trail?
Dress for hot, humid, and rainy weather. You never know what kind of weather to expect in the jungle. Check the conditions before you go but don't cancel your plans if it rains a bit. As locals like to say, "If you don't like the weather, wait an hour." In the area of Pipiwai trail, it might be pouring rain one minute, and be pleasantly sunny the next.
Wear sturdy shoes: while some people might venture on the trail in slippahs (hawaiian pidgin term for flip flops), wearing comfortable shoes is recommended for a more enjoyable experience. Light hiking shoes are usually a perfect option to walk most trails on Maui. (Water shoes not advised.)
Bring a backpack with water, snacks, sunscreen, and insect repellant. Always carry plenty of water when hiking: expect to sweat. Also, there is no food available on site or anywhere nearby so bring some filling snacks, such as fruit, trail mix, chips, and sandwiches. Please be respectful and take your trash with you. It is unlawful to litter in Haleakala National Park, or anywhere on Maui for that matter.
Camera: it would be a shame not to document the incredible landscape!
Some things to take into consideration before you go:
Because the trail is located in Haleakala National Park, you must pay an entrance fee of $30 per vehicle ($20 for motorcycles and $15 for pedestrians). The good news is that the pass is valid for three days, so you can reuse it if you plan on going up to the Haleakala summit for sunrise or sunset. You can also purchase an annual pass for $55.
The weather can be unpredictable, and flash floods happen often, so the pools are not always open to the public.
Kipahulu is a remote area. Unless you're spending the night in Hana, take into consideration the long drive from other parts of the island and make a day out of it.
This hike is very popular. Expect lots of people on the trail.
Are there other things to do nearby Pipiwai trail?
Walk to Kuloa Point. A half mile loop trail between the visitor center and the pools of 'O'heo, this easy hike offers stunning vistas and showcases Hawaiian cultural sites. From the parking lot, stay right and follow the signs for Kuloa Point. From there, you can admire the sweeping ocean views on one side and the pools on the other.
Visit Charles Lindbergh's grave. Only a 10 minute drive east on Hana Highway, stop by and admire Kipahulu's serene Palapala Ho'omau church, and walk around its small cemetery where the legendary aviator is buried.
Stop at Alelele Falls. Another 5 minutes further down the road, you'll come across Alelele Bridge. A quick 5-10 minute hike from the road, you'll find a waterfall with a swimming hole. Go for an invigorating freshwater dip.
Parking info and directions:
The park is open year round from 9am until 5pm. Make sure you are back to your car by that time.
The amenities are very basic, but there are restrooms available next to the visitor center along with water fountains. Although the park has a decent size parking lot you may have to wait a little for another visitor to exit, depending on the time of the day.
The entrance to the park is located 12 miles east of Hana on Hana Highway. If you're not including this as a stop on your "road to Hana" trip, you have the option to drive the "backside" of the road from Kula.
Be aware that no matter which way you decide to drive, Kipahulu is over two and a half hours away from Kihei or Lahaina. However, the drive is absolutely epic!