If you're looking to plan a trip to Kihei in South Maui, then you're probably lusting after the stretches of beautiful beaches that manage to get the most sun out of everywhere on the island and the crystal clear waters that are perfect for snorkeling. However, have you ever considered if Kihei is safe?
The short answer is yes, but like anywhere else in the world you'll still need to remain cautious and take precautions to protect yourself and your belongings while enjoying the beautiful island of Maui.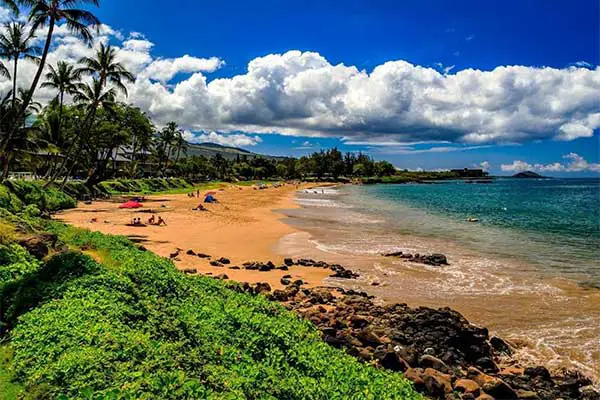 What Are The Crime Statistics Like In Kihei?
Kihei is a residential town but does have some tourist areas, so you'll be mixing with people who both live and work in the area and those who are vacationing. 
As with any area that hosts both locals and tourists, there will be some levels of crime, but crime levels in Kihei are nothing to be too concerned about.  
Kihei's violent crime statistics are lower than the national average, however, property crime is where the prominent issues lie in the area with higher than average reports of vehicle break-ins and property break-ins. 
When it comes to your safety and being attacked in Kihei, you're probably more likely to find yourself in trouble with jellyfish, sharks, or strong waves than any physical altercations with criminals in the area. However, staying vigilant is always the key to ensuring you don't run into any trouble. 
Are Crimes Mainly Against Tourists In The Area?
It's difficult to confirm whether these crimes are primarily targeted at tourists or not, however, tourists and vacationers do become an easier target in Kihei as they're both relaxing into their vacations and also unfamiliar with the area. Maui is an expensive vacation destination so locals and potential criminals will know that those visiting will be financially well off. 
A good recommendation is not to walk up South Kihei Road alone after 9 pm or unless you know there are still lots of people around. This can be a very secluded area and it has experienced a handful of attacks on tourists in the last 20 years, so ensure to take precautions if you're walking alone in the area. 
Criminal thefts of tourists in Kihei are often opportunistic rather than planned and someone passing by is more likely to take advantage of an unattended laptop or wallet on the passenger seat rather than a criminal watching you in your beachside condo waiting for you to leave. 
You would be surprised at the number of car break-ins that are committed during the late hours of the afternoon in broad daylight so it's important to take all valuable belongings with you when on the go or keep them locked in a safe back at your accommodation. 
How To Keep Your Lodging Protected From Theft In Kihei
Regardless of whether you're staying in a beach condo or in one of the beautiful hotels that Kihei has to offer, you'll want to remain vigilant to keep your belongings safe. 
Always make sure to lock your front door and any other entrances every time you leave and when you're going to bed for the night. 
If you're located near the ground floor with your room receiving regular foot traffic nearby then ensure that you shut your curtains every time you leave so no one can see your belongings inside your hotel or condo.
Always keep valuable possessions like money, wallet, passport, flight tickets, etc… locked away in the safe when you're not inside the room
Most hotels will have security officers who will patrol the perimeters of the hotel and grounds to observe and identify any suspicious or criminal activity, however, if you're renting private accommodation you won't benefit from this type of security and may have to be more cautious. 
How To Keep Your Car Safe When Vacationing In Kehei
Hiring a convertible to travel around the island seems like a total dream, but these are much easier to break into than a regular care.
If you are planning on renting a vehicle to travel around Kihei then here are our tips to keep your belongings safe: 
Rent a car with a trunk that can be locked
Avoid renting convertibles with trunk space for luggage
Don't leave windows open when leaving your car unattended
Lock all doors when leaving your vehicle
Don't leave your vehicle's engine running even if you're just running to pick up a food order
Don't park your vehicle on a secluded back road with no one around
Don't leave any valuables in your car when you're not driving
If you're going out for dinner somewhere or maybe you've driven out to Kamaole Beach Park I to enjoy the Instagrammable sunsets, then try to park your car as close to where you'll be as possible. This way you can keep an eye on it or at least be within a short walking distance to come back and regularly check on it. 
Make sure to park your vehicle on a driveway or in a private car park where there are security cameras when parking overnight, this will ensure that if anything happens then you'll be nearby or it'll all be caught on camera. 
Are The Locals Friendly And Willing To Help Tourists?
The Kihei locals are friendly and extremely easy-going. You'll often see them strolling around in the day enjoying a slower-paced life. The locals in Kihei are very accommodating and helpful when it comes to advising visitors on where to park our rental car and what areas to avoid in the dark. 
Is There A Police Presence In Kihei?
Yes. There are regular police patrols in and around Kihei so if you've ever got any concerns or you've been a victim of a crime then you can be sure to find an officer nearby or you can call 911 and someone will be with you as quick as they can. 
What Should You Do If You Are A Victim Of A Crime In Kihei?
The actions following a crime will depend on what crime has been committed, but in any event, you should always call 911 and wait for the right authority to arrive. 
What If Your Hotel or Condo Gets Broken Into?
Call 911 and request police
Report to the hotel manager or owner of the property
Do not attempt to move anything in the room or even enter the room
File a police report (you may need this for travel insurance claims)
If cards or wallets have been stolen, freeze all your accounts
Contact your travel insurance to tell them what has happened
As mentioned above, if it is obvious someone has broken into your accommodation e.g there's smashed glass from windows and your belongings thrown everywhere, then avoid moving anything as it is now a crime scene. 
However, if you're unsure of whether you've misplaced an item or if it's been stolen then have a good look around before getting the authorities involved – there's nothing more embarrassing than reporting something missing to find it tucked under your bed right?
If you have any important documents like flight tickets or passports, then you'll need to get in touch with the airline to explain your situation and you'll need to get to your nearest embassy to get an emergency passport so you can travel home. While this may not seem like the priority at the time of the crime, it'll prevent you from losing money and not being able to return home.
What To Do In The Event Of A Car Break-In?
If your rental vehicle has been broken into in Kihei, then you should call 911 and wait for the police to arrive.
Important things to remember if you're the victim of a car break-in:
Don't touch or enter the vehicle
Take photos and videos of outside the vehicle and through open windows
File a police report once officers have arrived
Contact the rental car company and also get in touch with your auto insurance company
Once you're allowed to enter the vehicle, check to see what has been stolen
If credit cards have been stolen then contact your bank to freeze them
Kihei is a beautiful part of the island and boasts stunning beaches and a laid back atmosphere that hosts thousands of vacationers and tourists every year. However, as much as a vacation is meant for relaxation, having an attitude that's too laidback could land you in some trouble and possibly risk some theft of your belongings. 
Always use your common sense and plan any day trips and don't presume that the laid back and friendly vibe of the locals will apply to everyone you come across.