Whether or not you need water shoes on Maui depends on who you are and how mindful you are when in the ocean or at the beach. Both adults and kids may prefer water shoes because of Maui's rocky shores and sharp lava entries.
And yet, locals and frequent visitors to the island rarely wear water shoes.
What gives? Well, despite the benefits, there are also downsides to wearing water shoes.
Below, I've detailed both the pros and cons of wearing water shoes on Maui, so you can decide whether or not you're the kind of person who needs to protect their soles.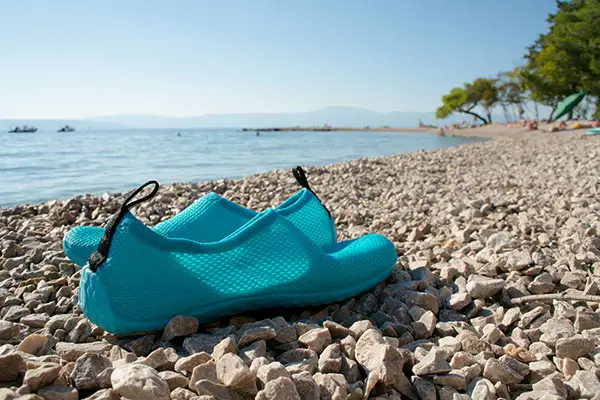 Do you Need Water Shoes on Maui Beaches?
Water shoes come in handy on the beaches of Maui to protect you from two hazards:
Hot Sand: The sand on Maui's beaches can get very hot, and may burn the bottoms of your feet. Water shoes provide some needed protection. Also even on a sandy beach, it's sometimes very hard to see what is underneath you. You could easily step on rocks or reefs and scar your feet.
Kiawe Tree Thorns: Kiawe trees grow in abundance on the leeward (south and west) side of Maui, where most of the best beaches are. The kiawe tree has thorns that can exceed an inch long. Kiawe thorns have pierced my flip flops and punctured my foot in the past. Had I had sturdier shoes, I wouldn't have hobbled along the beach that day.
Do You Need Water Shoes In the Water?
Water shoes in the water can help with the following hazards:
Rocks, lava, reefs: Water shoes can make entering and exiting the water much easier, especially in places where you can't see clearly what exactly you're stepping on. Nobody wants to run into the waters only to graze their toes against a sharp-edged rock.
Sea urchin spines: Some folks are afraid of sea urchin spines and think they need water shoes to protect themselves. However, the hazard of sea urchins is extremely rare. Although, better to be safe than sorry.
But, There Are Downsides to Wearing Water Shoes in the Ocean
When water shoes are protecting your feet, you are much more likely to touch and damage the coral reef. And coral reef is extremely fragile and sensitive to human touch.
Not wearing water shoes makes people extra cautious, which in turn causes them to pay extra attention to the reefs around their feet, thereby preserving the coral. So, be very careful if you're snorkeling at Kaanapali beach.
At the same time, snorkelers who wear water shoes can't squeeze their feet into their fins with their shoes on. So, they have to trust them to the beach or use extra large fins.
Keep in mind, too, that water shoes come with a price tag and are not adequate as shoes for other activities, so you'll be lugging around a second pair of footwear if you plan to do any non-beach activities on Maui.
How You Can Protect Your Feet in the Water When Snorkeling?
If water shoes are not your style, or you have nicely calloused soles and don't mind fiery sand, and still want to protect your feet while snorkeling you are not out of luck. There are still ways to protect your feet as you wade into the ocean to view coral and colorful fish:
Many snorkelers, in order to protect their feet, make this rookie mistake: they put their fins on their feet and try to walk forward into the water. Then they get hit by a wave or their fins do, and they fall. It's much easier to wade in a bit and then put your fins on.
If you have to walk on the sand or through shallow water with your fins on, shuffle your feet backward or sideways so you don't trip on the blades. Slowly move into the water until it's about three feet deep, then ease yourself in and start swimming
Another option that some folks choose is to use booties and dive flippers—the kind with a strap in the back that work well with booties—so that they have foot protection.
(Also, check out our guide on where to rent snorkeling gear.)
Can You Wear Water Shoes When You Snorkel?
Travelers who have not snorkeled a great deal may wear water shoes under their fins when snorkeling.
But wearing the shoes is awkward and can cause you to fall when wearing fins.
Your fins, in this case, will have to serve as the protective covering for your feet.
Water Shoes Are Recommended At These Two Spots On Maui
Honolua Bay – A Rocky Entry
Honolua Bay, on the west side of the island, is a very popular snorkeling spot on Maui. The challenge with Honolua, however, is that the entry is very rocky and sometimes quite rough.
Walking on the rocks in your snorkel fins is dangerous. You'll most likely fall, unless you have really good balance and tough feet—walking barefoot on the rocks is quite painful. I recommend you enter the water with your water shoes on and simply snorkel without your fins.
La Perouse Bay – A Sharp And Jagged Entry
La Perouse Bay on the South side is a beautiful bay where you can sometimes swim with spinner dolphins in the morning.
The problem with La Perouse, however, is that the entire area around the bay is covered with sharp lava rocks. Good water shoes are a must.
Where To Buy Water Shoes On Maui
If you end up in Maui without waters shoes and decide you want them, you can get them at the following stores (the usual suspects apply):
Maui Clothing Company
Island Feet
Walmart
Target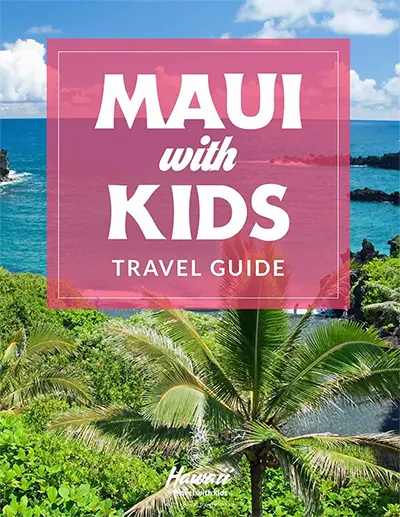 The Best Water Shoes for Maui: 4 Tips for Choosing a Shoe
1. A long-lasting brand of water shoes or sandals is Keens. They are great to include in your luggage if you wish to pack light. They're ideal for hiking, crossing streams, or navigating sharp coral. Keen sandals are almost indestructible, as you can use them for scaling bluffs or wear them in the ocean. You can also get them in a large number of colors.
2. Any water shoes you choose work the best if they are made of leather and a rubber sole. A nice platform heel measures about one inch. Find a shoe with a water-resistant upper and a washable webbing made of polyester and a quick-dry lining. This makes it easy to use the footwear in and out of the water. A hydrophobic mesh lining will shed water and lengthen the life of the shoe's materials.
3. Make sure the shoe features enough traction in the form of lugs, which offer an excellent grip, whether the terrain is wet or dry. A toe bumper should be part of the design, it's an additional safety feature to prevent injury.
4. Find a shoe that is both supportive and comfortable to wear. Usually, the best shoes feature an adjustable hook and loop closure to secure the shoe's fit while making it simple to put them on and take them off. An EVA midsole is a nice bonus, as it provides extra cushioning.