ABC Store has become the go-to store for Maui visitors looking for a local souvenir at a reasonable price.
This Hawaiian-owned store sells everything from groceries to beach towels, and operates on the principles of convenience and service.
Most major Maui tourist destinations are near a store, including the ABC Store in Whalers Village, and the ABC Store in the Shops at Wailea. Read this guide for what you can find in ABC Store, and whether it's worth a visit.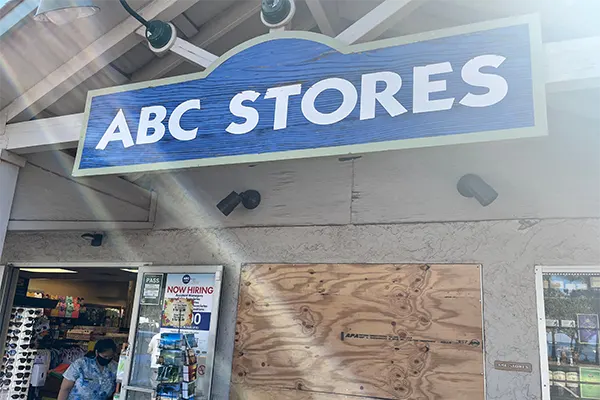 Does Maui Have ABC Stores?
Yes, Maui is home to multiple ABC Stores, as well as several ABC Store affiliates.
ABC Store is a popular local convenience chain, selling almost everything you might need for a day on Maui, all under one roof.
ABC Store has locations across the Hawaiian islands. It caters to locals looking for some well priced Maui produce, and vacationers looking to sample the best of the island.
Where is ABC Store On Maui?
ABC Store operates 11 stores on Maui, including the Honolua Store and Island Gourmet Markets. These are located on West Maui and South Maui, with most locations primarily near major tourist resorts.
To find the full list of ABC Stores on Maui, take a look at the ABC Store guide.
Hours do vary depending on location, as does stock, so be sure to check before you go. Below, we've covered the details of some of the most popular locations.
ABC Store Whalers Village
The Whalers Village is a popular shopping mall at Ka'anapali, and a must-visit for families staying in the area.
The ABC Store in Whalers Village is located on the main floor, selling food, health and beauty, and more. Stop here before heading for a day at Ka'anapali or Black Rock Beach.
Open daily from 8:30am to 9pm.
Outlets of Maui
Outlets of Maui offers a combination of convenience and oceanfront views, making it a worthwhile trip for visitors to Lahaina.
Find the ABC Store at Outlets of Maui near the car park, by Papalaua Street.
Open daily from 10:30am to 8pm. 
Honolua Store
Honolua Store isn't the ABC Store you might be expecting, but this grocery and deli is the surprising home of one of the best plate lunches on the island.
An affiliate of ABC Store, Honolua Store can be found in Kapalua on West Maui.
Selling groceries, apparel, and even cosmetics, Honolua Store is best known for its coffee bar and daily specials. 
Store open daily from 6:30 am to 7pm. Deli and coffee bar open from 6:30am to 5pm.
The Shops at Wailea
One of Maui's most notable shopping centers, the Shops at Wailea is home to luxury brands and high-end restaurants. The ABC Store at the Shops at Wailea is on the second floor, and sells flavors of the island alongside beach necessities and souvenirs.
Open daily from 8:30am to 10pm.
Island Gourmet Markets
A gift shop and a market, Island Gourmet Markets is an ABC Store location with a difference. Stay for a plate lunch and a Kona coffee, and leave with a bottle of wine and some delicious deli picks.
The sushi bar is particularly good. Island Gourmet Markets is found at the Shops at Wailea, on level 2. 
Store open daily from 6am to 10pm. The coffee bar closes at 7pm, the deli closes at 5pm, and the sushi bar closes at 3:30pm.
Lineage
Not quite the ABC Store you might expect, Lineage is an aloha style restaurant owned by ABC Store in partnership with Top Chef alumnus Sheldon Simeon.
Located in the Shops at Wailea, Lineage serves local delicacies while encouraging diners to engage with each other. Find it on level 2 of the Shops at Wailea (and pop across to Island Gourmet Markets next door when you're done).
Open Thursday to Monday from 5pm to 9pm.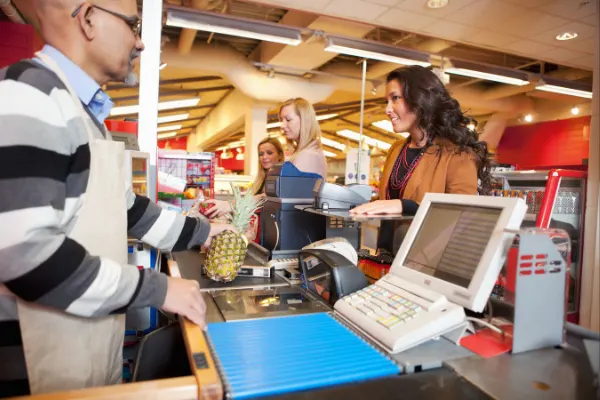 What Does ABC Store Sell In Maui?
The ABC Store sells essentially everything you need, from gifts to groceries to bare essentials. ABC Stores stock a range of cosmetics, clothing, and assorted souvenirs. They also sell plenty of Hawaiian essentials, such as reef safe sunscreen and beach cover-ups. 
As well as filling a need, ABC Stores are proud to support local businesses.
If you're looking to pick up some "Made in Hawaii" souvenirs, ABC Stores have island sourced products to meet your needs. We recommend grabbing a bag of Kona coffee to take home. It's a Hawaiian specialty, and can help make the transition back to normality easier.
Do ABC Stores On Maui Sell Alcohol?
Yes, you can buy alcohol at an ABC Store. Hawaii doesn't have state liquor stores. Instead, alcohol can be purchased from grocery stores such as ABC Store, Safeway, and Costco.
These stores tend to be the top choice for Maui locals and visitors hoping to save money but still get good quality drinks. It's hard to beat a Mai Tai on the beach, but a bargain local brew on your hotel lanai comes pretty close. 
The alcohol isn't necessarily cheap, but it typically costs less than the average hotel drink. You can expect some good quality liquors as well, if you want to recreate the restaurant experience on a budget. And look out for the local Maui brews!
Is ABC Store Hawaiian Owned?
ABC Store is a locally owned and operated business. It began as a mom-and-pop store, before expanding to become one of the premier convenience stores in the state.
ABC Store also owns several affiliates, such as Honolua Store and Island Country Markets.
You might be surprised to learn that the ABC Store isn't only in Hawaii. In fact, they also operate stores in Guam, and Saipan. You can even find ABC outlets in Las Vegas!
Is ABC Store Expensive?
ABC Stores are typically located in popular tourist resorts, so the prices can be a little high.
However, ABC Stores are generally priced comparatively, and  you can find some real deals. Compared to eating at restaurants, groceries and drinks from ABC Stores are very well priced.
Final Thoughts
ABC Store may not be your first stop on Maui, but it's worth checking out for their selection of local brands.
And, as they're typically located near the major tourist towns, you probably won't have to go out of your way to do so.