Black Rock Beach is one of Maui's most well known beauty spots. Found at the north end of busy Ka'anapali Beach, it attracts snorkelers, families, and daring cliff divers.
Known to the locals as Puukekaa, Black Rock is popular for its easy facilities and nighttime cliff jump ceremony.
No stop to West Maui is complete without a visit to Black Rock. Read this guide for everything you need to know about Black Rock Beach, Maui.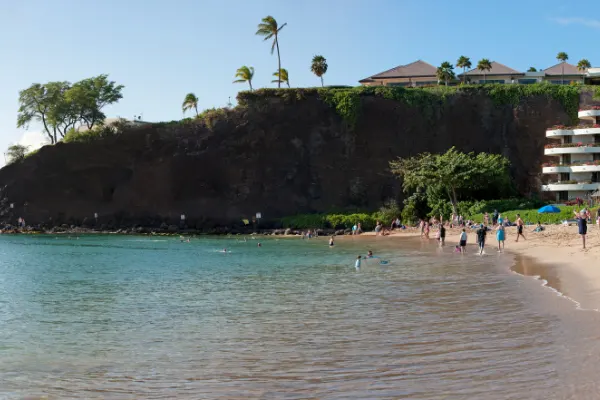 Where Is Black Rock On Maui?
Black Rock is located at the north end of Ka'anapali Beach. It's popular with tourists thanks to its clear seas, soft sands, and impressive nearby facilities. With large resort hotels backing on to Black Rock, it's the top beach for many Maui visitors.
Black Rock itself is exactly what the name implies: a wall of black rock that towers above one end of Ka'anapali Beach.
Created by one of the last lava flows that formed Maui, Black Rock tumbles into the sea and divides Ka'anapali in two.
The name Black Rock is also used to describe the sands closest to the rock flow itself. Head south, and you're on Ka'anapali beach. Cross over Black Rock, and you'll find yourself at Kahekili Beach Park.
What Facilities Are At Black Rock?
For families looking for a beach with a wealth of nearby facilities, Black Rock is an excellent choice. Many of the resort owned showers are accessible for visitors, and there are shops nearby with public toilets. However, be aware that there are no lifeguards.
Thanks to nearby Ka'anapali, Black Rock has easy access to a multitude of facilities. Several major resort hotels are located either directly on Black Rock, such as the Sheraton Maui Resort and Spa, are within walking distance.
Restaurants, shops, and general stores mean visitors to Black Rock can feel relaxed and comfortable during their visit. 
There are a few parking options for visitors to Black Rock. The public parking located at the ground level of the Sheraton are best, and free, but tend to fill up quickly. Otherwise, try parking at the Whalers Village car park, or Kahekili Beach Park.
Whalers Village parking can be pricey, so head inside for some shopping and parking validation.
Can You Swim At Black Rock?
Swimming can be excellent around Black Rock, but be aware of stronger currents and a surprising depth. As there's no lifeguard, weaker swimmers are advised to keep out of the deeper waters.
Even stronger swimmers at Black Rock should stay alert for the currents, or risk ending up with a face full of lava rock.
Although the rocks are one of the main draws to the area, they're incredibly painful to swim into.
Overall, Black Rock is an enjoyable place to swim if you don't mind sticking to the shallows. 
Can You Snorkel At Black Rock?
Yes, you can snorkel at Black Rock. It isn't one of Maui's premier snorkeling destinations, but it's still worth grabbing your goggles and fins. The exceptional water clarity makes Black Rock worth the effort.
Snorkelers at Black Rock are often delighted by the arrival of sea turtles, which are frequent visitors to the area. And keep an eye on the deep waters—sometimes eagle rays can be seen passing through. 
One of the main advantages to snorkeling at Black Rock is the proximity of nearby facilities. If you don't have your own snorkel equipment, Boss Frog's has a location at Ka'anapali with gear to rent. Many of the hotels also offer rental opportunities. Or you can head to Whalers Village shopping center, and buy your own equipment for a low price. 
As with most Maui beaches, the best time to snorkel is in the morning. This is when the winds have yet to pick up, and visibility is better. Avoid heading outside the cove, or you lose all protection from the wind.
Can You Cliff Dive At Black Rock?
As you soak up the sun on the sands of Black Rock, listen out for the sounds of screams and splashes. Daring divers love to take the opportunity to jump from Black Rock.
For cliff divers with some experience, Black Rock is a must-see on Maui. It isn't the highest of dives, but it's still a good jump. The deeper waters and angled rocks means there are some decent spots for less experienced jumpers as well. As with swimming, keep an eye on the currents.
If you haven't tried cliff diving before, we recommend watching from the beach. Viewing isn't perhaps quite the same thrill as diving, but it can still get the heart pounding.
What Is The Black Rock Cliff Diving Ceremony?
Stick around until sunset, and you'll notice an unusual sight at Black Rock. Torches are lit, songs echo across the beach, and then there's the graceful dive and splash of the Maui cliff diver. This is the Sheraton Cliff Diving Ceremony.
Black Rock, or Puukekaa, was considered a sacred site for Hawaii natives. It was said to be where souls came to leap into the spirit world.
The last chief of Hawaii, King Kahekili, came to Puukekaa to display his skill at cliff jumping.
The Sheraton Maui honors this feat with a cliff diving ceremony. Every night at sunset, a trained local recreates the incredible dive of King Kahekili.
The cliff diving ceremony can be seen from Black Rock beach. 
Where To Stay Near Black Rock?
The closest hotel to Black Rock is the Sheraton Maui Resort and Spa. Other hotels in the area include the Ka'anapali Beach Hotel, and the Westin Maui Resort and Spa.
Black Rock is located at Ka'anapali, just north of Lahaina. Visitors to West Maui should find Black Rock easily accessible by road. If you're staying on South Maui, it's also worth making the trip. 
Final Thoughts
Black Rock is an attractive family beach in a fantastic location for visitors to the resort area of Ka'anapali.
One of the main draws is the cliff diving, which more adventurous holidaymakers will find appealing.
Or try snorkeling, and see if you can spot a sea turtle.