Parking on Maui has become increasingly difficult in recent years as the number of visitors to the island steadily increases.
Whether you're going to the beach, or to hike a trail, or shopping in town you may find yourself struggling to park your car. Or, you may get lucky and find a spot without issue.
Everything you need to know about parking on Maui is detailed below, including the new restrictions that have been implemented in 2021.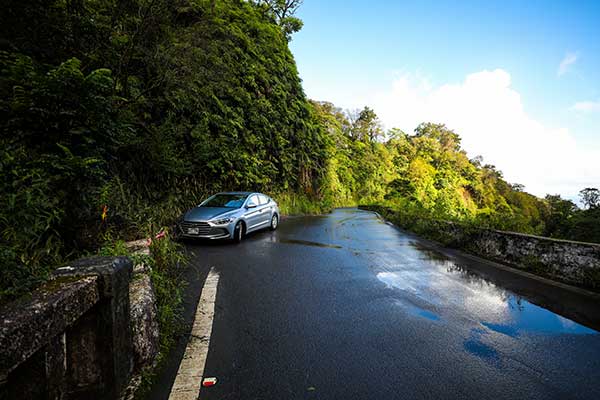 Is parking on Maui free?
Street parking is always free but you might have a hard time finding an available parking spot, as these are the most coveted spots. But paid lots are fairly cheap and typically close to popular attractions.
Keep in mind that there are no meters or street cleaning services on the island of Maui.
Is it safe to park anywhere on Maui?
If you are driving a rental car, you are more likely to be preyed on by thieves, as rentals are easily recognizable.
Be careful when parking at a remote trailhead, for example. Some unfriendly may see the unattended vehicle and take the chance to break in knowing that the driver will be away for hours.
But it's easy enough to take precautions. As with almost anywhere else in the world, make sure you don't leave valuables in the car—especially in plain sight—such as phones, wallets, cash, or even designer sunglasses.
It may seem unintuitive, but leaving windows cracked and the car unlocked is actually a good idea, since it doesn't give thieves a reason to break your windows.
Is it easy to find parking on Maui?
Although most attractions on Maui have designated parking lots they are not all up to the same standard. The lot might be nicely paved, a patch of dirt, or a sandy strip along the side of the road.
The rule of thumb is that if there is no signage indicating that you cannot park, and you're not parking dangerously—your vehicle doesn't stick out on the road—then you're good to go.
That being said, you might still find it difficult to park even on sandy strips along the road on weekends and holidays.
Places where parking is hardest to find on Maui
Front Street in Lahaina: many people gravitate to the lively streets of Lahaina and so street parking is limited. But several small paid lots are available just off the main drag.
Paia: similar to the situation in Lahaina, the small town of Paia is popular amongst locals and visitors and parking is not always easy to find. Refer to our post on parking in Paia for more details.
Kaanapali: there is no street parking available along the hotel strip in Kaanapali. A few small beach lots are hidden between hotels but with limited spaces.
Honolua Bay: the enchanting forest and snorkeling of Honolua Bay seems to become more and more popular everyday, and although there is plenty of space to park in front of the entrance and along the road, don't be shocked if you can't find a spot right away.
Hana Highway: with hundreds of cars traveling the windy road known as Hana Highway every day and basically zero places to park, you can't always stop where you want.
Most beach parking lots on the weekend: locals like to hang out at the beach too when they're not working, so, naturally, that means there are more people at the beach on the weekends and on holidays.
Beach parking on Maui
Lots with a yellow gate are reserved for beach parking and are always free (with the recent exception of beaches located in a State Park).
Beach parking has limited hours and overnight parking is not allowed. Beach lot gates close at 7pm unless otherwise posted. The signs are not just for show. But, closing times are subject to "Hawaiian time" so you can probably get away with staying a bit after hours, especially in the summertime when the sun sets later. At best your car will be locked in until the next morning. But be warned, you may also get a parking ticket.
There is more free beach parking available in South Maui than on the West side (due to the resorts lining the beach and larger beach lots in South Maui in general), but many hotels on the West Side have large lots open to non-guests. Just check the entrance for signage or ask an attendant.
Parking at trailheads
Since most trailheads are located in remote areas, parking is usually not an issue.
However, parking at the upper lot at Waihe'e Ridge can be challenging. The overflow lot is far down the road, and parking at the overflow lot means you'll have to walk uphill in the hot sun. Waiting in line might be a better option for you and won't take too long.
Parking when shopping on Maui
The Shops of Wailea feature a large lot for shoppers and diners. Since the beginning of the pandemic, the gates have been removed so parking is currently free. Ignore the booth at the entrance and drive in. Currently, there's no information as to whether or not the lot will remain free.
Plaza parking lots are reserved for patrons. But depending on the size of the lot you might be able to get away with leaving your car in a plaza parking lot and hitting the beach for a couple of hours. It doesn't hurt to purchase something at one of the shops and have proof of it. Of course, it's your choice whether or not you want to risk getting a ticket.
Whaler's Village in Kaanapali offers a paid lot for easy access to the shopping area. Validations are available from shops and restaurants in the mall.
What's New with Maui Parking in 2021?
Big Beach: Since April 2021, visiting Makena State Park requires a $5 entrance fee and a $10 parking fee for non-residents. If you park outside the gates and walk, you won't have to pay for parking but you still need to purchase an entrance ticket for each adult and child over the age of three.
Twin Falls: The overflow parking area is out of service at Twin Falls, meaning your chances of finding a spot before hiking are a bit slim. And street parking is not an option. Currently, there are parking attendants to help make the experience smoother. They charge a $10 fee. Keep in mind that Twin Falls is not a State park. Twin Falls is located on private land and the owners have opened the land to the public. The fee helps them maintain the park. They also have a parking area for locals on the property, so if you live on Maui, make sure to tell them—although they usually can tell.
Wai'anapanapa State Park: There is a new reservation system in place in Wai'anapanapa, requiring visitors to select a date and time slot for their visit. Just like Makena State Park, an entrance and parking fee were implemented for out-of-state visitors. You will get turned away from entering the park without a reservation, so plan in advance.
Hana Highway: To address the overwhelming amount of illegal and dangerous parking along the windy road known as Hana Highway, and locals' frustration, the county has increased citation fees. The original $35 fine carries a $200 surcharge as of June 2021, to deter drivers from parking illegally, starting at Twin Falls. "No Parking" signs will be posted at all the hot spots: Waikamoi Stream Bridge, Twin Falls, Bamboo Forest, Ching's Pond, Waikani Bridge, Pua'a Ka'a Park and Hanawi Bridge.