Exploring the seas of Maui is just as exciting as exploring the land, especially if you're staying in Wailea.
The South Maui location isn't just the home of resort hotels and celebrities: colorful corals, diverse reefs, and even sea turtles all call Wailea home!
But before you grab your snorkel gear and dive right in, you need to know the best places to look. Use this guide to find where to dip your fins on a clear Maui morning in Wailea.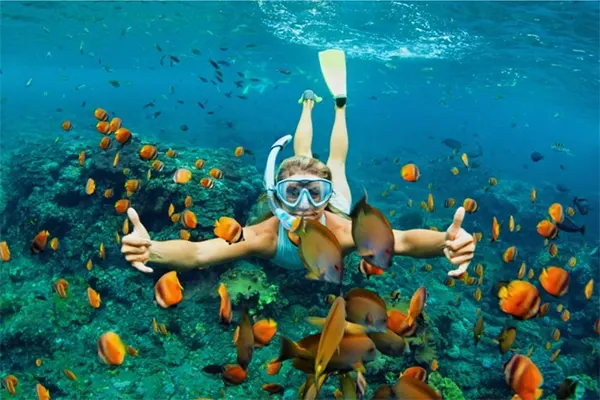 Can You Snorkel In Wailea?
The beaches at Wailea are fantastic for snorkeling, and many of them are right outside the hotels.
With plenty of shops around offering equipment for hire, and frequent tours and lessons leaving from the Wailea shoreline, snorkeling is a must for a Maui holiday.
Snorkeling across Maui tends to be good, thanks to the natural biodiversity and close reefs. But at Wailea, these spots are almost at your doorstep.
The sandy beaches and good visibility makes snorkeling accessible to many visitors.
Rocky peninsulas typically define the boundaries between Maui beaches, and this is where you'll find those stunning snorkel spots.
Where To Snorkel In Wailea
Mokapu And Ulua Beach Parks
Mokapu to the north and Ulua to the south are two connected beaches known for their wonderful snorkeling.
Mokapu is the smaller beach, with a shallower reef and a sandy entrance for easier accessibility.
Ulua is better known as a dive spot, and is a popular place for diving lessons. It's home to a deeper reef, and even a turtle cleaning station.
Wailea Beach
No trip to Wailea is complete without spending some time on the stunning Wailea beach, home to the luxury resorts the Grand Wailea and the Four Seasons Maui.
This keiki friendly beach is popular with families and couples, with some decent snorkeling.
The snorkeling at Wailea beach isn't the best Maui has to offer, but it's still pretty fantastic. The right end has the healthier reef, but you need to swim out to see the best Wailea beach has.
There are patches of satellite reef found roughly 30 yards out from the shore, and this is where marine life thrives. But navigating your way through the waves can be tricky.
Polo Beach
The lava flows that form the jutting edges of Polo beach have become a must-see spot for enthusiastic snorkelers in Wailea. Colorful corals have grown all across the dark rocks, attracting a number of fish and other marine life.
The quieter south end has an incredible reef for snorkelers to enjoy, while the soft sands of the north end attract sunbathers.
The traditional name for Polo beach is "Ke One o Polo", which translates roughly to "the sand is not thick." This is true, there are areas of Polo beach where the rocks poke through the sand.
If you do intend to snorkel, watch out for rougher seas and stay aware. A close encounter with those rocks is not pleasant.
'Ahihi Kinau Reserve
'Ahihi Kinau reserve is located in the protected area of Makena, just south of Wailea. The bay itself is small, and lacks a sandy beach, but snorkeling here really is all about the marine life.
Thanks to the protected status, there's an incredible range of marine creatures waiting beneath the surface at 'Ahihi Kinau.
The reef at 'Ahihi Kinau is also home to a fish nursery. If you're lucky, you may get a chance to spot some baby fish.
If you're snorkeling in the area, you may also want to take the opportunity to head to La Perouse Bay. Here, advanced snorkelers can swim with spinner dolphins.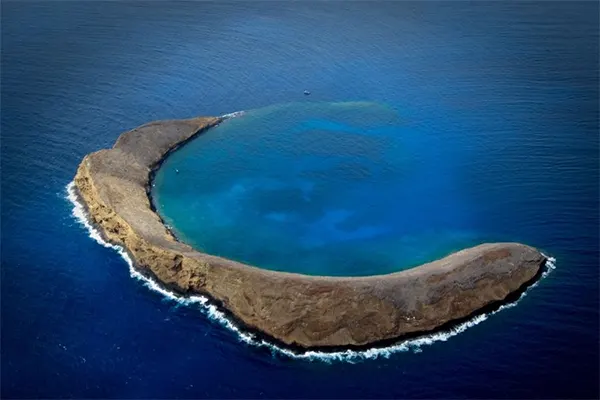 Molokini Crater
Although it isn't technically in Wailea, it would be remiss not to mention Molokini crater. This is a day trip for snorkelers, but the calm waves and exciting landscape makes it a good choice for even beginners looking to dip their toes/fins in.
Molokini crater has some fantastic underwater visibility, which can range to over 100 feet.
The panoramic views of this marine reserve are stunning, and offer you a rare glimpse of Hawaiian garden eels, Masked angelfish, Manta rays, and white tip reef sharks.
Not far away is Turtle Town, home to, as you might have guessed, turtles. They use the area as a cleaning station, and it's an incredible opportunity to see turtles being cleaned by fish.
Where To Hire Snorkel Gear In Wailea?
Snorkel Bob's
Snorkel Bob's Wailea location is one of the best places to rent snorkeling gear for your Wailea vacation. The staff are friendly and helpful, able to fit you for a comfortable mask in no time at all.
There's a remarkable range of gear on hand, so you can get just what you need.
Open daily from 8am to 5pm.
Boss Frog's Dive and Surf Shop
Boss Frog's has multiple locations across Maui, including one located in Wailea.
The well established shop has been helping customers find the right snorkel gear for decades, so they're sure to have something just right for your trip.
Open daily from 8am to 5pm.
Maui Dive Shop
Book yourself a snorkel trip, rent your gear, and pick up a whole new wardrobe at Maui Dive Shop.
The store is a favorite thanks to the range of stock, and all the extras you can pick up as you grab your mask and fins.
Open daily from 7am to 4pm.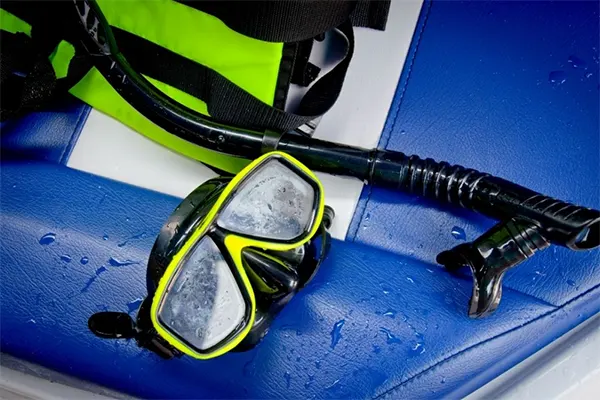 From Your Hotel
Hotels such as the Grand Wailea and the Four Seasons Resort Maui allow you to rent your own snorkel gear on site. This can be an expensive option, but it's also the easiest.
If you're curious, inquire at the front desk to see what services are available. Many of these resorts also run snorkeling excursions, which are worth looking into.
What Time Of Day Should You Snorkel At Wailea?
In Wailea, and across Maui, snorkeling is best in the mornings. This is when the winds are still relatively quiet, and you get better visibility. As the day continues, the winds pick up, creating larger swells that make snorkeling more dangerous.
Wailea is a fantastic place to try your hand at snorkeling, and for advanced snorkelers to explore rich reefs. As well as plenty of beaches to visit, and lots of wildlife to discover, ample rental shops and tours make snorkeling easier than ever.