Snorkeling on Maui is a must for many visitors, but bringing your own equipment can be a nightmare.
For easy rentals, try one of Maui's amazing snorkel shops. This guide to the best of them will get you exploring underwater waves in no time at all.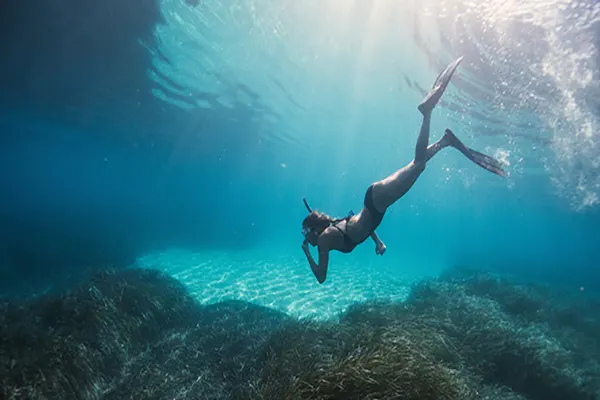 Should You Snorkel In Maui?
The clear seas of Maui are teaming with life, from playful turtles to brightly colored corals.
Gentle currents and easy to reach wildlife makes Maui a remarkable spot for beginner snorkelers to learn the skill.
Where To Rent Snorkel Gear In Maui
Snorkel Bob's
Snorkel Bob's is a top choice for visitors to Maui to try out snorkeling.
With multiple locations in easy access of resorts and beaches, there's nearly always a Snorkel Bob's nearby when you need it. 
Fantastic customer service is the main reason snorkelers praise Snorkel Bob's. The helpful staff can ensure you get set up equipment perfectly suited to you, and they clean all the gear thoroughly between uses. 
There's always plenty of gear available for rent at Snorkel Bob's, so you can get exactly what you require for your trip.
Locations: Napili, Kahana, Honokowai, Lahaina, North Kihei, South Kihei, and Wailea.
Opening hours: Daily from 8am to 5pm.
Boss Frog's Dive and Surf
With 10 shops on Maui, a trip to Boss Frog's can tell you everything you need to know about where to snorkel, and hook you up with all the right gear. Boss Frog's is staffed by snorkeling experts, who know Maui like the back of their hand.
At Boss Frog's, you can put together a package to suit your snorkeling needs. The equipment is all top quality, and you can add some basic beach rentals to complete your day out.
Pick up some snorkeling tips while you're there, and you'll be ready to take to the waters in no time at all.
Locations: Ma'alaea Harbor, Lahaina Front Street, Ka'anapali, Napili, Lahaina Cannery Mall, Kahana, North Kihei, Central Kihei, South Kihei, Wailea.
Opening hours: Open daily, hours vary by location.
Maui Dive Shop
"Safety first" is the motto at Maui Dive Shop, which is why they only use the very best equipment around. A considered fitting ensures every renter leaves happy, with gear that will help them discover the best underwater Maui has to offer.
There's plenty to rent at Maui Dive Shop, and you can put together a package to cover all your needs. First time divers will appreciate the help from knowledgeable staff, who can get you the appropriate gear for exploring the waters.
And while you're at Maui Dive Shop, you can pick up some clothing essentials, bag a few holiday souvenirs, and book yourself some excursions!
Locations: Kihei.
Opening hours: Daily from 7am to 4pm.
The Snorkel Store
Even if you've never considered snorkeling before, it's hard to resist the clear waters at Black Rock in Ka'anapali.
Luckily, the Snorkel Store is just a few minutes away. Get your mask fitted, pick up your rentals, and start exploring the ocean in the course of an hour.
As well as your snorkeling gear, you can pick up everything you need for a day at the beach. Including a shave ice from the shop next door! 
The Snorkel Store allows you to rent for up to 10 days, so you can keep hold of your equipment as you explore Maui. Head to their website to check out the snorkel forecast, which can help you find the best spots for fish watching every day.
Locations: Ka'anapali.
Opening hours: Open daily from 8am to 5pm.
Auntie Snorkel
Family run business Auntie Snorkel has been supplying Maui visitors with snorkel gear since 1985.
The attentive staff set you up with everything you need to make your snorkeling trip memorable.
Having found the equipment for you, Auntie Snorkel guides you through how to use it, and passes on some tips to make the most of the experience. They also point you at the best places to snorkel.
With regular deals available, the already well-priced equipment at Auntie Snorkel is ideal for a bargain seeker. But there's no sacrifice with quality. Everything you rent is safe, clean, and designed for serious usage.
Locations: Kihei.
Opening hours: Open daily from 7:30am to 5pm.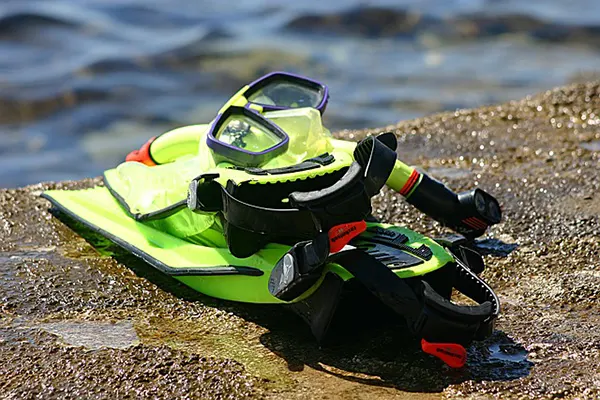 Is Renting Snorkel Gear Better Than Buying?
For casual snorkelers, you might consider just picking up some cheaper gear at Costco, and saving some time and effort. It might sound like a good idea, but if you want a proper snorkeling experience, then always rent from a trusted retailer.
Snorkel masks have to fit the face properly, or they'll let in water and ruin the dive. It's hard to appreciate sea turtles and corals when you're struggling with a mask that's not right.
Save yourself future trouble, and rent gear fitted to your specifications.
Can You Bring Your Own Snorkel Gear To Maui?
A good tip for regular snorkelers looking to save money is to bring your own gear to Maui. Anyone who plans on spending plenty of time in the water can cut rental costs with a bit of careful packing.
That said, snorkel gear does take up a lot of room in the luggage. If you only plan on snorkeling once or twice, renting might still be the better deal.
Snorkel gear rentals are often well priced on Maui, and a great way to explore the natural wonder of the seas. With many amazing rental shops available, you can look around to find a deal that suits you.
Whether that's a single day rental for a quick trip to Olowalu, or a week-long hire for exploring the entire island!