During January, As much of the mainland experiences freezing temperatures, frequent snowfall, and heavy rain, Maui stays mostly tropical.
There might be a few chilly nights, and rainfall does pick up slightly, but the majority of your vacation can still be spent in the sunshine.
To find all the reasons to visit Maui in January, and any reasons you might not, read on.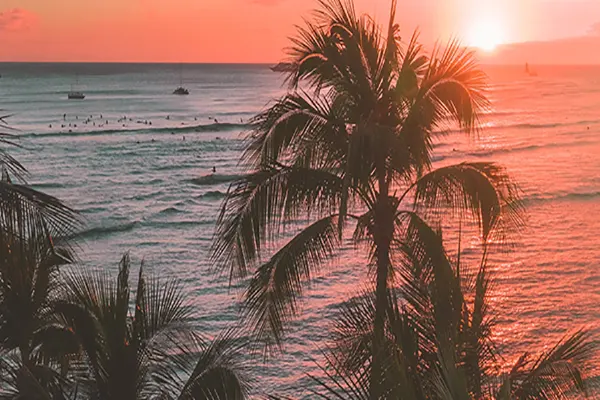 How Much Does It Rain On Maui In January?
January is one of the rainiest months on Maui, so expect some showers during your trip.
Sometimes, this can lead to several days of overcast skies. January is past the hurricane season, however, so don't worry, they're just rain clouds.
January is one of the wettest months on Maui, but the wettest month sees only 2.5 inches of rainfall, on average. Maui is one of the driest Hawaiian islands.
Maui has many microclimates, especially in January.
A single day can be spent enjoying a sunny morning on the beaches of Wailea, avoiding the winds at Honolua Bay, and dodging the rain on the Road to Hana.
If you're hoping to avoid the rain in January, South Maui is the best place to go. This sunny side of the island gets the least rainfall, and the highest temperatures.
Are Floods Common On Maui In January?
Floods can be an issue on Maui in January, especially on the windward side of the island.
If you plan on driving the Road to Hana, be sure to check the weather along the journey, to avoid flooded roads.
If there are flood warnings, avoid swimming in waterfalls and rivers along the Road to Hana. Localized rainfall higher up can lead to unexpected flash floods even when you're enjoying the sunshine.
What's The Temperature Like On Maui In January?
January and December are the coldest months to visit Maui, but don't let that put you off. The coldest month on Maui is still warm. Expect an average high in the mid-70s, and an average low in the mid-60s.
The average temperatures vary depending on where you are on Maui. In sunny Kihei, the temperature is likely to be in the 80s.
Whereas Kapalua will have more of a chill. Although, again, it's still a tropical destination. Low 70s is still t-shirt weather.
If you like to get out and explore, the slightly cooler days can have their advantages. There's less time wasted seeking out shade.
Is It Cheaper To Visit Maui In January?
If you're looking for bargain flights, January is a fantastic time to visit Maui. The flights are cheaper, allowing you to cut costs straight away.
However, it's not all good news. Vacation rentals are close to their most expensive in January.
Hotel rooms are cheaper, and a fraction of the cost you might expect in December, but still costly compared to spring and fall.
How Busy Is Maui In January?
There's never a quiet time to visit Maui, as year-round good weather attracts visitors from January through to December.
However, with the major holidays having passed by, visitor numbers do take a dip in January.
Maui in January attracts visitors looking to get away from the cold and wet weather elsewhere. It's also the prime time for surfers and whale watchers to visit, leading to some big crowds.
January may not be the peak season for visitors to Maui, but it's still part of the busier winter months.
What Can You Do On Maui In January?
January may be the quiet season for a lot of places, but Maui has plenty to keep visitors occupied.
Whale Watching
It isn't a trip to Maui in January if you don't squeeze in some time for whale watching. The humpback whales pass by the island over the winter months, drawn to warmer waters for breeding and giving birth. 
Booking a tour is the best way to get close to these incredible creatures, but they can sometimes be spotted from land. West and South Maui are the best places for a bit of whale watching.
Catching The Biggest Waves
The Maui North Shore gets its best waves in January.
These are strictly for advanced surfers, so newcomers should stick to the smaller breaks that can be found on West and South Maui.
Rather than risking the swells, non-surfers should head to the east overlook at Honolua Bay to watch the action.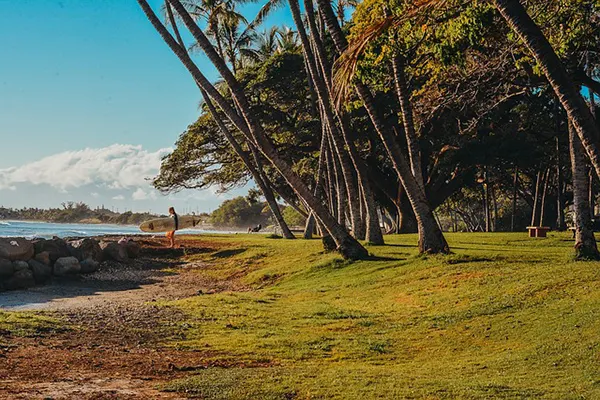 PGA TOUR's Tournament of Champions
Golf is huge across Hawaii, and the golf courses of Maui are among the best in the world. And the best of the best is the Plantation Course at Kapalua. Every January, the Plantation Course hosts the Tournament of Champions.
With only those who've won a PGA TOUR event in the previous year eligible to compete, onlookers are guaranteed to see some impressive golfing action.
Ring In The New Year
Okay, this is technically a December/January event, but there's no better way to spend the first day of a new year than on a Maui beach.
Allow the warming sunshine and gently crashing waves to ease away any aches of the night before.
What Should You Pack For A Holiday To Maui In January?
With cooler temperatures and a higher amount of rainfall, visitors should pack some layers before heading to Maui in January.
Light sweaters and jackets are useful when the temperatures dip in the evenings. A good, breathable waterproof is also an essential.
But don't toss out the shorts and t-shirts just yet! Average temperatures are still above 70, and the sun can feel strong during the day. Pack plenty of reef safe sunscreen, sunglasses, and breathable clothing.
The water is warm in January on Maui. A rash guard can protect you from the sun, but you won't need a wetsuit.
Is January A Good Time To Visit Maui?
For surfers and whale watchers, January is the best time to visit Maui. The waves are powered up, and thousands of humpback whales pass through the still-warm waters.
Slightly cooler and wetter, Maui in January is still hot and dry overall.
Enjoy the slightly smaller crowds, lower airfare, and a chance to escape the cold mainland.