Maluaka Beach is unquestionably one of Maui's best-kept secrets and a snorkeling paradise.
With almost no visitors, this is the best place on the island to watch turtles. Just keep in mind that you should look but not touch because these turtles are on the verge of extinction.
So, instead of going to that destination you've heard a billion others speak about for your next trip, go to Maluaka Beach and have a unique experience of your own.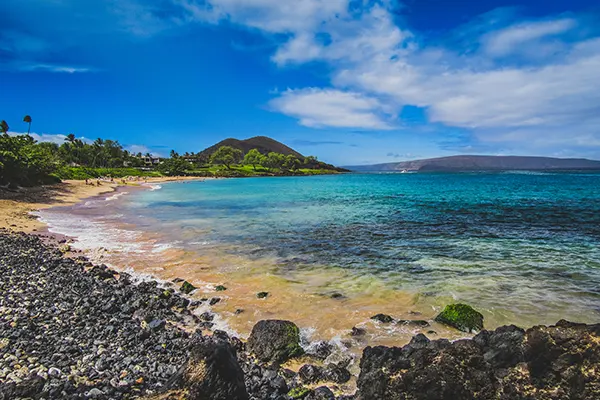 How to Get to Maluaka Beach?
Maluaka Beach is one of a number of Turtle Town locations along the Wailea-Makena beachfront, facing the Makena Beach and Golf Resort.
As a result, this is one of the greatest beaches on Maui for snorkeling with sea turtles within their natural environment.
Here's how you get to the beach:
Drive west on Wailea Alanui Drive, then right on Honoiki, then left on Makena, which is slightly off to the left.
At the back of the Maui Prince Hotel lies Maluaka Beach. You must go along Wailea Alanui Road to get there.
There is a roundabout to the Keawala'i Church and Makena Landing just before the Maui Prince Hotel. This is the exit to take.
Turn left when the road divides to get to Makena Landing or the church. Drive past the cathedral and drop folks off at the turnabout. Park your automobile in the church's parking area across the street.
As the name implies, the abundance of Maui green sea turtles does not get much better than this.
It's situated just south of Wailea, along Makena Road. It's easy to miss the entry off the main road, so keep an eye out.
What Can You Do at Maluaka Beach?
Swimming is best done near the beach's center, which provides enough beach to enter and exit the waters safely. There are also facilities, showers, and tables to the left of the beach, offering a pleasant view on a steamy Maui day.
Maluaka Beach is a fantastic place to snorkel, with excellent coral formations, vibrant tropical fish, and a plethora of turtles.
Expect to see a snorkel-boat moored off the beach, offloading paying guests to dive into the same location where you can dive for free. If the left half of the beach becomes too busy, the right side of the beach is typically, mostly free.
Also, you may either take a picnic and a cooler or have lunch in the hotel's pool restaurant, which also has an outside BBQ separate from the kitchen. There is a trail that runs down the side of the property from the parking to the beach
Are There Turtles at Maluaka Beach?
Perhaps the most compelling reason to visit Maluaka Beach is that it's known as Turtle Town. And for a good reason.
Snorkeling at Maluaka Beach greatly increases your chances of seeing turtles.
Of course, although it's named turtle town, sea turtles are a part of nature (marine life) and nature is unpredictable, so there's no certainty that you will see a turtle, but it's worth checking out if swimming with turtles is on your bucket list.
If you're lucky, you may even see a turtle poking their head above the water, so you can may see turtles even if you don't go in the water.
How Safe is Maluaka Beach?
There are no full-time lifeguards on duty at Maluaka Beach, so be careful if you choose to swim out and into the ocean. It's also not a great idea to leave valuables unattended on the beach or anywhere else.
Be careful where you snorkel too. There is great snorkeling and good diving at the south end of the beach.
There is a good snorkeling area at the north end of the beach, but it's  too shallow for diving.
Strong currents and rip tides are a real danger. So, all in all, it's as safe as most of the beaches you will visit even outside Maui.
Is There a Fee for Maluaka Beach?
There is no free to enter Maluaka Beach.
However, there is limited public parking available, and only a few restrooms and showers, as well as a only a few grassy areas with trees for shade.
Where to Park at Maluaka Beach?
Parking is available just across the street from the Maui Prince Hotel. (Leave no valuables in your vehicle or on the beach unattended.)
A second parking lot is located near the Keawala'i Church, however it is quite remote. Showers and facilities are located in the parking lot near the establishment.
Parking is available just beyond the Maui Prince Hotel at the Keawala'i Church to the north. Showers and facilities are located in the parking lot near the venue.
About a mile beyond the hotel, there is a different free parking area for Maluaka Beach.
Where To Stay Near Maluaka Beach
Grand Wailea, is near the Wailea Blue Golf Course and is approximately 10 km from Ahihi Kinau Natural Area Reserve if you wish to view prominent attractions while visiting Maluaka Beach. When visiting Maluaka Beach, it is the best option.
Airy rooms with flat-screen TVs, minifridges, and coffeemakers will be available to you throughout your stay. And the windows in several of the apartments provide stunning views of the sea.
The Residence Inn is another excellent place to stay. The rooms include balconies, kitchenettes, and pull-out couches, as well as free Wi-Fi and flat-screen TVs.