For such a small area on the global map, Maui is full of many beaches of various shades, sizes, and aesthetic beauty.
November is one of the best months to visit Maui, as Hawaii, in general, is at its low-season month. If you visit Maui in November, you will find the lowest vacation rental rates and one of the lowest people traffic.
It is one of the cheapest months for hotels and rentals, coupled with skin-friendly hot temperatures, so Maui is definitely worth visiting in November before the holiday rush of December.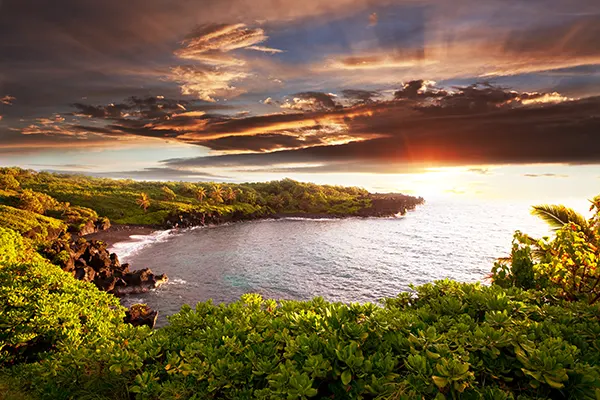 Why Go To Maui In November?
Visiting Hawaii during the low season of November means you can get some pocket-friendly deals on hotels, flights, and rental cars.
Going to Maui in November saves you quite a bit of money on your Maui vacation.
Other reasons November is a good time to try Maui in November…
It is hot, but not summer hot, so the temperature is quite comfortable: the ocean is a perfect 78 degrees for swimming.
Vacation rental rates are one of the lowest of the year. Although the price spikes for Thanksgiving.
November is the third slowest month on Maui, so there are less crowds. If you want a silent and serene holiday environment, then Maui in November is a great time to go.
You can go to luaus with only a 2-week notice.
It's easier to snag a Haleakala sunrise reservation.
Activities can be booked a couple of days in advance.
Is Maui's Weather Nice in November?
Maui's weather is nice in November, though it is the start of the wet season. It gets wetter, cloudier, and colder in November but remember you're still in the tropics, so the wet season really means, slightly less nice. Still, Maui has the least amount of rainfall of all the islands in Hawaii.
It still rains there, but not as much as, say, Kauai.
What is nice that a with little cloud coverage you don't have to dive for cover in the shade on a sunny day, in July and August.
The average high is 82°F and the average low will be around 70°F.
Where To Stay In Maui In November?
The place to stay on Maui in November is on the leeward side of the island. The leeward side is the dry and sunny side. For Maui that is West Maui (Lahaina to Ka'anapali) and South Maui (Kihei to Wailea—try the Grand Wailea).
But, if you are looking to avoid most of the rain, then Ka'anapali or Kihei or Wailea is the best place for you. These areas are still dry in November, so the most you can expect if you are unlucky is a shower in the morning or late afternoon.
But it rarely rains all day.
All in all, November offers great weather. You can expect mostly sunny days, warm temperatures, and an ocean begging to be jumped into.
Is Maui Cheaper in November?
Generally, Maui is cheaper in November, except for Thanksgiving. Otherwise, vacation rentals are at their cheapest in November.
In 2019, the average vacation rental for Maui County in November was $220 a night), which is a lot cheaper than the February peak price of $291 a night. Rates are often higher in West Maui where there are more rentals. But if you are looking for cheaper deals, then look to Kihei, Paia, or Upcountry.
For hotels, November is also cheap at $299 a night—as far as the 2019 daily average in the West Maui area.