While a vacation to Maui for Thanksgiving may mean forgoing celebrating the holiday with extended relatives, visiting Maui for Thanksgiving is a unique way to celebrate the holiday.
You won't see fall colors but Maui still has everything you know and love about Thanksgiving—just in a warmer, tropical place. 
November is the best low-season month to visit Hawaii, making for a truly relaxing Thanksgiving. Below we'll tell you everything you need to know about celebrating Thanksgiving on Maui.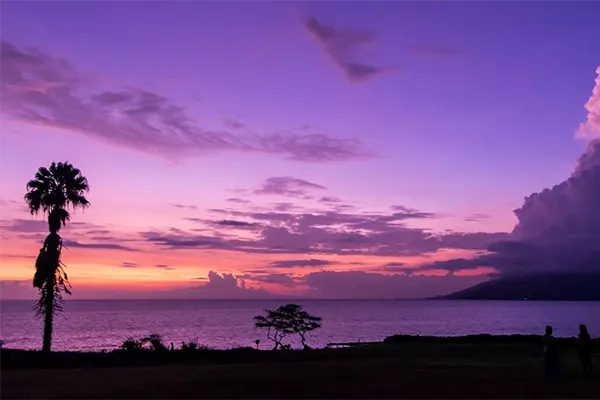 Does it Rain a Lot on Maui During Thanksgiving?
Maui experiences less rainfall than all the other Hawaiian islands. Don't get us wrong, it still rains here, but not as much as other islands like Kaui. 
November is the start of the wet season on Maui.
Yes, it gets wetter, cloudier, and colder in November but don't let this put you off. The weather on Maui is still far better in November than it is anywhere in the mainland U.S.
How Warm is it on Maui During Thanksgiving?
Maui is pretty pleasant in November.
It's cooler than the summer months, giving you relaxing, tropical temperatures. The average high temperature is 82°F and the average low temperature is around 70°F.
Is Maui Humid During Thanksgiving?
The average relative humidity on Maui in November is around 70.3%, while the average maximum relative humidity on Maui in November is around 84.9%.
What's Swimming Like on Maui During Thanksgiving?
The ocean temperature starts to cool down in November, dropping to about 78°F around Maui. 
This all paints a tempting picture of Maui weather. The days are mostly sunny and warm, and the ocean is the perfect temperature for a swim. 
Are There Hurricanes on Maui During Thanksgiving?
November is the fourth wettest month on Maui, and is the end of the Hawaii hurricane season.
You can avoid most of the rain by staying in places like Ka'anapali, Kihei, or Wailea.
While it is rare for it to rain all day on Maui, the resorts we've mentioned tend to be the driest.
Will it Be Crowded on Maui During Thanksgiving?
As November is the slow season on Maui, it's a great time to visit.
You can expect little to no waits in popular restaurants, less traffic on the roads, and activities will be easier to book.
However, it does tend to get busier around Thanksgiving, especially when it comes to renting cars and accommodation, and prices tend to go up around this time. 
Are There Things to do on Maui During Thanksgiving?
You can do all of the popular activities on Maui all year round, but if you're looking for more unique and special activities in November we've got you covered. 
Maui's Thanksgiving Paddle for Hunger takes place in November and is organized by the Kihei Canoe Club. This is a jungle rules race (meaning you can use anything that floats) that takes place on Thanksgiving morning at 8:00 AM from Ka Lae Pohaku Beach Park. Not only is this super fun, but it's all for good causes too! 
At the beginning of the month Wailea hosts a Restaurant Week.
The best restaurants lower their pieces from November 1-7, offering a three-course, price-fixed menu for $29 to $59 per person. Again, this is all for a great cause, as proceeds go to the Maui Food Bank for Thanksgiving. 
The Maui Turkey Trot also takes place on Thanksgiving, and is a 5k Turkey Trot that takes place in Maui's Upcountry. 
Is Thanksgiving a Good Time to Get Married on Maui?
Winter is one of the peak seasons for weddings in Maui, thanks to the warmer weather, and the fact that people book vacations for the holidays. 
Thanksgiving is also at the tail end of the hurricane season. 
Are There Beautiful Sunsets on Maui During Thanksgiving?
Sunset usually takes place at around 5:50 PM on Maui in November. What better way to end a tropical Thanksgiving by watching the sunset with family?
Makena Cove Secret Beach: Also known as Paako Cove, Makena Cove is a small, intimate beach. The perfect place to watch the sunset! The black lava rocks found along the beach and the palm trees make for one stunning, scenic sunset.
Ho'okipa Beach Park: Famous for its windsurfing competitions and turtles, Ho'okipa Beach Park can be a pretty busy beach in the day, but when competition season is over it becomes more of a secluded, peaceful scene.
This is the perfect place to watch the sunset while  catching some winter sun. Ho'okipa means "hospitality," but a more literal translation would be "welcoming comfort," which is definitely what you will feel watching the sunset on this beautiful beach.
What Should I Pack for My Thanksgiving Trip to Maui?
While the weather on Maui never really gets cold, the weather does become cooler during the winter, but still beautiful.
We recommend packing your usual beach gear like shorts, t-shirts, swimsuits, and sandals, as well as one or two pairs of pants. These will come in handy in the evenings and on cooler days. 
We also recommend waterproof bags to carry your phone and wallet in just in case you get caught in the rain. Speaking of which, bring some waterproof clothes and shoes too.
Which Tropical Fruits are In Season on Maui During Thanksgiving? 
In Hawaii, Passion Fruit is known as Lilikoi, and is a tart yet sweet fruit that is almost entirely round and with a tough outer skin. Lilikoi grows on a vine and is at its peak for harvest from June through January.
You'll know a Lillikoi is ready to eat when it's fully colored, plump, and has some give. It comes in two colors, yellow and purple. Yellow lilikoi is a deep gold, while purple lilikoi is almost black. 
It's astounding just how much flavor is packed in a Hawaiian Papaya, especially when compared to those found on the mainland. Papayas are available all year round in Hawaii and turn from green to yellow when ripe.