Located in the Central Valley and nestled at the foot of the West Maui Mountains, Wailuku is only ten minutes away from the Kahului airport and very close to the lush Iao Valley. The restaurant scene in Wailuku is very different from what you find in the more touristy areas of Kihei or Lahaina.
Whether you live in the neighborhood, are shopping on the charming Market Street, or just passing through, Wailuku will surprise you with many affordable quality eateries focused on local grinds and Asian food.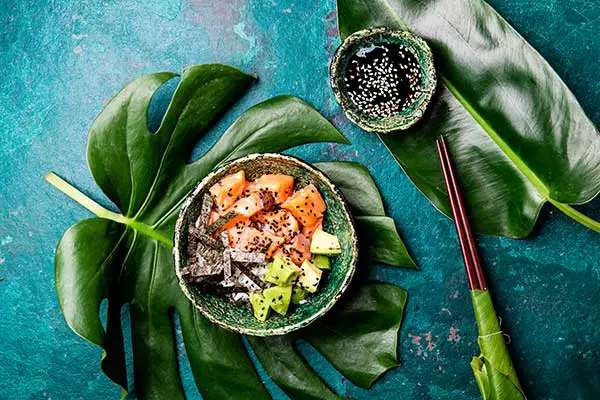 808 on Main
If you're a fan of 808 Deli in Kihei, you'll be even more pleased by its sister location in Wailuku. The menu is very similar and features creative gourmet sandwiches, burgers and salads, served in a friendly and airy setting. Plus, 808 on Main has a full bar!
Stop by this relaxing lunch spot after visiting Iao Valley, and enjoy a fresh meal and a cocktail. Don't miss out on the buffalo brussel sprouts.
808 on Main is open for lunch only until 3pm and is closed on Sundays.
Sixty Two MarcKet
Sixty two MarcKet features innovative fusion food in a farmhouse setting at very reasonable prices. The menu, which rotates every 62 days, focuses on delivering fresh ingredients from local farmers and ranchers to the table.
You won't find just one type of food at Sixty Two MarcKet, but rather modern twists on items you are already familiar with, from American to Hawaiian cuisine, and even Asian influences. The restaurant does not serve alcohol, but offers a variety of beverages such as juices, sodas, and Maui-made kombucha.
SixtyTwo MarcKet also has a market store in the front where you can pick up seasonal rubs, sauces, and seasonings, made from locally sourced vegetables and herbs.
The restaurant is open for breakfast and lunch Sunday through Friday, until 2pm.
Bamboo Grille
If you are looking for a wide selection of dishes that will please the entire family, the Bamboo Grille will meet your needs. All items on their menu are served all day, so no matter what you're craving, or what time of the day it is, Bamboo Grille has it!
The breakfast options are extensive, with everything from pancakes to fried rice, omelettes or local specialties. If you're a fan of Loco Moco, Bamboo Grille's menu lists 11 different mocos so go ahead and try something new.
Besides breakfast, Bamboo Grille cooks up noodles, burgers, and local style plates such as grilled fish, chicken teriyaki, katsu and even oxtail soup.
Bamboo Grille is open everyday from 8am until 8pm.
Farmacy Health Bar
If you're looking for a fresh, healthy, and tasty option, head over to Farmacy Health Bar. The small shop features a plant based menu with high integrity ingredients that will invigorate your body from the inside out. All items on the menu are vegan or vegetarian.
Farmacy Health Bar is popular for its acai bowls and smoothies but also offers yummy lunch items. Farmacy makes vegan soups from scratch everyday, and the chef uses local ingredients from Kumu Farm in sandwiches and salads. All of the sauces are made from scratch in house as well.
If you're not hungry, stop in for a health shot, fresh pressed juice, craft kombucha, or sugarcane juice.
Be aware that there is very limited seating so you're better off getting food to go and finding a comfortable place to enjoy your meal. Feel free to use their online ordering service to save some time. Pick up orders are generally ready in 20 minutes.
Farmacy Health Bar is open everyday from 8am until 5pm.
Tiffany's Bar and Grill
Tiffany's is the all time favorite for Wailuku residents and tourists alike. This low-key restaurant and bar centers on Asian fusion food and is famous for its large selection of dishes at great prices. The portions are very generous so you can expect to leave with a full belly and some leftovers.
Tiffany's most popular dishes include walnut shrimp, kim chee fried rice, steak bites, ahi poke, chicken katsu and many more. Many locals are regulars at Tiffany's not only because of the food but also the cocktail bar's relaxed atmosphere and karaoke nights!
Unlike most other dinner restaurants, Tiffany's is open until 2am every night.
Umi Maui
Umi Maui is a quaint Japanese restaurant with a loyal fan base. That alone is the best sign that this place is a gem. Umi serves sushi and sashimi but also hot food such as steak and seafood. Don't miss out on the ramen!
The restaurant does not take reservations and although no alcoholic beverages are served, the establishment is BYOB.
Umi Maui is open Monday through Saturday from 5pm until 9pm.
A Saigon Cafe
Serving Maui for over 35 years, A Saigon Cafe is a cozy restaurant open for lunch and dinner, serving Vietnamese specialties.
Loyal customers keep coming back for the quality of the food made from fresh, local ingredients and for the friendly and fun staff, who are not afraid to joke around.
Open daily from 11am until 8:30pm.
Sam Sato's
Tucked in a residential area, Sam Sato's has been operating on Maui since 1933, and is very popular with Wailuku residents for its reasonably priced noodles and plate lunch, the quintessential Hawaiian meal. Sam Sato's is famous for serving dry noodles—by far the most ordered item on the menu—prepared to perfection thanks to their unique seasoning recipe.
Sam Sato's also serves basic breakfast, perfect if you're trying to watch your finances.
Sam Sato's is open for breakfast and lunch only, Monday through Saturday from 7am to 2pm.
Donut Dynamite
Donut Dynamite has, hands down, the best donuts and malasadas you can find on Maui, which is why it's extremely popular.
Normally, I would recommend getting to the shop as soon as they open, but since the pandemic, Donut Dynamite has changed the way they operate. Orders are now placed online directly on their website, based on their weekly offering.
A new selection of products is available every Monday, and orders can be picked up on Saturdays between 7am and 1pm.
The Empanada Lady Maui
As of September 2021, the restaurant is closed until further notice for renovations, but keep an eye out for reopening as The Empanada Lady Maui is a total Carribean gem!