Just west of Wailuku, in Central Maui is the Iao Valley State Park. This beautiful 4,000 acre and 10 mile long natural park is the heart of the Iao Needle and is a sacred place of natural, tropical beauty and lush greenery. 
If you are a visitor to Maui, or in the area, you are going to want to know where Iao Valley is, what is there, and if it's worth visiting.
Note: Iao Valley State Monument park will be closed for repairs.  from August 1st to January 15th.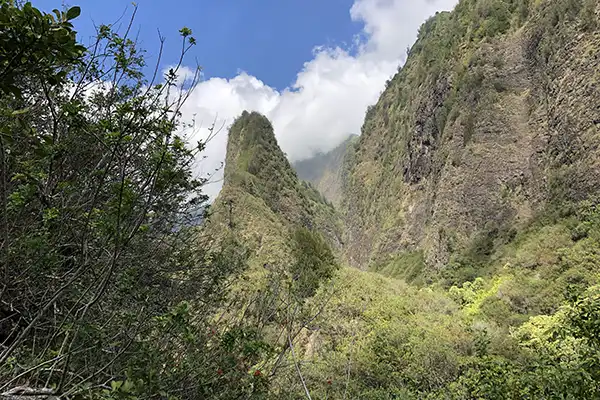 Is Iao Valley Worth It?
Yes, Iao Valley is worth the visit. You can hike, swim, have a picnic, explore, and enjoy the stunning scenery that the valley offers. 
The Valley is incredibly sacred to the Hawaiian people. The land is so sacred that some of the highest chiefs have had their remains hidden there as their eternal resting place. 
If you want to take in a piece of Hawaiian culture and history, while also enjoying the great outdoors, then Iao Valley is definitely worth your time.  
How Long Does It Take To Get To Iao Valley?
It is actually only 9 miles between Lahaina and Iao Valley, as a bird flies.
However the driving distance is much more, at 24.6 miles. This is because the road has to snake all around the valley. So it takes about 37 to 40 minutes to travel by car to Iao Valley from Lahaina. 
From Wailuku, it only takes about 10 minutes to get to Iao Valley, whereas from Wailea, it would take about 30 minutes to get to Iao Valley, depending on traffic. 
How Do You Get To Iao Valley?
If you are driving to Iao Valley, you will need to know how to get there.  Iao Valley is close to Wailuku, so you'll be heading towards Wailuku.
From Wailea:
If you are headed to Iao Valley from Wailea, then you can take Pi'ilani Highway (Highway 31) in the north direction.
Then, take a left onto North Kihei Road towards Ma'alaea before making a right turn onto Honoapiilani Highway (Highway 30) towards Wailuku.
Once you reach Wailuku, you will hit a four-way intersection, where you will need to make a left onto West Main Street.
Follow this street until you get to a Y intersection.
Then, you will need to bear right onto Highway 320, or Iao Valley Road, and follow this until you reach the state park parking area. 
From Kahului: 
If you are headed from Kahului, then take Highway 36 (Hana Highway) west towards Wailuku.
Then, make a right at East Kaahumanu Avenue, or Highway 32.
Follow this until East Kaahumanu Avenue leads into Kaahumanu Avenue, and then into East Main Street.
Then, go through the four-way intersection at Wailuku, and onto West Main Street.
When you reach the Y intersection in the road, keep left and turn onto Iao Valley Road, following until you reach the parking area.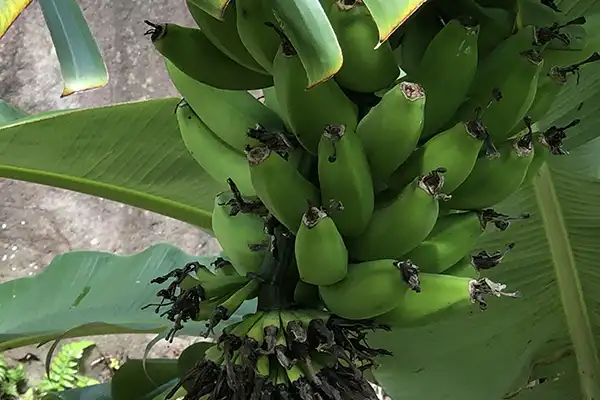 The best way to get to Iao Valley is to either rent a car, hire a taxi, or call an Uber. 
Unfortunately, there is no bus that takes you straight to the valley, but you can catch the Lahaina Islander bus from Lahaina, which will take you to Wailuku, where you can take a cab to the Iao Valley State Park.
The taxi costs about $10 to $12, and the bus is relatively cheap and cost effective. 
A taxi or Uber from Lahaina all the way to Iao Valley State Park takes around 42 minutes, and costs anywhere between $80 and $90. If you are doing a lot of traveling around Maui, then it may be worth renting a car. 
Best Time Of Year To Go To Iao Valley
The best time of year to visit the Iao Valley is usually in April, May, or June, when the weather is perfect, the crowds are small, and the skies are clear. 
One of the main attractions at Iao Valley is the Iao Needle itself. However, depending on when you visit, the Iao Needle may be surrounded by clouds and fog, making visibility nearly impossible.
The good news is that the clouds usually form around the early afternoon, so if you go early, you should be fine. The best time to visit the Iao Needle in the Iao Valley is around 8:00am, or as soon as the park opens.
What Is At Iao Valley?
There are many incredible sights to see at Iao Valley.
Whether you want to enjoy the natural beauty or sacredness of the valley, or you want a taste of Hawaiian history and culture, Iao Valley has a lot to offer. 
Iao Needle
One of the main attractions in the Iao Valley is the Iao Needle. This is an iconic part of the valley, as it was used as a lookout during battles.
It is at the Iao Needle that Maui warriors had to retreat from Kamehameha I, during the Battle of Kepaniwai, when Kamehameha I became the first ruler of Hawaii. 
Not only is the Iao Needle steeped in historical value, but it is also the perfect spot to stop, reflect, and look over the view of the Valley itself and Wailuku. 
Not to mention that this is the place for a picture perfect photograph of you conquering the valley hike, and getting to the Needle. The best part is, you do not have to be an avid hiker to get there, it takes only about 30 minutes to reach the Needle.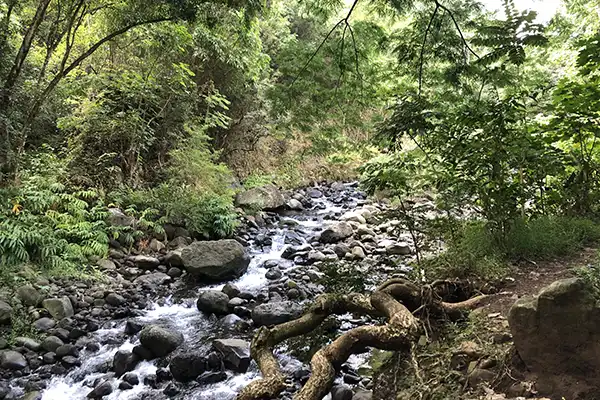 Iao Stream
The Iao stream is also of historical importance. You can hike to the Iao Stream to see the final resting place of some of the indigenous warriors, and just to see the stunning natural beauty of the area.
You will need to follow the trail to reach the stream, or you can go through a lush green forest to get there—it depends on what kind of hiking path you want to take.
This spot is perfect for a cooling dip in the waters, for a peaceful break, or for a picnic. 
Gardens
Another great thing to visit at Iao Valley is the gardens.
It is here that some of the first plants were brought to Hawaii by early Polynesians, and you can view them in all of their glory.
Not only are the gardens beautiful, but they also make for a lovely pit-stop and photo opportunity. 
What Can You Do In Iao Valley?
One of the main reasons people love visiting Iao Valley is due to the stunning, natural and lush greenery with unforgettable views.
The valley is a prime location for hiking, swimming, and enjoying Hawaiian nature in every way that you can. 
You can hike up the trails, take a leisurely walk through the gardens, or have a dip in some of the pools and streams that run through the valley. The choice is yours. All you need to do is take in the amazing views, explore, and enjoy this divine, sacred valley for everything that it is worth.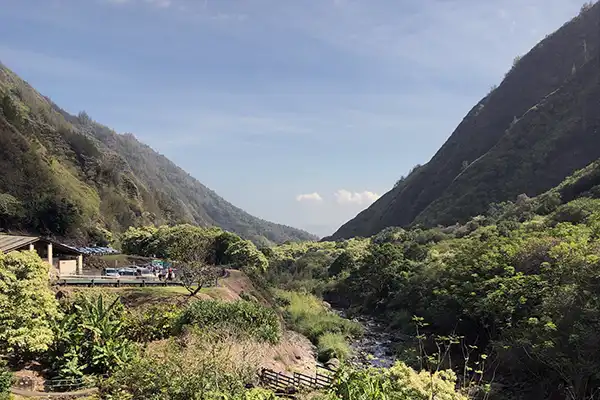 The Trail At Iao Valley
The good news is that anyone can make it to the Iao Needle. There are trails and paths available through the park, so that you can enjoy the natural beauty in all of its glory.
The hike and the trail itself is relatively easy, short, and a lot of fun. 
The length of the trial is only about 0.6 miles, and takes about one to two hours to complete, depending on how fast you go. The terrain can be wet, but it is not too challenging, with the elevation gain at only 200 feet. 
History Of Iao Valley
Iao Valley is not just about the lush greenery and scenic views, it is also a historic location.
In 1790, the Battle of Kepaniwai took place in the valley itself. In this battle, King Kamehameha I fought Maui's army in a bid to unite all of the islands under one rule. The battle was ferocious, and raged on for days on end. 
Despite Maui using the Iao Needle as a lookout, King Kamehameha defeated Maui's army in a battle that changed Hawaiian history forever. The Valley itself still has some remnants of the historic and epic battle.