If someone asks you to meet them at Baby Beach, you might want to ask "Which one?" Yes, there is more than one Baby Beach on Maui, and they're not close to each other. One is located on the North Shore near Paia, and the other is in Lahaina on the West side.
If you search for directions to Baby Beach on your phone it will take you to the one on the North Shore. To get to the beach in Lahaina you'll have to search for it by its Hawaiian name: Pu'unoa Beach.
As their name implies, both Baby Beach on the North Shore and Pu'unoa Beach in Lahaina are tranquil swimming areas protected from the ocean by an offshore reef, making both beaches a safe place for keikis (kids) to play in the water.
Below I'll tell you what each beach is all about so you know which Baby Beach is right for you.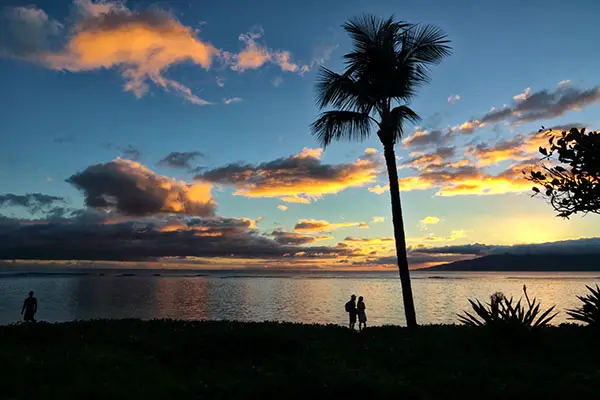 Baby Beach, North Shore
Baby Beach is a protected crescent lagoon located in Spreckelsville (also referred to as "Sprecks"), on the North Shore of Maui, a quick drive from Paia Town. It is connected to the less swimmable yet popular Baldwin Beach.
Why People Love Baby Beach
Baby Beach is a picture perfect undeveloped beach with white sand and clear blue waters. Besides its charming and calm lagoon, ideal for swimming, the beach is surrounded by sand dunes, a wooded area, and tide pools which make it fun for kids of all ages to play.
The shallow area gets deeper the further you get in the water, so both adults and keikis can have a good time.
There's also a natural lazy river: if you get in the water on the west end of the cove, you'll notice the current will gently push you down to the other end of the lagoon.
What Is Baby Beach Good For?
Go for a swim, snorkeling, or just float around and soak in the Maui sun. If you are looking to exercise, walk or jog along Baby Beach and continue on to Baldwin Beach, or take laps in the natural pool.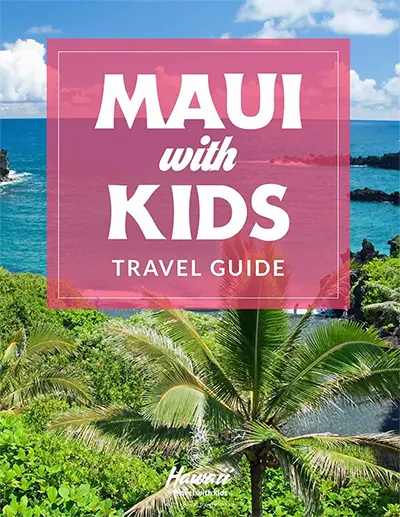 When Is The Best Time To Visit Baby Beach?
It is always best to visit Baby Beach in the morning to avoid the trade winds and the unpleasant sandblasting that comes with them. If you haven't experienced the trade winds yet, chances are high you won't be pleased, but it's a good way to exfoliate!
Trade winds pick up around noon on most days, particularly between Mid-March to Mid-November.
How To Get To Baby Beach And The Parking Situation
To get to Baby Beach, turn onto Nonohe Place from Hana Highway. Keep Following the road through the residential area, and turn left onto Kealakai Place.
The red dirt parking lot adjacent to the beach at the end of Kealakai has been blocked off by residents since 2020, making the parking situation difficult.
You can try your luck in the residential area close to the beach, or you can drive to Baldwin Beach Park instead and walk the stretch of beach to the western cove (about a mile). The beach walk can be difficult, as it is long and usually windy, so travel lightly.
What's within walking distance of Baby Beach?
Although you can technically walk to Paia Town from Baby Beach in about 20 minutes, hopping in the car for a quick drive is preferable.
Pu'unoa Beach (aka Baby Beach) in Lahaina
The beach stretches about a quarter of a mile down from the historic Mala Wharf.
Why people love Pu'unoa beach
The water is perfectly calm and warm, and the beach is protected from the wind all day.
The water is very shallow, great for little ones who don't swim well or at all.
Easy access to the beach from the parking area.
Located within walking distance to shopping and restaurants.
What is Pu'unoa beach good for?
You will rarely see a beach with waters this flat on Maui. Hop on your floaty, sit back, and enjoy the tranquil waters.
Snorkeling: you won't see a lot of fish or turtles but there is a lot of coral that the keikis will get excited about. A Snorkel Bob shop is located just up the street for last minute snorkel rental.
Taking in the views of Lanai.
How To Get To Pu'unoa Beach And The Parking Situation
There are two different access points to the beach:
The easiest access point is through Ala Moana Street. From Front Street, simply turn onto Ala Moana Street and follow the road until you reach the dirt lot across from the Jodo Mission (Zen temple). Parking is free and open from 5:30am until 7:30pm daily.
You can also access the beach through Kai Pali Place, a small residential street off of Front street. Park on Front street and walk down the small dead end street. About a half a block down you'll see a blue "shoreline access" sign.
What's Within Walking Distance Of Pu'unoa Beach?
Jodo Mission: on Ala Moana Street right behind the beach, you'll find a serene Japanese Buddhist temple where you can admire a 12 foot tall bronze Buddha (one of the largest ones outside of Japan) and a pagoda tower. Open everyday from 8am until 6pm.
Cannery Mall: a fully enclosed air conditioned shopping area and grocery store that's a quick 10 minute walk from the beach. The mall offers free weekly Hula shows on Wednesdays and Sundays.
High-rated oceanfront restaurants: Feeling hungry after a day in the sun? Try Star Noodle, Mala Tavern, or Frida's, all located on Front Street behind the Cannery Mall.
If you're wondering which one is best, the lovely turquoise water and white sand of Baby Beach on the North Shore is a clear winner. Pu'unoa Beach, on the other hand, is great for families with very young children but is definitely not as appealing as its competitor on the North Shore.
However, Pu'unoa does offer pristine conditions all day long as the lagoon is protected from the wind and the water stays perfectly flat.