Maui onions are some of the sweetest onions in the world, a delicacy of the island.
They are super sweet and mild. Some are so sweet they can be eaten just like an apple.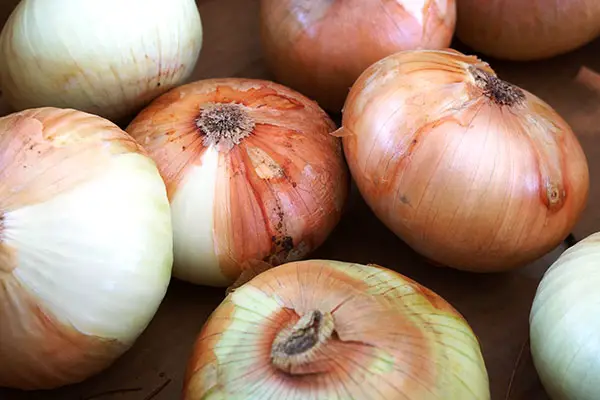 Why are Maui Onions So Sweet and Where Do They Grow?
Maui is a luscious environment so, not surprisingly, the fertile earth of Haleakala can grow some of the most sumptuous vegetables around.
It's easy to grow food like sweet onions in the Hawaiaan climate. It's never too hot, never too cold, there's lots of rain, and something unique to Maui is its volcano's lack of sulphur.
This little fact is the secret of the Maui Onion's sweetness.
The lucky thing about onions without sulfur is that your eyes don't water, just your mouth—especially as the onions have a higher water content so they are extra juicy and delicious. Yum!
When are Maui Onions in Season?
Spring is the best time to get the best Maui onions but as it's Maui, they are pretty much available all year round—even December.
Where Can I Buy Sweet Onions?
The onions are quite famous on the island, so there are some wonderful farmers markets where you can find them, and some even more amazing local farms that come to these markets and are happy to 'talk story' with you.
A favorite farmers market hang out is up on the volcano on a Wednesday morning. You go up the Haleakala highway, as if you're going to Kula, and next to Waipuna Church on Omaopio Road there's a great small, intimate farmers market.
Or, on a Saturday, near Longs, there's another farmers market. In fact you can find a market on whichever side of the island you're on, so it's a great idea to check them out.
Insider tip: get there early. The early bird catches the onion!
Or, you can order onions online through Take Home Maui .
They're sold by the bundle for you to order and enjoy at home.
Or, you can swing by Take Home Maui's store in Lahaina at 121 Dickenson St. They have a deli too, so you can get some ideas on what feasts to make with your onions.
Can I Buy Onion Seeds?
Yes you can buy onion seeds, over at The Fukuda Seed store website.
A great gardening tip is that you can chop the bottom inch off of your onion, dry it out for a day, pop some toothpicks in the sides, and half suspend it over some water until the roots grow.
When the roots grow you're ready to plant and watch the magic happen.
This is a great tip to share with your children and makes starting your own onion garden much easier.
How Do You Eat The Sweet Onion?
There are so many ways to eat Maui onions: Grill 'em, bake 'em, or fry 'em.
You could sauté or puree and add the onions to a soup Or, You can also mix the onions with your mashed potatoes. Or, caramelize them for sweeter than sweet pickle and sauces or adding to your hot dog. The caramelization fills the house with a delicious aroma, but make sure to buy extra onions. You could easily use a whole bag.
The chefs recommend slicing the onions thinly and sprinkling the on a salad, a sandwich, or adding them to a dip.
Your local barbeque would no doubt grill them and layer them on your favorite burger.
A famous local restaurant in Kihei is Three's Bar and Grill. They know how to make a delicious burger. Book ahead for the sweet spot outside under the tree.
But the best way to eat the onion is simply to bite into juicy, naked goodness, like a true Maui local. Well, why not? They are great for the immune system, packed with antioxidants, nutrients, and vitamins B & C.
The Maui Onion Festival
Maui's islanders are so proud of their magnificent sweet onions that they have created a yearly festival, called The Maui Onion Festival.
The festival is over on the west side of Maui in Whalers Village, and is held on the first weekend of May.
There you can watch some beautiful hula dancing and the onion eating contest for both the young and old. There are also cooking demonstrations, tastings, and island music to entertain.