Sunshine and shave ice is an incredible combination. This traditional Hawaiian treat is creamy and flavorful, but perfectly refreshing on a warm day. No trip to Maui is complete without a shave ice.
If you're staying in Lahaina, then you're in luck, West Maui is home to some of the most amazing shave ice shops on the island. Look out for Ululani's in particular, which is widely regarded as the best spot around.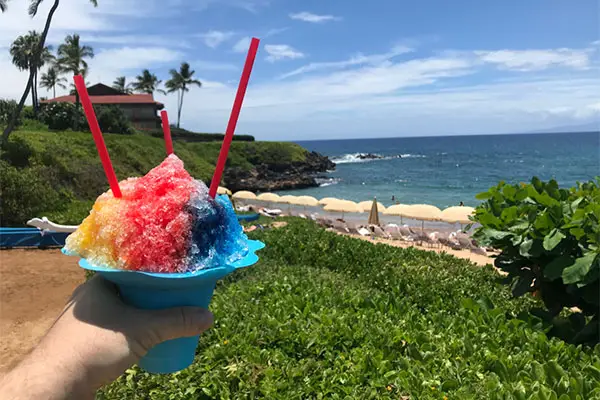 What Is Shave Ice?
Perhaps the absolutely perfect treat for a warm day, shave ice is a Hawaiian classic. Bought to Hawaii by Japanese immigrants in the 1900s, shave ice was eaten by plantation workers looking to cool down after a hard day's work.
Shave ice is almost exactly what you expect it to be, a block of ice shaved and packed down into a ball, flavored with syrup.
The making of a good shave ice is deceptively complicated. It isn't the same as a snow cone, which uses larger chunks of crushed ice.
Instead, the thin flakes of shave ice pack to form a creamy texture. The syrup doesn't just sit on the top, but oozes all through the ice.
Shave ice is fantastic on its own, but there are a few ways to mix it up. A popular option is sitting the ice on a bed of ice cream, look for Roselani's, a Maui-based brand that's the best on the island.
Toppings are also common, especially a "snow cap" of sweet condensed milk. 
Shaved Ice Or Shave Ice?
The correct term is "shave ice"—if you call it "shaved ice"—you'll immediately show yourself as a tourist. That one "d" makes a world of difference.
Although it won't really matter what you say, be careful of stands and shops that refer to "shaved ice." These desserts tend to have large chunks of crushed ice, and nowhere near enough syrup.
Lahaina Best Shaved Ice
Ululani's Hawaiian Shave Ice
If you only have time for one shave ice, then it has to be from Ululani's Hawaiian Shave Ice. Starting in 2008 with just a single stand, they've since expanded to have locations across the island.
The one in Lahaina is immensely popular, and on a warm day the lines can be huge. Located just off the side of Front Street, it's the perfect location for a cold shave ice after a day out on the boats.
In fact, it's only 200 feet from the ocean. Step out of the water, and head straight to Ululani's.
Ululani's claims not all shave ice is created equal, and they've really put the effort into building something special. Ultra-pure water is combined with 100% cane sugar syrup, with fresh flavors made from home recipes.
With over 60 flavors to choose from, you may find that one trip isn't enough.
Breakwall Shave Ice Co.
Located next door to the popular Lahaina restaurant Down the Hatch, Breakwall Shave Ice has the same chilled vibe and unusual flavorings of its sister restaurant.
Their shave ice is a customizable delight, allowing you to add some extra indulgence with ice cream or gummy bears. Add up to three flavorings and finish it all off with a spray of super tart li hing mui powder.
Adults can find a particular treat at Breakwall Shave Ice—the cocktail shave ice. This delicious treat combines your favorite spirits with creamy shave ice, for an adult treat that's ideal after a long day in the sun.
Maui Mike's Beach House
It's hard to miss this bright and sunny surf shop, as the vibrant colors and quirky decorations really makes it stand out. What you may miss is that alongside the board rentals and the clothing sales is some pretty fantastic shave ice.
With 28 flavors to choose from, you can throw together a range of crazy concoctions to make your mouth water. Or, try one of the classic combos.
The Lahaina Gold contains all the best and freshest flavors Maui has to offer, but the caramel apple is hard to resist.
Shave Ice Maui
Sometimes, simplicity is all you need. With flavors this good, Shave Ice Maui does exactly as it advertises. Located steps away from the beach on Lahaina Front Street, this simple stand has a good range of flavors.
With some quirky combinations to choose from, this understated spot makes shave ice easy. You'll often find the owner manning the store, and he's always happy to help you find the best flavor combination possible. 
Island Cream Co.
Although some of the joy of a shave ice is watching a skilled crafter form that creamy ball, sometimes you need to take control of your own flavors. The Island Cream Co. is the only place where you can get Glacier Ice, a do-it-yourself shave ice company that puts you in charge.
Choose from 36 flavors to create a shave ice experience that perfectly caters to your own unique tastes.
You can use as many flavors as you like from the creamy and rich Glacier Ice bar, but be warned. Once you start piling them on, it can be very hard to stop.
Coconut Caboose
This is not your normal shave ice. Coconuts are big on Maui, with the tropical flavoring being something many of us associate with the Aina (land). Coconut Caboose are all about the coconut, and have made it an integral part of the shave ice experience.
Rather than using pure water, the ice at the heart of a shave ice is made from coconut water. Topped with up to three organic flavors, this is a twist on a classic dessert.
A new take on an old favorite, that still manages to be authentically Maui. Located just outside the main town of Lahaina, this is a shave ice that's worth the trip.
Banyan Treats
Banyan Treats are best known for their ice cream and cookies, but the shave ice is a surprising delight. Real effort goes into ensuring every scoopful is perfectly formed and full of syrup, creating a shave ice of quality.
Friendly and helpful staff can guide you through the 20+ syrups on offer, including a few sugar-free options that are sure to be appreciated. Located right next to the iconic Banyan tree, this is a perfect stop during a long day of exploring the historic heart of Lahaina.
Big Wave Shave Ice Company
Located at Napili Bay in the north of Lahaina, a trip to the Big Wave Shave Ice Company is just what's needed after a long day on the beach.
Rich with syrup in a mixture of both natural and traditional flavors, these handcrafted shave ice bowls are some of the best around. Friendly staff are knowledgeable about both the ice and the area, so tourists in particular can benefit from a stop here.
The Shave Ice Spot
You might think that the best shave ice is all about the syrup, but the Shave Ice Spot located near Ka'anapali beach believes it all comes from the ice. Triple filtered, flash frozen, and then gently heated until the ice starts to sweat, this fluffy and creamy ice is next level.
The Shave Ice Spot doesn't have the massive range of syrups as other stores, but each flavor is full of local freshness. Be sure to stop in if you've been to Black Rock beach.