In need of some quiet time away from crowds and tourists?
Located on the North Shore of Maui, Paia and the adjacent Spreckelsville offer a few beaches off the beaten path, perfect if you are looking for privacy or calmer waters for children to play in.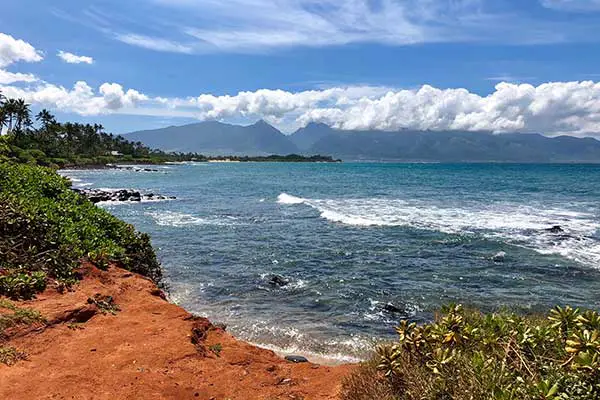 Spreckelsville Beach
Spreckelsville is a small town just a few minutes from Paia, which was named after German-American plantation owner Claus Spreckels.
Except for Baby Beach, the white sand beaches at Spreckelsville are generally a no-man's land. And there is a reason for that: the small coves are out of the way, difficult to find, parking can be tricky and there are no amenities. The surf is hard to predict and ranges from lagoon-like waters to large waves depending on the wind. Due to its proximity to the airport, planes take off right above the beach, breaking the pleasant sound of the waves (loud but also pretty cool!)
The two-mile long beach is broken up into sections (from west to east):
Camp One: located at the end of the Kahului Airport runway, you might encounter some of Maui's homeless population living in tents in the area. It is not dangerous but watch out for your belongings.
Sprecks Beach: nicknamed Euro Beach because of its popularity with European windsurfers back in the day, you might see the occasional windsurfer taking a break on the beach before going back out. The beach is also trafficked by residents walking their dog or local families settling in for an afternoon of fishing.
Lobster Cove: only accessible to the public by foot from Sprecks Beach or Sugar Cove.
Sugar Cove: another small cove fronted by private residences.
Baby Beach: (link) located on the western end of Baldwin Beach behind the Country Club, Baby Beach is the most popular beach in Spreckelsville. Its protected cove offers calm waters and attracts families.
How to get to Spreckelsville Beach:
To access Camp One and Sprecks Beach, turn on to Stable Road from Hana Highway. You'll pass a gated area with a few food trucks on your left (that are hidden gems!).
To reach Sprecks Beach, turn right onto the first dirt road.
For Camp one, keep driving on Stable Road until the end and you will see an access point. The wind blows sand all over the place so you'll have to park on a sand dune. Be careful because if you get stuck you probably won't find anyone to help you get out. A four wheel drive vehicle is preferable.
To access Sugar Cove, turn on Nonohe Place from Hana Highway, then turn left on Paani Place.
To access Baby Beach, also turn on Nonohe Place and turn on Kealaka Place.
Secret Beach in Paia
If you've been hanging out in Paia, you probably passed Secret Beach many times without knowing it.
As its name suggests, you can't spot Secret Beach from the street, making it an ideal place to spend time alone or go for a quick dip. But just like Baldwin Beach a few steps away, the tradewinds blow hard all day, so you probably won't stay long.
Rip currents are also strong there, so be extremely careful if you get in the water. There are no lifeguards on duty.
One of the few clothing optional beaches on Maui, Secret Beach is generally deserted. You won't encounter more than a handful of other beachgoers there.
However, if you're against the idea of seeing someone in their birthday suit, don't venture there or avert your eyes as it is a judge-free zone. If you do decide to strip, do so at the west end of the beach (opposite the graffitied World War II pillbox), but don't feel pressured, it is absolutely acceptable to wear a suit!
Just a short walk away from Paia Town, you can grab a snack at Mana Foods to bring with you or enjoy a nice lunch after the beach.
How to get to Secret Beach:
Hidden between Paia Bay and Baldwin Beach, you can access Secret Beach from either side. Both of which have a restroom area and showers available.
From Paia Bay, park in the dirt lot in front of the youth center and walk through the wooded area on your left.
You can also park at Baldwin Beach and walk east along the trail through the trees and past the burial sites.
Beaches in Kuau
Just a half mile east of Paia's town center, the charming neighborhood of Kuau offers two kid-friendly white sand beaches with calm waters.
Tavares Beach: similar to Baby Beach, the beach is protected by an offshore reef and offers a calmer surf than other beaches in the area. There's a large dirt parking area right in front of the beach, allowing for easy access. The beach is generally quiet during the week but attracts a good amount of local residents on the weekend.
How to get to Tavares Beach: Heading East on Hana Highway, past the Buddhist temple, watch for a break in the oceanfront residences and you'll notice a blue "Shoreline Access" sign and a dirt lot on the oceanside. Pay close attention or you'll miss it!
Kuau Cove: also referred to as Mama's Beach simply because it is located right in front of the world famous Mama's Fish House, this small cove is quiet and perfect for keikis to learn how to snorkel or explore tide pools at low tide.
How to get to Kuau Cove: Beach parking is available right at the entrance of the restaurant's lot, which is easily noticeable from Hana Highway by a large boat sitting on the lawn adjacent to the road. Although the beach might look like it's private, all beaches in Hawaii are accessible to the public, so you don't have to be a Mama's patron to park or visit the beach. Watch for beach parking signs.