Honolulu is the capital city of Hawaii, and what you could call the heart or the hub of Hawaii, where most commercial flights traveling to Hawaii land, and where you can find Waikiki, Pearl Harbor, and Hanauma Bay.
Another hotspot is the beautiful island of Maui. Maui—or the Valley Isle—is the second largest Hawaiian island, beloved for its sacred Iao Valley, world class beaches, and views of migrating whales and green sea turtles.
So, which is better, Maui or Honolulu? Let's take a look at what both locations have to offer, and what the islands are like.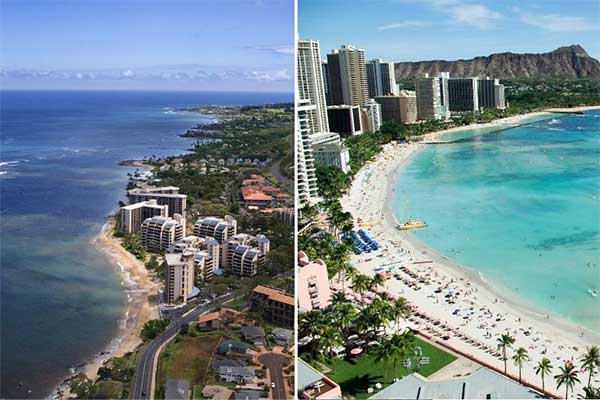 What's in Honolulu (Oahu)?
Let's settle some facts to there's no confusion before we proceed. Oahu and Honolulu are almost one and the same. The island is called Oahu, but the entire island is also referred to as the City and County of Honolulu.
Most people refer to the island as Oahu, and Honolulu as the capital city.
And with shopping, dining, bars, and amenities in abundance, Honolulu has become the visitor hotspot of Hawaii. As such, it is very busy, crowded, and full of tourists.
Waikiki Beach
Just on the south shore of Honolulu, is the famed neighborhood of Waikiki. The area was once the favored place for Hawaiian royalty. Today, Waikiki is Oahu's resort and hotel hub, with vibrant bars, restaurants, and shopping facilities.
Waikiki is famous for its beaches and ocean views.  Here, you can surf, dive, swim, snorkel, paddleboard, you name it.
Waikiki is the birthplace of surfing legend Duke Kahanamoku, respected as the father of modern surfing. His statue is found at the shore of Waikiki Beach as an iconic symbol of Oahu and Honolulu's love of surf culture.
Kualoa Ranch
Just north of Honolulu, and at the top side of the island, is Kualoa Ranch. This is a must see when on Oahu.
Kualoa Ranch is a stunning example of the island's natural beauty, and is the backdrop for countless movies, including Jurassic Valley in the Jurassic Park franchise.
It's no wonder so many films, TV shows, and other events have been held here as Kualoa Ranch has over 4,000 acres of natural beauty, including hidden valleys, beaches, and mountains.
Kualoa has countless cultural and sacred sights, along with historic ranch buildings, gardens and tours.
Pearl Harbor
Pearl Harbor is just west of Honolulu, and about 30 minutes from Waikiki.
Pearl Harbor signifies one of the most pivotal moments in US history. Learn more about the event, see relics and artifacts, and pay your respects to the final resting place of so many.
Diamond Head
Diamond Head is a volcanic tuff cone, or rock formation, found on Oahu and near Honolulu. This mountain overlooks Waikiki, and is a great place to visit for hiking and exceptional views of the island.
Iolani Palace
Built by King Kalakaua in 1882, Iolani Palace was the home of the last royals of Hawaii.
Found in downtown Honolulu, it is the only royal palace in the US, and signifies Hawaii's independence. The palace has since been restored and is used as a museum, offering tours and historical information for all those interested in the last Hawaiian monarchs.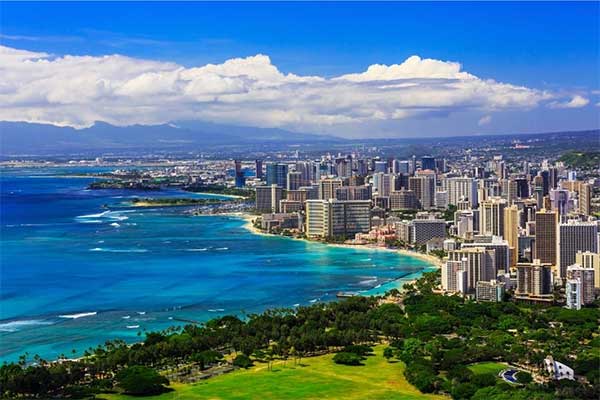 What's in Maui?
Maui is a place of astonishing natural beauty and diversity.  There are white sand beaches, black sand beaches, jungles, rainforests, mountains, lavascapes, and lush greenery that you will not find anywhere else.
Maui is the perfect getaway for snorkeling, swimming, hiking, and exploring, and still has the buzz of town life with bars, shopping, and nightlife in Lahaina.
Whereas surfing finds its home Honolulu, Maui is home to snorkeling. On Maui, you can find crystal clear waters with plenty of snorkeling opportunities and sea turtles to swim with.
Lahaina
Lahaina is on West Maui, and  means "relentless sun" in Hawaiian. The historic town has become a hotspot for its history, along with oceanfront restaurants and mountain views.
This seaside town is one of the most popular areas on Maui, filled with the beaches of Kaanapali, and nightlife. Head to the Dirty Monkey for an unforgettable evening.
Iao Valley
Maui is known for its stunning natural beauty spots, and Iao Valley showcases this. With gardens, hiking trails and views of the island for miles, Iao Valley is unmissable.
You can also visit the Iao Needle, which was once the lookout point for the great battle of Kepaniwai in which Kamehameha strived to unify the islands. With stunning sights, heritage gardens and tributes to Hawaii, this location will take your breath away.
Big Beach
Big Beach gets its appropriate name for being over half a mile long. Big Beach is one of Maui's most popular  beaches on the island. 
Whale Watching
Maui is known for its whale watching.
Humpback whales migrate from Alaska to Maui in December, making it a prime location for spotting whales during the winter months.
Luau
For a taste of Hawaiian tradition, culture and history, you have to go to a luau, and all of the best luaus are found on Maui.
Here, you will experience authentic Hawaiian cuisine, hear stories about Polynesian history, and participate in rituals and ceremonies that only Native Hawaiians can show you.
With hula dancing, fire eating, traditional songs and food, this is a must see while on Maui.
Is Maui better than Oahu?
Maui and Honolulu (or Oahu) are very different places. While Honolulu has so much to see and do, you really get to know Hawaiian culture on a deeper level by traveling to Maui.
On Maui, you can hike, swim, surf, snorkel, see turtles and humpback whales, or even absorb the traditions and rituals of Hawaiian and Polynesian people.
For culture, rather than tourism, head to Maui.