Upcountry is a title given to the towns, ranches, farmyards, and parks that grace the slopes of Haleakala, and describes geography as much as it does a way of life. 
Know that due to the elevated location of the Upcountry region, the temperatures are slightly cooler that may be expected in Hawaii.
The area is perfect for a full-day trip but you may be wondering what you should do if you visit Upcountry.
Well, read on to learn about the must-see sights and attractions in Maui's Upcountry.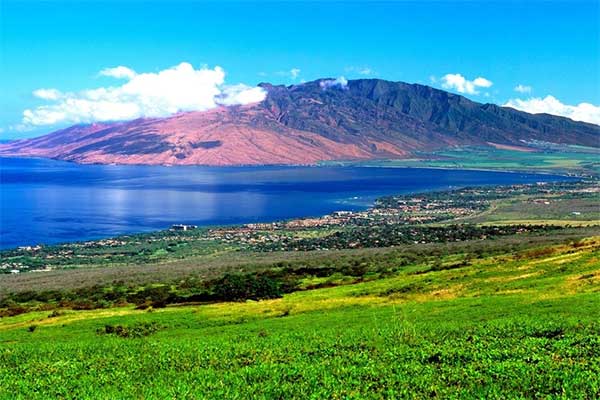 Haleakala National Park
Upcountry is home to Haleakala National Park, the highest peak in Maui, which sits at an astounding 10,023 ft.
The national park encompasses a huge area spanning across South East Maui, and embraces both ancient and modern elements of Hawaii's culture, and is inhabited by some endangered species too. 
If you enjoy hiking and would like the opportunity to witness a spectacular sunset or sunrise, while admiring the landscape, a trip to the National Park is a must.
Upcountry Farmers Market
A favorite among the residents, the Upcountry Farmers Market celebrates locally produced and grown fruits and vegetables. You will also find a selection of tropical flowers and plants, nuts, fish, and exotic foods.
It's fair to say that this market embraces the community; you typically find parents and children manning the  stalls. 
What could be better than spending your Saturday morning strolling through this picturesque market, appreciating the local culture?
Kula Botanical Gardens
Kula Botanical Garden's covers eight acres of land and is home to an impressive 2,000 species of Hawaiian flora and fauna.
Originally, it was established as a business display garden, however, it has since become a well-known tourist attraction.
As these gardens are open daily you aren't restricted to when you can visit. There are also facilities on sites that sell snacks and refreshments. 
Kula Botanical Gardens provide an excellent opportunity for those who are intrigued by the vast array of plant species as well as the fascinating rock formations and waterfalls. 
Ulupalakua Ranch Store and Grill
The Ulupalakua Ranch Store and Grill is bound to satisfy your appetite after a day exploring Upcountry.
Each of the dishes is made using locally sourced ingredients. 
The menu is varied, and offering many meals typical what you might would be available at a ranch. This includes a variety of burgers, steaks, and side dishes.
Surfing Goat Dairy
If you're looking for something a little different to do why not check out the Surfing Goat Dairy located in Kula.
The tours provide a great opportunity for tourists to learn more about the workings of the farm and how the Surfing Goat Dairy creates their award winning cheeses.
You may be curious as to why this farm is named the "Surfing" Goat Dairy. The answer soon becomes apparent when you discover the surfboards that have been added to the goat pens. 
Should you happen to fall in love with any of the 100 goats that live at the farm you may choose to adopt one. Or, you can help out milking the goats and putting them to bed as the day wanes to a close. 
Sliding Sands Trail 
Located near Kula, the Sliding Sands Trail covers 11 miles of land and is surrounded by stunning wild flowers.
Before embarking on a hike here it is important to make sure that you're prepared for the elevation difference as you climb. The air becomes much thinner so be warned if you suffer from breathing issues, or are not used to high altitudes. 
Because some rare plant species are known to grow close to the trail, you must ensure that you do not go off route, as they may become unknowingly damaged. Stay on the trail! 
Ali'i Kula Lavender Farm
Ali'i Kula Lavender Farm sits on the slopes of Haleakala at an elevation of 4000ft. Over 45 varieties of lavender are grown at the farm, and an assortment of scented products are sold in the shop situated on the premises. 
The farm is open from Friday to Monday and occasional events are held throughout the year.
If you would like to learn more about the lavender farm, you may wish to get involved in one of the farm's tours. Those responsible for running this farm pride themselves on sustainability, while maintaining a focus on the wellbeing of the local community.