You're planning a trip to Maui and have heard all about the artistic community of Paia. It sounds like a great, laid-back place to visit, perfect for the North Shore.
But is Paia, Maui safe?
The answer is yes, but you should also use some common sense.
Here's what you should know before you go.
Is There Crime in Paia?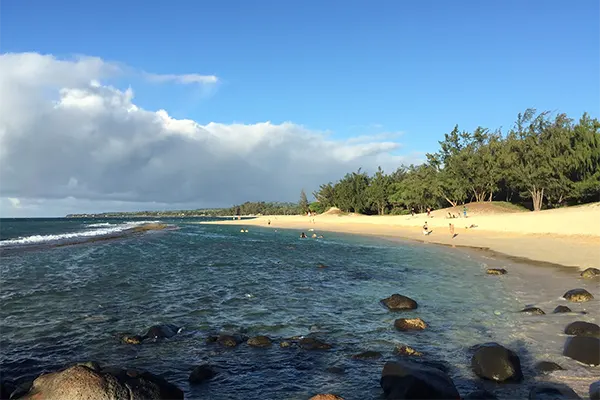 Every community, big or small, has criminal activity to some degree. Paia is no different.
However, the data is very interesting. According to a report published in 2019 by the Attorney General's office for the State of Hawaii, crime actually decreased 1.6%. In particular, property crime fell 2% for the county.
In Paia, the property crime rate is 1,121 incidents per 100,000 people. Compare that to the U.S. national average of 2,110 per 100,000 people.
These numbers show that Paia does have criminal activity, but the rate is much lower when you take in the country as a whole.
Can I Leave My Bags in My Parked Car in Paia?
Any savvy traveler knows that leaving their luggage visible in their rental car is probably not a very good idea. They make a tempting target for thieves to break into your vehicle and steal.
An article in The Maui News describes how a family had all of their luggage stolen out of their SUV while they were eating lunch before going to the airport. So what can you do?
Plan ahead and rent a car with a lockable trunk.
If you have an SUV or other vehicle without a trunk, check if it has a retractable rear-hatch cover.
Renting a convertible for breezy drives sounds romantic. However, it may not be the best choice for securing your luggage. A more practical, low-key vehicle will attract less attention than a Mercedes or BMW.
How Can I Reduce My Chances of a Break-In?
Besides locking your luggage in the trunk, there are several other things you can do to minimize the chance of a break-in.
Lock your vehicle when you park it.
Don't leave any valuables visible in the car (money, cameras, etc.). This includes travel documents, flight information, hotel receipts, or anything else that would have identifying information on it.
Park in a busy area (such as Baldwin Avenue) with other people rather than a side-street.
If you are dining out, try parking next to or near the restaurant. Sit outside, if possible, so you can see your vehicle.
Avoid leaving the engine running, even if you are just popping out to check something. Always remove your keys from the ignition and take them with you. With keyless ignition vehicles, just keep the fob in your pocket at all times.
Keep in mind that you can't eliminate the chance of a break-in. However, there is much you can do to reduce your risk.
Is it Safe to Park in the Municipal Lot in Paia?
The short answer: it depends.
Many people who come to Paia park their cars in the municipal lot. This makes sense, as it is on the western side of town if you are driving from Kahuli and the airport.
Often travelers will check out of their hotels in the morning but still have time to kill before their flights leave to the mainland. So, they park in the town public parking lot to stroll, window shop, eat, or check out the beach. Of course, potential criminals know this, too.
Are There Any Tips for Using the Public Parking Lot?
Follow the advice above about not leaving anything visible in the car.
Stay visible. Park closer to the street where your car will be more easily seen by other drivers and pedestrians.
Avoid leaving your car there all day. Keep your visit within a certain timeframe.
Don't park overnight.
According to The Maui News, in 2017 there were 19 vehicle break-ins by the time August rolled around. This means that although you can park in the lot, you should still use common sense when it comes to securing your valuables.
Is the Town of Paia Doing Anything About the Problem?
Yes. In 2020 Mayor Michael Victorino noted that police patrols had increased in Paia.
Additionally, social service workers have been conducting outreach effort for those in need of services and housing.
What Should I Do if There is a Break-In?
In the event that your car does get broken into, don't panic. Stay calm and follow these steps.
Do not enter the vehicle. Technically, it's a crime scene.
Take photographs/video.
File a police report (a necessary step for the insurance company).
Contact your auto insurance carrier and also the rental car company.
Once you are free to enter your car, check for any stolen items. In particular, anything with your personal information on it. This includes rental car forms.
It's a good idea to put a temporary alert on your credit cards and accounts. This is just in case your information was compromised.
Finally, if this is the last day of your trip before flying out, you might have to delay your flight if your car gets broken into. Call your airline to hear your options and, if necessary, schedule another flight.
Paia is an artsy, funky community that is definitely worth the visit when on Maui. However, travelers should keep in mind basic, commonsense safety precautions. Planning ahead, not creating an easy target for yourself, and following a plan in case something does happen are all good ideas.