Visitors to the Wailea area have the pick of some of the best resorts on all of Maui.
Among these are the Four Seasons and the Hyatt Andaz, two beachfront hotels that call South Maui home.
For all the details on both resorts, and how they compare, take a look at this guide.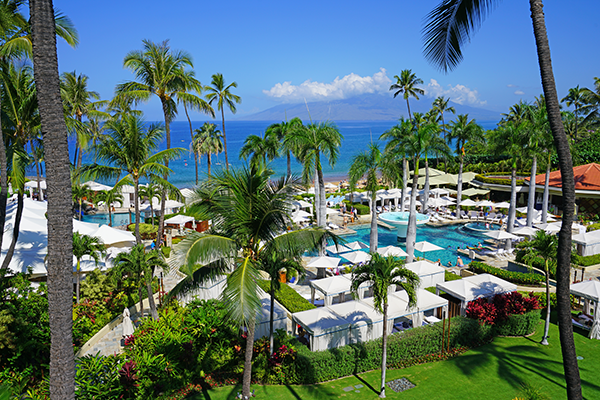 Which Has The Better Location: The Andaz Or Four Seasons Maui?
Both Hyatt Andaz Maui and the Four Seasons Maui are in Wailea, so there's little to choose between when it comes to location.
Wailea is a popular resort town known for having several high-end hotels, and both Andaz and Four Seasons fit in well.
Andaz Maui has a slightly more peaceful spot, as it sits at the top end of Wailea on Mokapu beach. Although we wouldn't exactly describe this location as "out of the way," there are fewer large resorts in the immediate area.
The Four Seasons Maui, on the other hand, is right at the heart of the action. Stretching on to popular Wailea beach, it has claimed one of the most popular spots on South Maui.
And it's in good company. On one side is the Grand Wailea, and on the other is Fairmont Kea Lani.
What Are The Rooms Like At The Andaz Maui And The Four Seasons Maui?
Andaz Maui's rooms are tasteful, with 380 to 420 square feet of space, wide windows to let in the light, and a neutral color palette.
The bathroom is tucked away behind white shutters, but the elegant black stone décor certainly speaks more of couples than families.
Décor at Andaz favors simplicity, allowing the setting to do most of the work. It has a boutique beach house vibe, with an understated design elevated by clever material choices.
Elegance is also on show at the Four Seasons, although on a bigger scale. Literally. Even a standard room at the Four Seasons has 600 square feet of space to move about in.
This makes them an excellent choice for families and couples, as there's enough space to accommodate longer stays without stepping on anyone's toes.
Neutral-toned decorations are paired with splashes of blue, creating a distinctly upscale coastal vibe.
Rooms at both resorts include a private lanai, to make the most of the incredible locations.
Can You Rent A Suite Or Villa At Andaz Or Four Seasons Maui?
You're in luck if you want a Maui stay with more in the way of home comforts: both Andaz Maui and the Four Seasons have suites available for rent.
The Four Seasons has small suites, large suites, and premium suites, so you have plenty of choice when it comes to space. The largest of the large suites is an impressive 7,200 square feet, while a small suite is a comparatively petite 840.
Whereas Andaz Maui suites are on the small side, with the majority being 850 square feet. If you want something bigger, either book one of the two premier suites in advance, or consider one of the spacious villas.
Is The Pool Better At Andaz Maui Or Four Seasons Maui?
There are several pools at the Four Seasons Maui, but none are as iconic as the fountain pool.
Dominated by incredible white fountains, the saltwater fountain pool is the place to go for ocean views and nailing your vacation photos.
For keiki, the Four Seasons offers the waterfall pool. Designed to look like an actual waterfall, it's a fun alternative to an ocean dip.
Adults are covered as well, with the secluded serenity pool with infinity edge and underwater music. There really is a pool for everyone at the Four Seasons.
Things are slightly more laid-back at Andaz Maui. A four-tiered cascading infinity pool deals in simple luxury, and supplements an elegant design with fantastic poolside bars and cafés.
There's also an adults-only pool for some extra peace and quiet, although the main pool is rarely overrun with children.
Especially if you keep to the top levels, which offer the best panoramic views across the Pacific Ocean.
What Restaurants Are On-Site At Andaz Maui And Four Seasons Maui?
Foodies will find some incredible options at both Andaz Maui and the Four Seasons.
Four Seasons is home to Spago, the Hawaiian outpost of Wolfgang Puck. Serving a fusion of flavors from Hawaii and California, this is the spot for fresh and exciting cuisine.
Fans of innovative celebrity chefs will also be happy at Andaz, where Morimoto Maui serves up spectacular sushi.
The Four Seasons also houses Duo, for lovers of steak and seafood, and Ferraro's Bar E Ristorante, one of the most romantic spots on Maui.
But there's no lack of options at Andaz Maui either. Ka'ana Kitchen serves farm-to-table local delicacies family style, while Lehua Lounge presents an elevated take on traditional bar snacks.
Andaz Maui also has its own on-site luau! Feast at Mokapu is a luxury take on the luau, serving quality food alongside incredible entertainment.
What About A Spa?
Both the Four Seasons and Andaz Maui have a top quality spa on-site.
The Andaz spa, the Awili, aims to create a personalized experience, combining aromatherapy with carefully selected products for a uniquely relaxing session.
The Four Seasons Spa combines traditional therapies with next level technology, creating some innovative therapies that will leave you feeling like a whole new person.
What Is Better At The Four Seasons Maui?
Although the Four Seasons Maui can't guarantee you have a good time, they've done everything they can to make it possible.
From the pool to the restaurants to the spa, the Four Seasons have heaped on luxury with care. This is a resort that successfully manages to cater to almost everyone.
What Is Better At The Andaz Maui?
Andaz Maui is sleek and elegant, combining a serene environment with chic designs.
Kids are less at home in this Wailea resort, but adults will love the sophistication that permeates the property.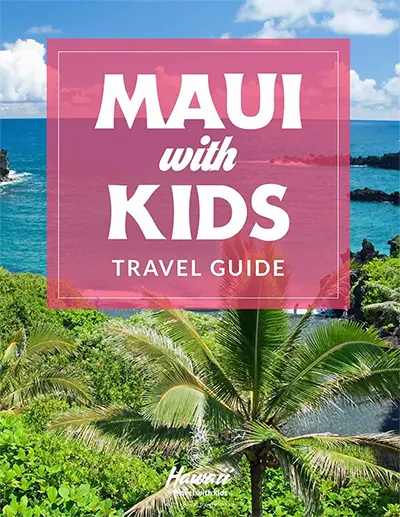 A Boutique Experience Or Indulgent Luxury?
Both the Four Seasons and Andaz can provide a comfortable stay on Maui, although the Four Seasons has the edge when it comes to the total package.
Still, the boutique chic of Andaz should appeal to travelers looking to get away from it all.
Other Places To Stay In Maui
We've written quite a bit about all of Maui's available lodging, and continue to do so, but we wanted to share a few more places to stay from our friends at Booking.com. 
A Resort Stay: The Four Seasons Resort in Wailea is the cream of the crop of resort stays, with restaurants, ocean views, an on-site spa, and the Shops at Wailea are just down the road. Couples particularly love The Four Seasons!
Bed and Breakfast: Sometimes, it's all in a name, and Adventure in Paradise is exactly what it sounds like, located in Haiku on Maui's north shore. Wake up to a 180 degree view of Haleakala summit every morning from your private patio.
Hotel: The highly rated Maui Sunset hotel combines laid-back atmosphere and the beach of Waipuilani Park. Also, it's only 1.7 miles from the Elleair Maui Gold Club!
Vacation Home: Find your home away from home at Puu Koa Palms, six minutes from Hookipa Beach, and near the Hana Highway. Also particularly great for couples!
Villas: If you're looking to vacation in style with your own villa try the Andaz Maui, which include all the expected amenities along with grills and plunge pools.