Many restaurants in Maui offer fresh seafood, one of them being Miso Phat Sushi, a sushi bar situated in the Kihei Azeke shopping center.
The restaurant offers classic rolls made with fresh fish, served with delicious side dishes and sauces. Miso Phat Sushi is a great place to visit before you head out to the beach or after having a good time with your family and friends.
If you are a sushi lover make sure you check out Miso Phat Sushi.
In this guide, we're taking a look at everything you need to know about this sushi bar.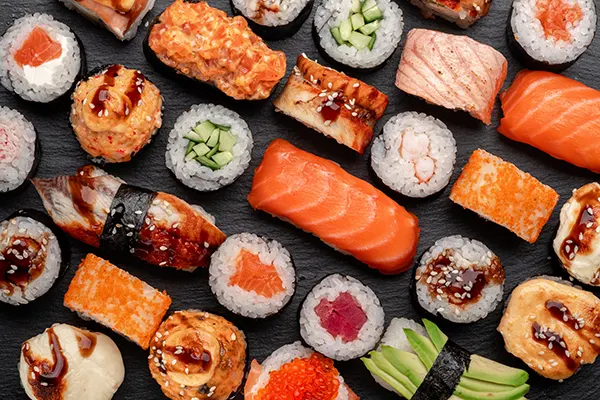 What Is Miso Phat Sushi?
Miso Phat Sushi is a family-owned and operated sushi bar in Kihei, renowned for its wide variety of sashimi and nigiri.
Miso Phat was opened in 2013 by Shawn Steadman who collaborated with Chef Ben Kin. Currently, it is owned by Shawn and Joy Steadman. It's conveniently located in two places: Kihei and Lahaina, and food is available for both dine-in and take out.
Steadman's goal has been to deliver fresh fish to clients daily. To achieve this, they bought their own fishing boat known as the Shiso Phat, which they use to catch 14 different species of fish in the waters around Maui.
Miso Phat Sushi offers combination platters, specialty rolls, and chef's specials for a fine dining experience.
Happy hour is every day from 3 pm to 5 pm, with a variety of sushi at a discount.
What Is On Miso Phat Sushi's Menu?
Miso Phat Sushi serves nearly everything from baked rolls, specialty rolls, regular sushi rolls, as well as sides, appetizers, and vegan dishes and more.
Generally, they offer a wide variety of sushi dishes that you won't find in other sushi bars, making it an ideal choice for anyone looking for something unique.
Besides fresh fish, there are also other delicacies on their menu, which are subject to change.
They even have a kihei menu
Dine-in at Miso Phat Sushi
If you want to dine in with your friends or family for some fresh sushi, you can visit the Kihei restaurant, which operates 7 days a week from 11:30 am to 9:00 pm.
Be warned: Miso Phat Sushi does not take reservations. Instead, they serve their clients on a first come first serve basis.
Does Miso Phat Sushi Allow Online Ordering?
Yes, Miso Phat Sushi offers online ordering but only for residents in Kihei.
There is no online ordering for other locations including Kahana or Westside.
Clients can order the sushi menu online and then pick up their order at the Miso Phat Sushi Kihei restaurant. Usually, online ordering is open from 11 am to 8 pm, 7 days a week.
Take Out At Miso Phat Sushi
If you don't want to dine in or order online, take-out is an option.
However, it is important to note that the restaurant adds a 10% gratuity for every take-out order made.