Dressed up with ice cream and condensed milk, or kept simple with fruit flavors, shave ice is perfect on a hot Maui day.
This Hawaiian treat consists of ice finely shaved down and packed into a ball, and then smothered in syrup. It's tasty, refreshing, and just what you need on a hot day.
In Kihei, the best shave ice tends to come from small stalls—some so small, only one person works there. Shave ice is deliciously addictive. Once you've had one, you might find it's all you want when the afternoon heats up.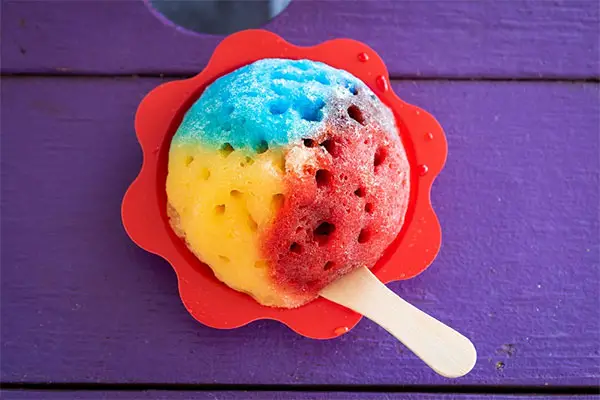 Shaved ice or shave ice?
Shave ice is the correct term, although no one is likely to notice if you get it wrong once or twice.
Watch out for any shops or stalls signs advertising shaved ice: this tends to be an inferior quality, similar to a snow cone.
Ululani's Shave Ice
Say aloha to what is widely recognized as the best shave ice spot on Maui. Ululani's Shave Ice only opened their first shave ice shop in 2008, but it quickly established itself as a Maui staple. From that first shop in West Maui, they've expanded outwards, and the Kihei location was greeted by some very happy customers.
It's impossible to pick one thing to love about Ululani's Shave Ice. From making the ice itself, through the shaving, right down to the application of syrup: everything is done to perfection. 
The staff in the Kihei store are friendly and welcoming, always happy to help you pick from the massive range of syrups on offer. If you're new to shave ice, try one of Ululani's popular combinations. They burst with classic Maui flavors, and taste like paradise.
Peace Love Shave Ice
Peace Love Shave Ice is a tiny operation run by one woman, but it's overflowing with flavor and aloha. Allison, the founder of the stand, is passionate about shave ice—aren't we all? She uses only purified water and organic sugar to create her shave ice, and is happy to talk through any flavor combinations you might be interested in.
This vibrant stall is packed full of personality, and real enthusiasm shines through in all the wonderful creations. The love for shave ice has resulted in a stall that you'll want to return to again and again, and the quality in the preparation has made shave ice creamier than ever.
Local Boys Shave Ice
If you're feeling hungry, head to Local Boys Shave Ice to put together a creation fit for big appetites. They have a massive range of flavors, and some fun and classic fixings for you to add.
The ice cream on the bottom is a particular treat. Try the piña colada or mac nut for some local specialties. Choose your syrups, and top it all off with a sprinkle of mochi or a dollop of cream. 
If you've never had shave ice before, you might expect it to be crunchy, like a snow cone. Instead, it has a surprising fluffy texture, thanks to the shaved texture. Sharp tools and filtered water means Local Boys Shave Ice has the fluffiest texture in Kihei.
Surfing Monkey Shave Ice
The family run Surfing Monkey Shave Ice stands out thanks to some all-natural syrup flavors. Fruits rich with juice are found all across Maui, and they make the best base for shave ice syrups because of their natural sweetness.
Every scoop of Surfing Monkey Shave Ice is vibrant with sharpness and sugar, thanks to juice based syrup.
If fruit isn't your thing, the Kona coffee flavor is just as natural, and great for grown-ups. Friendly staff can help you pick the best flavors, and make sure to watch as their talented hands craft the shave ice shape. 
Gus' Hawaiian Shave Ice
Gus' Hawaiian Shave Ice isn't always there to serve shave ice, but keep an eye out for a blue Volkswagen Camper that can be spotted around the streets of Kihei. Although Gus—that's the van, by the way, not the owner—likes to travel, Kihei is his favorite destination.
If Gus is in town, then you're in for a treat. This family run business is all about supporting local communities, so the syrups are made using pure sugar and island fruits. This gives them an unbeatable freshness, which you really appreciate on a hot day. 
If you're heading to Kihei for a special occasion, Gus does weddings and events. This eye-catching blue van brightens up any party, as does the creamy shave ice!