On a rainy day nothing hits the spot like saimin. The combination of chewy noodles, salty broth, and all the toppings are warm and comforting when the rain comes lashing down. 
When the showers do start, few of us want to be stuck running around, trying to find a place with saimin on the menu. You just end up drenched, and miserably chewing on sub-par noodles. This list is here for you.
These are the best four places for saimin in Kihei.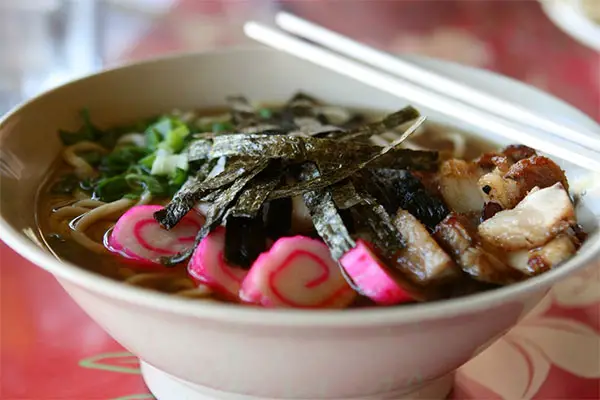 What is Saimin?
Saimin is a traditional Hawaiian noodle dish that has managed to sneak under the international radar. It's made from soft thin noodles and a hot dashi broth, typically with a garnish of green onions. Many versions of saimin come with pork or popular local meats, and fish cake is a common topping as well.
Developed during the plantation era of Hawaii's history, saimin shows the vast array of cultural influences in Hawaii.
Nowadays, it's served all over the islands, at all times of day. Get it from a food truck for breakfast, or from high-end restaurants at dinner time.
Piko Café
At Piko Café, Hawaiian food is the focus. The popular food stop is all about big, local flavors, served with aloha. Of course, there had to be saimin.
The saimin at Piko Café is top quality, a filling dish that speaks of home comforts and ohana. The traditional bowl is made using fresh local noodles, that are soft without being gummy.
Dashi broth is lightly seasoned, not too salty but still with that punch of flavor. Topped with a kamaboko (fish cake) and some char siu (Chinese BBQ pork), it's filling without being heavy. A dish that has all the best of the island.
If you fancy something a bit different, Piko also does a fried saimin.
As traditional saimin is slippery with broth, fried saimin initially sounds pretty awful. But it's actually fast, fun, and tasty. A new take on a classic that's very much welcome. 
Piko is small, but cozy. Get in early, or order to take out.
Open daily, 8am to 3pm.
Sushi Paradise
The expert chef at Sushi Paradise is respected for making some of the best sushi found outside Japan. At this charming local favorite, you can find sushi that feels like butter in the mouth, alongside a warm welcome from the knowledgeable staff.
Everything at Sushi Paradise is worth trying, but the saimin is something of a hidden gem. Tucked away in the side orders, it's easy to overlook the local staple when trying to decide between the massive amount of rolls. 
The saimin at Sushi Paradise is made with the same care as everything else. Thin noodles are served alongside green onions and seaweed, with home cooked shoyu pork providing that touch of excellence. Make sure to order a bowl as the perfect accompaniment to a sushi platter.
If you want to try the Sushi Paradise saimin, then make sure to book a table early. Reservations fill up fast.
Open daily, 6pm to 9pm.
Home Maid Café
This quirky café has a definite homemade feel, which makes sense considering the name. Home Maid Café serves lots of Hawaiian classics—dishes that fill you up, and keep you going. The early opening hours make it the place to stop when you wake up on a wet day with a craving for saimin.
The prices are fantastic—probably the best in Kihei—so you can satisfy a need for saimin without any guilt. 
Once you're there, make sure to order some malasadas to go. These fried donuts are another island staple, and the ones from Home Maid Café are soft and fluffy. A bowl of saimin and malasadas form Home Maid Café is a dinner of good, Hawaiian food.
Open Monday – Saturday, 6.30am to 2pm. Closed Sunday.
Havens
Havens is a modern restaurant that feels like fast food, but tastes like homemade. Quick service from enthusiastic staff will get your noodles to you in no time at all. When you've found yourself caught in a rain shower, head to Havens for a saimin that will soothe your worries away.
Havens serves hearty foods for when you find yourself craving something to get your teeth into. Alongside noodles, they serve burgers and temaki, with portions designed for hungry stomachs.
The saimin is a local star. Served with roast pork, an umami egg, and fish cake, it's everything you want on a busy day.
Havens is take-away only, and it's an easy place to miss.
Tucked away next to a gas station, it won't immediately stand out as the place to get ono grinds. But don't let the appearance fool you. The food is much better than the location. Grab your noodles to go, and find a comfortable spot to dig in.
Open daily, 10am to 7pm.